Academic skills coaching
Because we can all use a little academic upgrade from time-to-time
Too many assignments, too little time.
There is too much information in class.
When I sit down to write my exam, my mind just goes blank.
I procrastinate, a lot. I just can't get motivated.
I failed that test.
I'm doing OK, but I guess I could do better.
Do any of these statements resonate with you? If they do, it might be time to give your academic skills an upgrade. Learning how to learn is a lifelong process. The skills that helped you succeed in high school might not be working as well in your current studies. University is a very different world, so why wouldn't your skills need to adapt?
Take advantage of this opportunity to build strategies to help you get the most out of your Rotman Commerce experience. Let us support you as you become a responsible and independent learner. Develop productive study and learning habits, set realistic goals, and build on past academic successes through academic skills coaching. From time management to note-taking, from procrastination to test anxiety, academic skills coaching is designed to meet your specific needs and goals. Don't think of these sessions as just help with your studies, think of them as building life skills as you prepare for the future.
To learn more, connect with Thomas Blampied, Rotman Commerce's dedicated Academic Advisor, Learning Strategies. See the "Advising" section on RC Portal for information on how to book an Academic Skills Coaching session.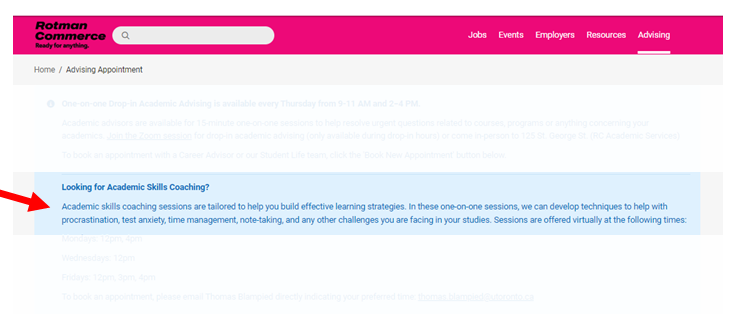 Please note: During periods of high demand for skills coaching appointments, your initial meeting might be with one of the RC Academic Peers. They are trained and eager to help you with time management, setting realistic goals, and study skills.