Intramural sports teams
U of T's Intramural Sports Program is committed to providing an open, inclusive environment for all students, regardless of ages, ability, gender or background. The intent of the Intramural Program is to provide positive experiences for all who participate.
The intramural program is open to current students to represent their faculty in different sports leagues and tournaments. To play, students must meet the eligibility requirements for intramural sports.
Rotman Commerce intramurals
If you're interested in playing on a Rotman Commerce team, email us and mention the sport you're interested in participating in. You will be required to sign waivers and officially register by the last week of September for a fall team, and the first week of January for winter teams. Teams will be formed based on the sport(s) that the majority of participants want to play.
For more information, check out the University of Toronto's Intramurals Handbook.
Intramural Coordinators
 
Shivika Agarwal
Shivika, is a fourth-year student at Rotman Commerce specializing in Management focusing on Data Science and Marketing. She is an international student from Mumbai, India and loves roller skating, reading, and painting. However, her all-time favorite sports are basketball, field hockey, and squash.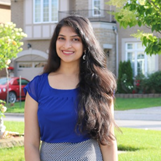 Miti Adhvaryu
Miti is also a fourth-year at Rotman Commerce, specializing in Management with a focus in Finance, Strategy, Innovation, and Leadership. She lived in Brampton her whole life, but was born in Mumbai, India. Her favorite sports are badminton and swimming, and other passions include dance, painting, drawing, and watching shows and/or movies. Reach out for a recommendation or better yet if you have one for her.
Basketball 
Flag Football 
Field Hockey 
Hockey 
Indoor Lacrosse 
Lacrosse 
Soccer 
Volleyball