The National Bank Financial Young Women Student Mentorship Program: Kickstart your professional journey
Looking to work alongside passionate and inspiring women? From skill-building to one-on-one mentoring, the National Bank Financial (NBF) Young Student Women Mentorship Program is an opportunity to discover your career path with confidence.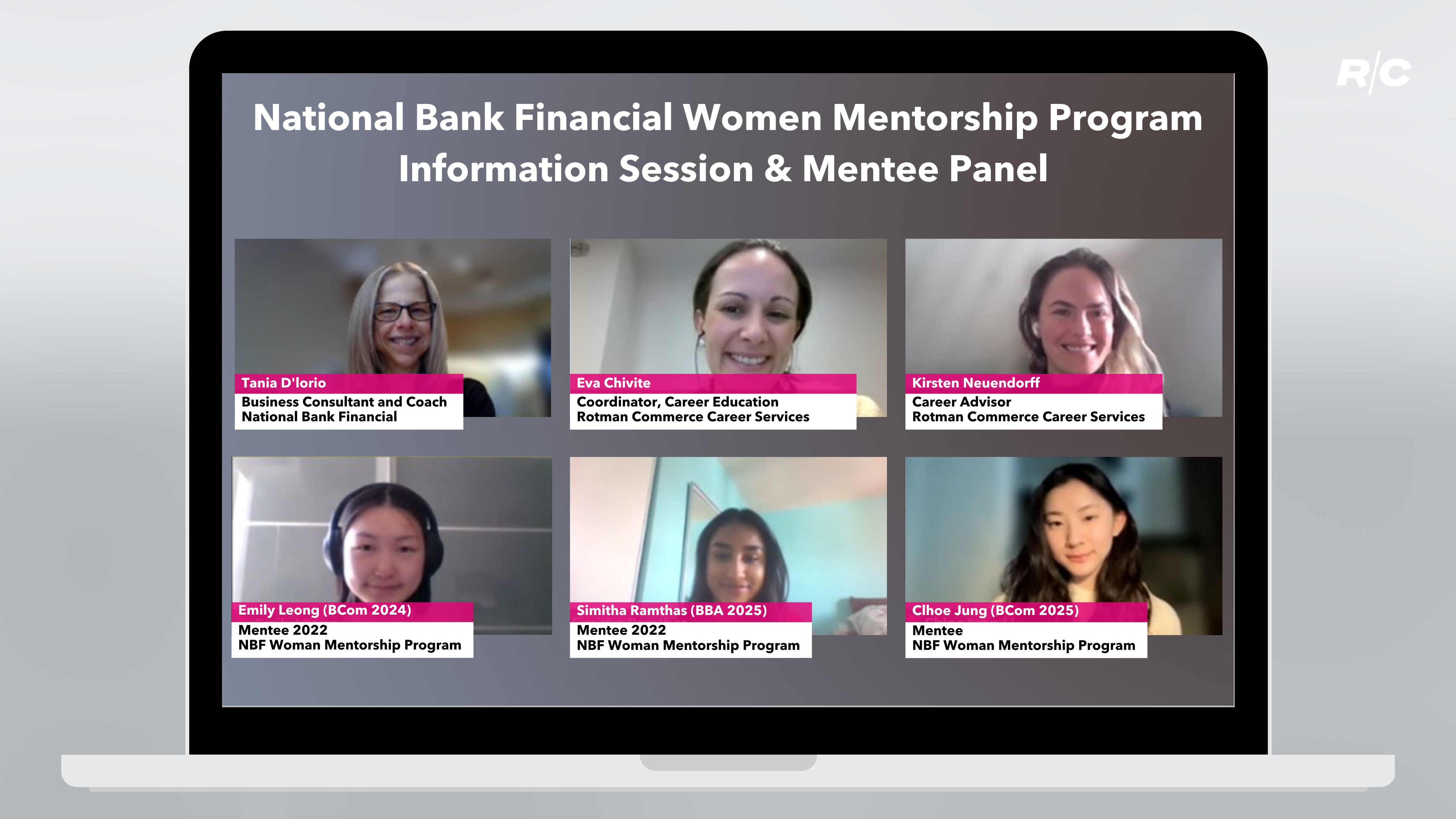 The value of NBF Women Mentorship Program
Rotman Commerce recently collaborated with National Bank Financial (NBF) to host a panel discussing the importance of mentorship, specifically for women in the financial industries. With a total of 50 participants attending virtually, students made meaningful connections and were guided by insights through the NBF Young Women Student Mentorship Program. The program aims to build the knowledge and skills of female students curious about the Investment Advisor profession. For these students who consider themselves as self-starters, the NBF Young Women Student Mentorship provides an opportunity to be paired with a National Bank employee-mentor for nine months.
Eva Chivite at RC Career Services notes the importance of having a mentor to guide you along your career path. "If I were a student again, I would have joined a women's mentorship program! I'd be able to learn firsthand how they got to where they are today, what difficulties were faced along the path, as well as their likes and dislikes about the job."
Gaining industry insight
Through NBF's women mentorship program, students are able to gain hands-on experience, all while building personal connections at the firm. Simitha Ramthas, UTSC student (BAA '25), shares, "As someone interested in learning more about the finance and wealth management industry, this program was the ideal opportunity to help me not only gain exposure to the industry but also to network and develop my professional skills. Being able to explore a potential career pathway early on in my career has genuinely helped me refine my goals for the future."
Mentoring a future of RC students
Rotman Commerce appreciates the opportunity to collaborate with National Bank Financial in sharing their women mentorship program. To guide students along their career pathways, RC continues to partner with employers and connect them to new talent.