Future Students
We believe that an outstanding business education begins with outstanding teachers. That's why in our classrooms, you'll be taught by some of the brightest and most innovative researchers from the prestigious Rotman School of Management and the internationally renowned Faculty of Arts & Science at the University of Toronto.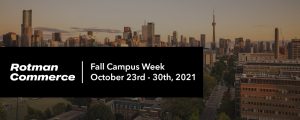 From October 23rd–30th, join us for our annual fall open house and learn what it's like to make lifelong friends while making life-changing discoveries at the University of Toronto. While we can't open our doors to guests in person this year, we also can't wait to host you online, answer your questions, and learn more about your future plans. So, let's get you off to a great start.
---
At Rotman Commerce, you'll gain the knowledge, skills, experience, and network to help you reach your goals – whether your future lies in entrepreneurship, accounting, financial analysis, investment banking, marketing, or another field. With a BCom from Rotman Commerce under your belt, you'll be ready for anything.
Want to learn more? Chat online with our recruitment & admissions staff and current students to learn more about the undergraduate student experience. These webchats are a great opportunity to ask anything that's on your mind — about campus life, academic and extracurricular options, community at U of T, and much more.