Exchange Programs: Types of Transfer Credits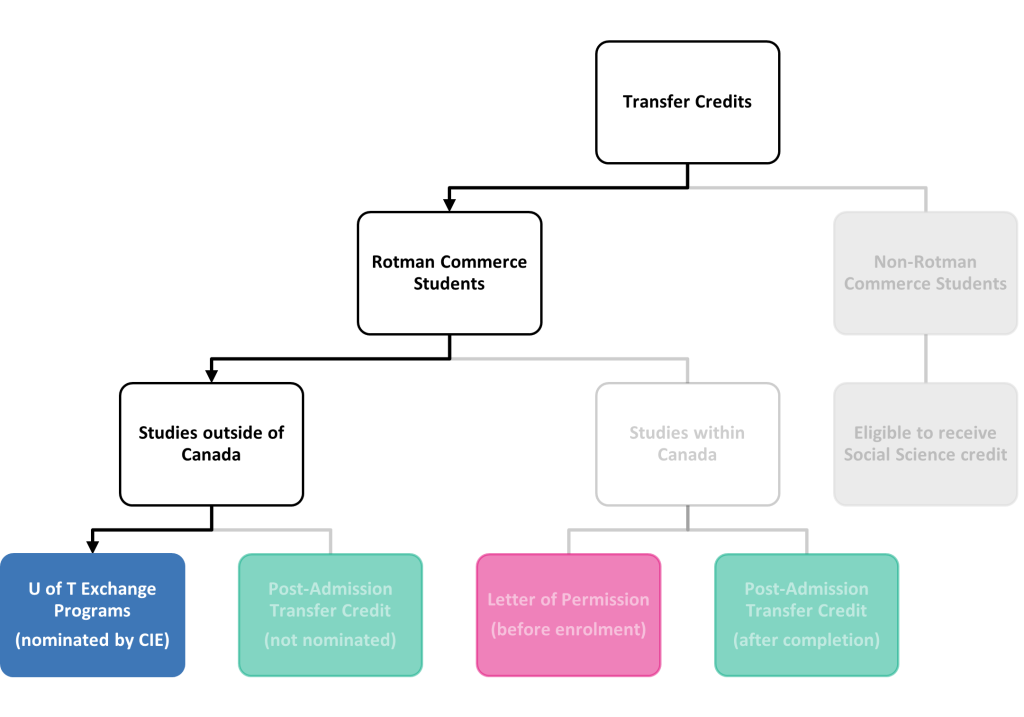 As a Rotman Commerce student you are eligible to participate in international exchange programs. Your application begins on the Learning Abroad website, where you apply for U of T to nominate you for the exchange opportunity. While on exchange there are different types of transfer credits that you can earn. It's important to understand the difference between each type of transfer credit and how they can be used to support the academic progression.
Credits
Course Validity
Grades
Prerequisites
Exchange Timing
– Students are expected to enroll in a full course load at the host institution. Pay attention to credit equivalency.

– Student can only submit a course pre-assessment request form after they have been admitted by the host institution.​
​
– No limit to transfer credits worthy of 300/400-level courses.

– Maximum number of transferable credits is 2.5 per F/S terms.
– Pre-approved RSM courses listed on the Rotman Commerce website are valid for 3 years from the year of approval.

– Pre-approved non-RSM courses listed on Transfer Explorer are valid for 5 years from the approved year.
-Final grades will not appear on the U of T transcript for the credits earned abroad.

– To earn a transfer credit you must pass the course abroad according the host institution's grading scheme.

– Official transcripts must be sent to the Learning Abroad office. You should acquire a copy of your official transcript for future proof​.
– Prerequisite from U of T do not apply to host university courses. You may need to submit your U of T transcript to illustrate your prerequisites for a specific course.
​
– Level of the course abroad does not determine level at U of T​.
​

– If you are enrolled in a full year (Y) course at U of T you can't participate in a U of T exchange program during either term (F/S)​.

– Students should NOT be going on exchange during year 2 due to full year economics courses and specific foundational courses that should be complete at Rotman Commerce before exchange.
​
– If a student is going on exchange in the winter term of their final year, their convocation will be moved to November​
For courses outside of RSM, please use the University's Transfer Explorer tool to see whether or not credits taken at a host institution may be transferred to U of T credits. For RSM courses please refer to the Rotman Commerce Pre-Approved course list.
Course assessments for potential RSM transfer credits are dependent on the submitted course syllabus.
Type 1
Type 2
Type 3
Type 4
Course Assessment Criteria
No overlap
<50% overlap
50%-79% overlap
>80% overlap
Meaning
The course is not worthy of a UofT credit.
The course is worthy of a UofT credit but not a course equivalent.

An unspecified transfer credit (indicated by **) is assigned with a level of the course (100-400-level), and the weight of the course, (H/Y).
The course is worthy of a UofT credit with a course exclusion, preventing the student from taking the courses listed as an exclusion at U of T.

An unspecified transfer credit (indicated by **) is given with an exclusion.

Note:
1. Don't take the course abroad if you've taken the exclusion course at U of T​
2. Don't take the exclusion course at U of T if a transfer credit was received from the exchange​
3. If the listed exclusion course is required for a specific program requirement, Rotman Commerce will use that transfer credit towards that requirement completion.
The course is worthy of a direct course equivalent.
Course Equivalent
e.g. No RSM credit
e.g. RSM3**H1
e.g. RSM3**H1
e.g. RSM462H1
Course Exclusion
RSM392H1
When planning ahead for your exchange we always encourage students to be flexible and hope to earn unspecified transfer credits (e.g. RSM3**H1) to support with their elective fulfillments. Earning direct transfer credits such as Type 4 is quite challenging and we discourage this type of planning.
Here is an example of a Management Specialist progression with different types of transfer credits and how they can support planning for program completion.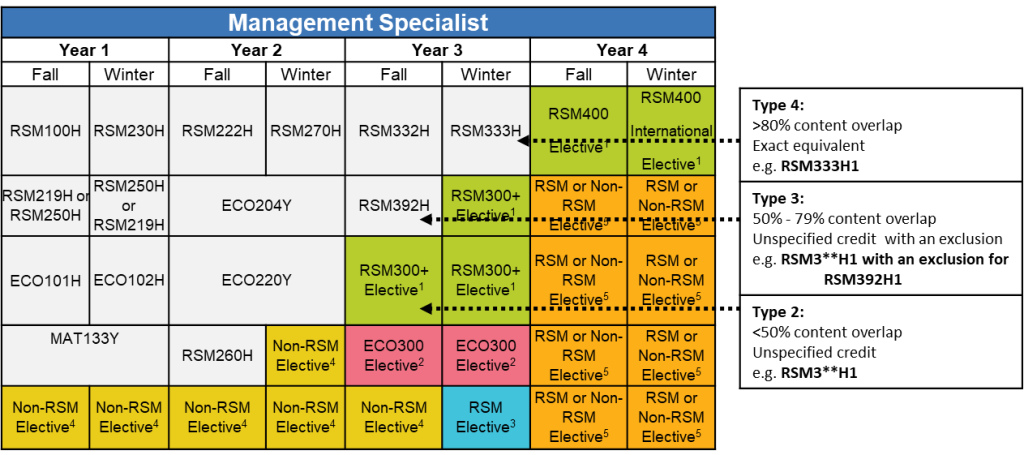 Students are encouraged to review the RSM Pre-Approved Course list and keep in mind that the courses listed are only valid for 3 years from the year of approval. It is also important to note that not all courses offered by the institution are listed on the pre-approved list and that course offerings may change from year to year at the host institution.
Offices involved in the Exchange Program
Please note that there are several offices at UofT involved in the exchange experience.
1. The Learning Abroad office is responsible for nominations and any correspondence and support students might need with the host institution.
2. Rotman Commerce supports students with course assessments, orientation for exchange and program planning. Students who participate in an international exchange opportunity can request a course assessment prior to their departure, thus knowing what type of credits they can earn.
The Learning Abroad office holds information sessions every Fall in addition to the information sessions held by Rotman Commerce, please check the events calendar for dates and times. In addition, Rotman Commerce offers International drop-in's throughout the year, please check RC Portal for dates/time.