Tune in to the world of business
RC's very own Down the Pipeline Podcast is designed to let business students in North America know what's up and coming in the business industry.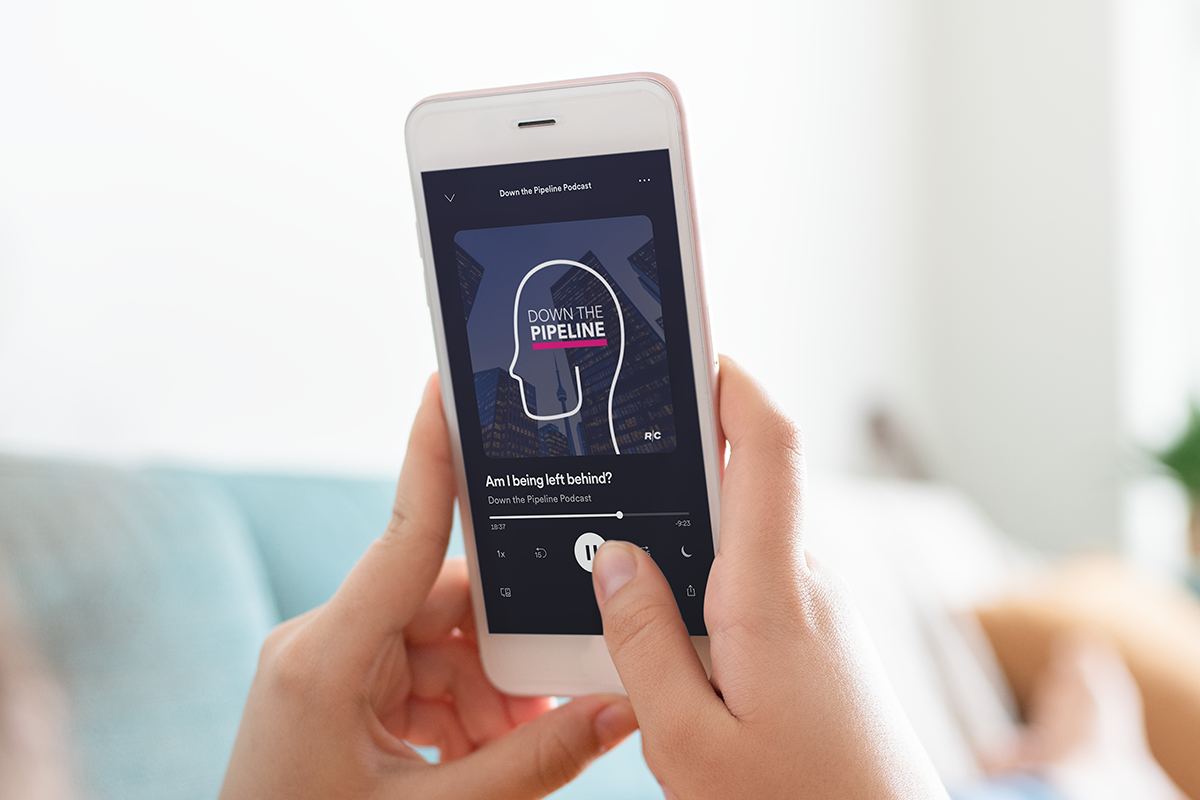 Each episode explores different questions related to the realm of business through conversations with industry leaders, pioneers and academics. The podcast's inaugural episode, "Am I being left behind?" addresses key concerns students have raised about their job prospects and what they should be doing with their careers after a year of quarantine and a shift to virtual work. Mark Green, Director of Career Services at Rotman Commerce, provides some clarity as to the job market in an ever-changing, post-pandemic world.
Rethinking recruitment 
"Companies and industries where in-person work was perceived as the only way of doing business had to rethink their entire approach to human capital," said Mark. "Hiring, training, onboarding and retaining employees are all processes that changed during the pandemic." 
He emphasizes that more companies are now reaching out in a broader geography to recruit talent. This expands the breadth of opportunities available for students to fill entry-level positions post-graduation. RC's own recruitment season has seen a number of new oil, gas, energy, mining and pharmaceutical companies seeking out talent on campus.  
Return to the workplace 
The current state of uncertainty induced by the pandemic has left many students wondering if the working from home model will stick around. Mark affirms that collaboration and team-based activities are better done in person. "The virtual environment means that we miss some of that group ideation at the water cooler, and where key relationships are formed," he said. "Without personal interaction, students might not understand some of the cultural nuances, or be able to establish a relationship with a recruiter or a manager." He predicts that the future of work will be a hybrid model. 
Pursuing a meaningful career 
"You're not left behind, you're just on your own path." 
These wise words from Mark serve as an important reminder that a successful career post-graduation takes many forms. There are many opportunities for Rotman Commerce students beyond the traditional internships at industry giants. "It's not a sprint, it's more like a marathon," said Mark. "The most important measure of success comes in the long-term milestones. Let your passions, strengths, and interests be your guiding compass to a meaningful career." 
Acing your applications 
How can you stand out in your application for your next internship? After completing all the foundation work – using the assessment tools offered by Career Services, identifying the industries and roles that interest you, perfecting your resume and LinkedIn profile – Mark recommends that you learn to speak the employer's language. 
"This is the language of competencies – the collective resources and values that companies use to distinguish themselves from the competition," he said. "Learn what traits and skills are important to your company, and frame your responses to interview questions around them."  
When answering interview questions, Mark suggests that you use the STAR method – situation, task, action, results. Through this method, you can structure your answer around what success looks like to the company you're interviewing for. Marks adds that it's also important to identify your own value proposition, and incorporate what uniquely distinguishes you.  
To learn more career insights from Mark, listen to Down the Pipeline Podcast Episode 1.     
November 18, 2021