Three graduating Rotman Commerce students advance EDI within the Rotman Commerce community
The Equity, Diversity & Inclusion (EDI) Award recognizes students who have demonstrated dedication in advancing EDI within Rotman Commerce. The following award recipients contributed to increasing access to programming, adopted practices that foster an inclusive campus environment, and/or championed policies to make learning more accessible and equitable.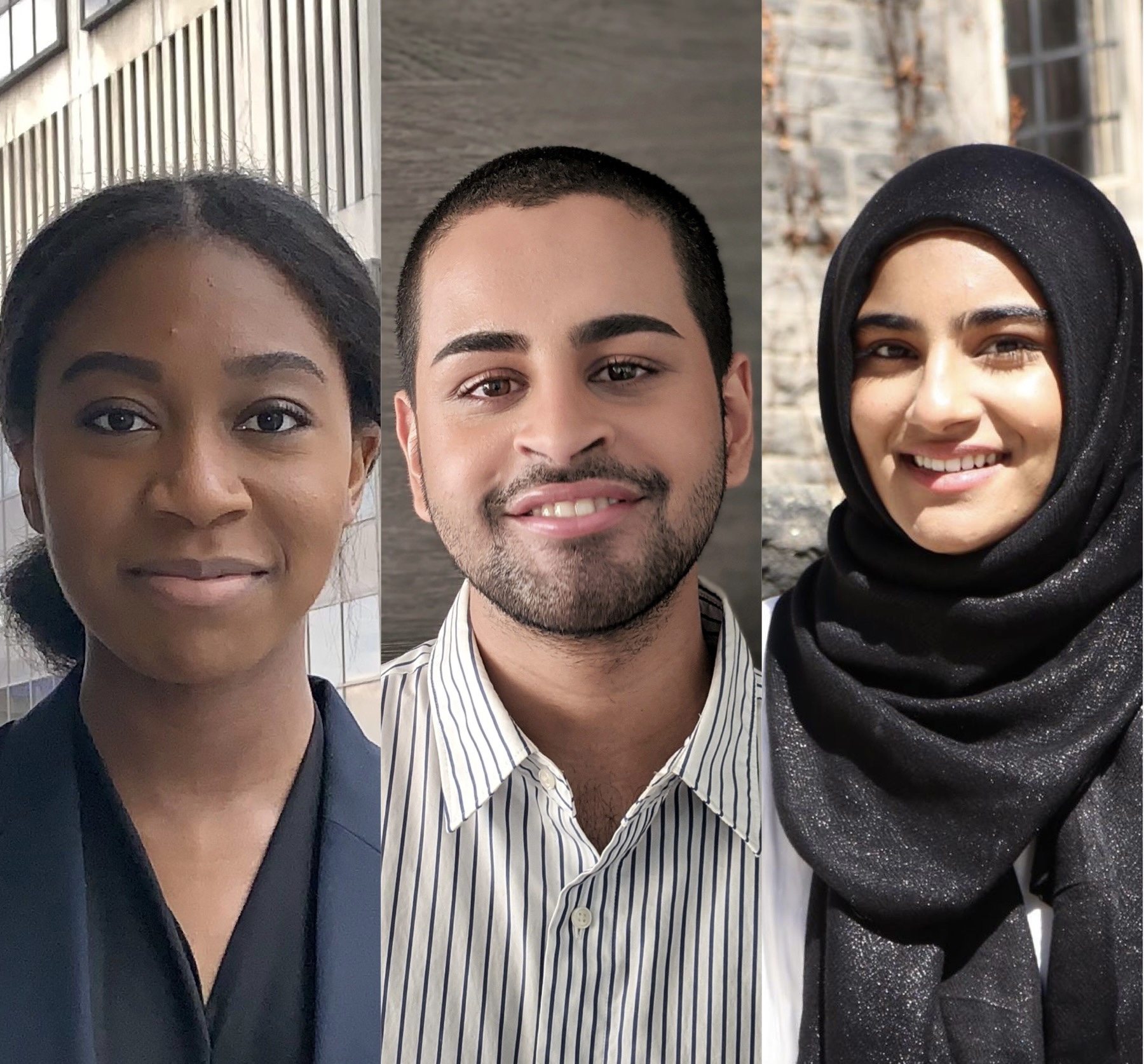 Congratulations to this year's recipients of the EDI Award:
• Deborah Chima (BCom '21, Specialist in Management)
• Vansh Kapoor (BCom '21, Specialist in Management)
• Khadija Waseem (BCom '21, Specialist in Management)
| | |
| --- | --- |
| | Deborah Chima is grateful for the opportunities encountered through the BlackNorth Initiative RCWIB to advance equity, diversity and inclusion within the Rotman Commerce community. Deborah believes that EDI presents three incredibly important traits any environment needs in order to foster a sense of belonging. As the Director of Conference for RCWIB, she innovated the Women's Leadership Symposium by opening up female delegates to new skill-building workshops in consulting, along with key networking opportunities. Deborah also participated in the Rotman x BlackNorth Initiative collaboration this year. She worked with her team to develop a marketing plan for the BlackNorth's  Homeownership Bridge Program, which makes housing more affordable and accessible to Black Canadians. She also served as a Management Career Peer, where she supported students in pursuing their professional goals. |
| | For Vansh Kapoor, the diverse and vibrant community he found at Rotman Commerce and U of T inspired him to pursue meaningful work that left a positive impact. He is grateful to the community for supporting him over the past four years. Vansh strived to re-centre the conversation around providing support to marginalized students. His work highlighted the intersectional issues that affect the student community, and pooled resources from across campus and beyond to address them. Vansh recognizes that his voice is his most powerful tool, and he used it to raise concerns and highlight issues that concern the student community. In doing so, he was able create a safe space where students not only feel comfortable as they are, but are also able to speak up. |
| | Khadija Waseem's faith stems from the belief that we should strive to leave spaces better than how we found them. She hopes that this cycle of manifesting truth and power is easier for all the hijabi, racialized, and intersectional folks after her. Khadija's leadership during her time as an undergraduate student at Rotman Commerce was a lesson in navigating the systemic barriers faced by intersectional identities. In the ethos of being the change she wants to see, she founded Accessibility at RC (ARC), the first peer-led centralized navigation program for students outside the classroom. Khadija's efforts advocated for marginalized students, raised awareness about systems of inequalities within the world of academia, and provided mitigative solutions which will make it easier for future students to come. |
Note: winners are listed in alphabetical order by last name.
July 12, 2021