"The World Needs You": Chancellor Michael Wilson, BCom '59, Addresses the Rotman Commerce Class of 2018
Presiding over his final convocation ceremony as Chancellor of the University of Toronto, the Honourable Michael H. Wilson, BCom '59, exhorted the Rotman Commerce Class of 2018 to contribute to a better world through volunteerism and community service.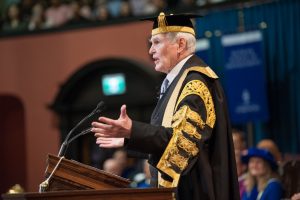 Addressing the nearly 400 new Bachelor of Commerce graduates assembled in Convocation Hall, the Chairman of Barclay's Capital, former federal Finance Minister, and former Canadian Ambassador to the United States encouraged them to "find a cause that you can identify with" and give back through volunteering. Wilson's own illustrious career – one spent in high-profile positions in business and politics – was augmented, he said, by the rewards he gained personally through his volunteer work. A long-time volunteer with the Canadian Cancer Society, Wilson became a tireless advocate for mental health in Canada following the death of his son Cameron, who took his own life after battling severe depression. Of all his endeavours, volunteering, he told the graduating class, has brought him the most personal growth and satisfaction.
Quoting the Rotman Commerce Mission Statement, Wilson urged new graduates to take seriously the challenge of becoming "engaged citizens who contribute to the success of organizations and the betterment of communities in Canada and around the world." Noting the difficult diplomatic relationships in politics and trade that are at the forefront in the news, he encouraged the assembly to work towards building strong communities in these complex times through community service. "This is what I'm asking of you," he concluded. "Please do not give up on [volunteering]. Our world needs you."
Chancellor Wilson is the 33rd Chancellor of the University of Toronto. His term concludes on June 30, 2018. An archive of Chancellor Wilson's June 21st remarks to the Rotman Commerce Class of 2018 may be found at http://uoft.strmstr.com. Text of his speech can be found below.
Text of Chancellor Wilson's Convocation Address:
Mr. President, faculty, friends, families, but most importantly, members of the 2018 graduating class for Rotman Commerce,
First and foremost, to all of the graduates, congratulations. You've had a marvelous education behind you, you've worked hard. You should take pride in this achievement, and I hope that you'll enjoy the celebration that you'll be having after earning your degree as Bachelor of Commerce.
The president just led a round of applause and thanks to those who have supported you in your studies. I would like to echo those thanks and direct them to him personally, and through him, to his very helpful staff, and others in the administration, as well as deans and heads of college who've been most helpful to me during these last six years. Thank you very much, Meric.
It's a true privilege for me to be addressing you today. I chose this ceremony quite deliberately for my final convocation as Chancellor. I graduated from the University of Toronto Commerce course, as you are now doing. Mine was back in 1959. But looking out at you today, I can see myself. But I have to be straight with you. I have no idea what my convocation speaker said. Because I skipped my convocation ceremony. My education as a Commerce grad had prepared me well for a quick launch to my career in finance and I was eager to get started on my job in London, England. I didn't yet realize that celebrating milestones, as you are today, can be very meaningful. I'm glad you're wiser than I was, because I have something important to tell you: the world needs you.
Rotman Commerce has stated its mission very clearly, and let me quote here, "Rotman Commerce seeks to inspire and empower our students and alumni to become innovative leaders and engaged citizens who contribute to the success of organizations and the betterment of communities in Canada and abroad." Let me repeat, "the success of organizations and the betterment of communities." I find this language striking, because too often in our modern world, business is stereotyped as being just about the money. "It's profits versus people," we're told. But that's wrong. Successful business ventures are very important to our socioeconomic fabric and you have been given the tools to make an enormous contribution. Moreover, businesses and business people are part of our communities and are more effective when they are active locally, and aware of the challenges and aspirations of those working around them. Understanding and insight, come not from isolating ourselves in our businesses, but from engaging the broadest array of ideas and people. It's fundamentally a partnership for the betterment of both partners, as the Rotman Commerce mission has said.
But there's more. What does it mean to be an engaged citizen? Way back in grade 8, my school was assembled to hear a guest speaker, who had been quite involved in the launch in Toronto of what is now known as the United Way. And what a surprise to me to see that that speaker was my father. He was also one of the founders of what is now the Heart and Stroke Foundation. My mother was also involved in community organizations, such as the CNIB, and the Red Cross and our church. All this to say that I was exposed to the importance of community service, of being an engaged citizen, from an early age. So the importance of service goes back a long way within this old body, and it's led to a series of very interesting activities in my community, but also as you've heard, as service as a member of the federal government in Canada.
Today, there are many major global issues which as individuals we may worry about and are frustrated that we're not able to do much about. Intractable problems such as those posed by North Korea, ISIS, and recent and incredibly complex files such as relationships with China, and now even our neighbor and top trading partner, the United States. But we can have an impact on building strong communities here at home. Our communities are the guiding strength of our country, and our institutions. And this is where our volunteer service can have its greatest and most immediate impact, whether it's in a service club, a hospital, children's sports, charitable organizations, helping those in need — there are many ways of giving back to our communities, strengthening them, as well as ourselves. It's also a way of gratefully acknowledging the benefits of the good education which you have received here, at the University of Toronto.
I encourage you to find a cause that you can identify with. I am confident that as your involvement grows, you will become quite passionate and keen to help it succeed. My most important volunteer work—some say it's probably more important than any of the work I did in parliament—is being in the mental health field. I had my first exposure to this as a member of parliament. Constituents and colleagues would confide in me, sharing mental illness challenges that were there in their families. Through them, I began to understand the impact of mental illness in a very personal way. Prior to politics, I had volunteered for the Canadian Cancer Society, and at that time in Ontario, I was one of 45,000 people volunteering for that great organization. But I knew no one who was a volunteer in the mental illness field. Mental illness then was a hidden subject that no one talked about.
So I decided that it is where I should volunteer and hopefully make a difference. Ironically, within two years, our son became quite ill with a form of depression and ultimately this, compounded by the burden of stigma — the very heavy burden of stigma — surrounding mental illness, led him to take his own life. I saw the impact the stigma on Cameron, as well as in my volunteer work, and as a Member of Parliament, and I knew that I had to speak out about it. The reaction was something that I did not anticipate. It was like a door waiting to be pushed open. People would then come to me, in confidence, and share their own stories. I was asked to make speeches, and to become directly involved in some mental health organizations, such as the Centre for Addiction and Mental Health here in Toronto. I'm now the chair of the Mental Health Commission in Canada, so I'm still very involved in this field.
But more to say that my volunteer work has been a profoundly important part of my life, especially in recent years. I sometimes wonder what a void there would be in my life without it, and I continue to benefit as a person from this. But apart from my personal growth and satisfaction, I know that our communities and our country would not be as strong without the efforts of millions of Canadians providing volunteer services in so many ways. And closer to home here at the University of Toronto, we enjoy a very high standard in the world today: top 20. This ranking would simply not be possible without the support of literally hundreds of volunteers every year, helping us as student mentors, serving on various committees, organizing and running events, and so on.
So this is what I'm asking of you — and I'm sure many of you are already active volunteers. Please do not give up on it. Our world needs you. So let me close by simply thanking you for the privilege of speaking to you today, one final time as your Chancellor. Thanking you for the esteem that you've brought to our university and each other, and thanking you for everything that you have done, and I'm sure will continue to do, for your communities, our institutions, and our country. You have an exciting career ahead of you. But this career can be greatly advanced and be more fulfilling to you if it includes volunteer service in your community. So congratulations class of 2018. You have a great life ahead of you. Thank you.