The 411 on this Rotman Commerce student's latest podcast
Inspired by her passion to be well-informed on global issues and events, Rotman Commerce student Serah George encourages others to do the same through her podcast The 411.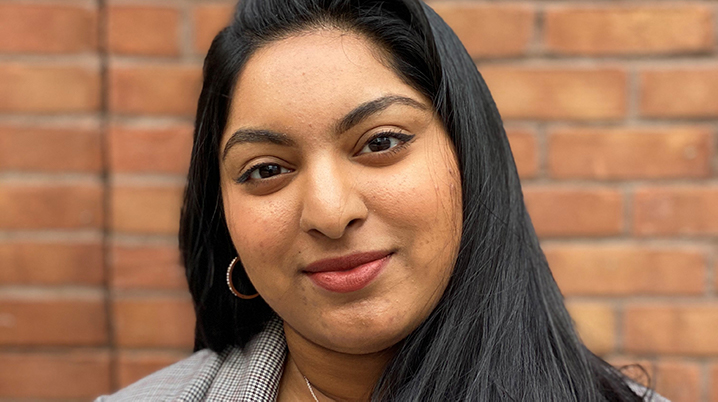 The podcast, hosted by George and two other university students, provides a platform for listeners to stay up to date on the latest in global trends and topics, from fast fashion to cryptocurrency. Here, George shares her goals in creating
The 411
, along with her some of her experiences as a Rotman Commerce student that led to the idea.
Why is this podcast important to you?
About halfway through my first year, the importance of being well-read as a business student and a young professional became clear. I quickly realized I could not hold a discussion on countless topics because I simply didn't know enough. That's why we started The 411 podcast: to educate both ourselves and others on globally pressing topics. In fact, it is for that very reason I believe this initiative is so important to me, because it was founded with the intention of self-development.
What does success look like for you?
I think to many people success is defined by one quantifiable moment or achievement, but to me it's really about a series of small victories that push you to constantly evolve and change your definition of success. Part of what always drives me to start new initiatives or build new skills is the notion that success is never an end goal; it is a catalyst for future growth of yourself and your skills.
How has Rotman Commerce impacted you?
Rotman Commerce gave me opportunities to grow, develop new skills, and build communities with like-minded individuals. My experiences on the RC Competition Team pushed me to learn more about things going on in the world, and to become more well-read. This ultimately led me to start The 411. Being  constantly surrounded by such intelligent and ambitious peers pushes me to continuously improve.
Looking ahead
Currently, George is studying international business and aspires to pursue a career in either consulting or to work abroad impacting business at the multi-national level. In addition, she serves as Head of Strategic Management for Brew, a student startup focused on building university mentorship opportunities for high school students.
Listen to The 411 on Spotify.
January 14, 2021