Taking home 2nd place in a global family enterprise case competition
A team of four Rotman Commerce students landed 2nd place in the University of Vermont's annual Schlesinger Global Family Enterprise Case Competition, a unique opportunity for participants to explore critical issues distinctive to family business.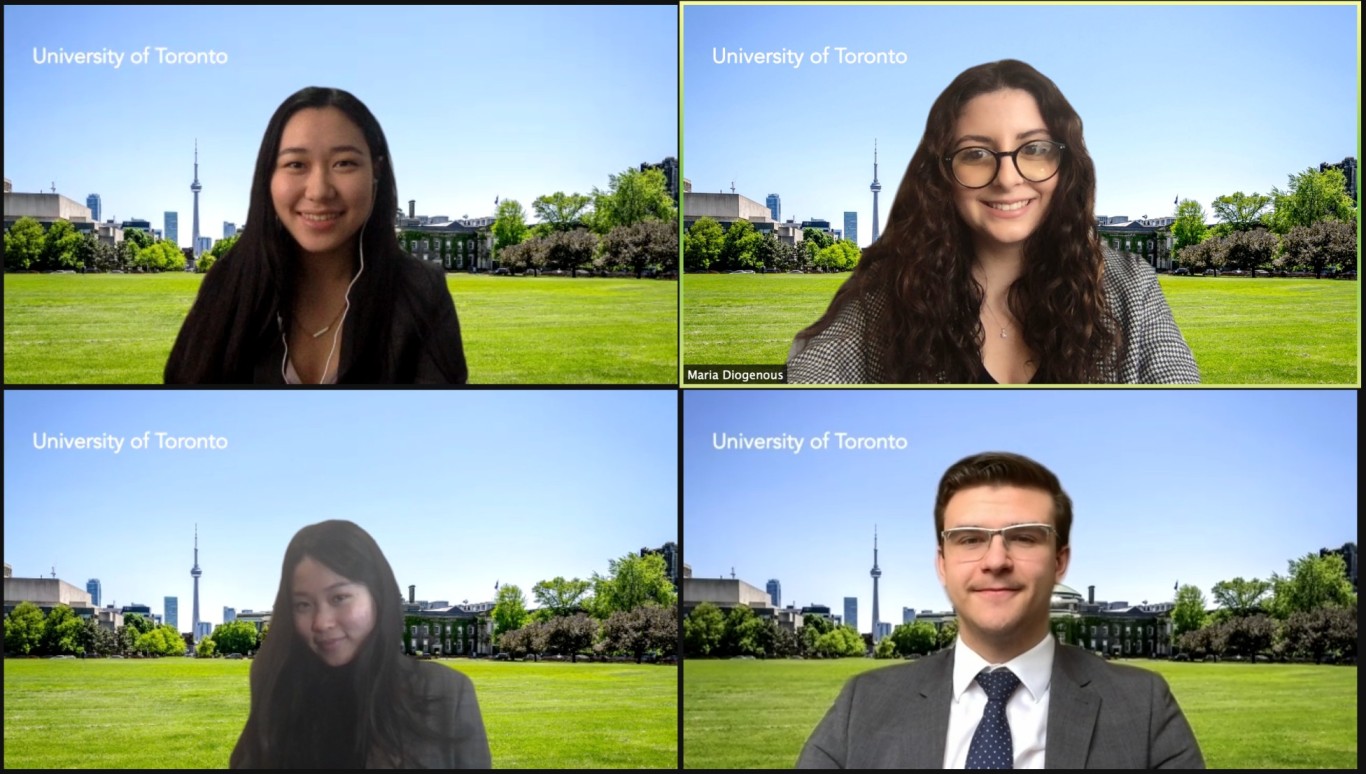 Rotman Commerce students Erin Jia, Annabeth Lin, Maria Diogenous, and Richard Adashkevich worked together for the first time to take on the competition's four challenging rounds. The team employed their creative problem-solving skills and applied their classroom knowledge to develop solutions to complex family enterprise cases. Ultimately, their efforts paid off with a 2nd place win, standing out from undergraduate students from 15 schools all over the world. Here, the team shares details about their achievement, as well as some of the things they learned throughout the course of the competition.
Putting theory into practice
MD: Since this was our first experience in a case competition specific to family enterprise, it was important for us to take it as a learning experience. We were able to grow as a team by taking feedback from each round and thoughtfully applying it to the next.
RA: Going in, the industry was unfamiliar to us. We used the competition as an opportunity to learn about the technical side of the industry, as well as how family dynamics can impact a business. As we went through each round, we developed new ways to structure our answers and how to approach things with a creative mindset.
EJ: We've all been putting a great deal of work and effort into learning about business strategies for the past couple of years. This case competition was a fantastic opportunity to put what we've learned into practice. Doing so well is a really nice recognition of our efforts and training.
A part of the Rotman Commerce family
MD: I'm grateful for the mentorship opportunities with Rotman Commerce's alumni network. The alumni are so inspiring, and extremely supportive; they really care about our self-betterment and progress.
RA: Rotman Commerce allowed me to expand my horizons and grow as a person. The experience of networking and connecting with people from all over the world is invaluable. Also, being on the case competition team allowed me to build strong connections and to constructively solve problems with other team members to achieve something great.
EJ: Most importantly, Rotman Commerce gave me a community that I'm able to connect with genuinely. This sense of community is especially true of my experience on the case competition team. Finally, I am grateful that the case competition gave me the opportunity to take the skills I learned in class and to apply them to relevant, real-world situations.
Learn more about the Vermont Schlesigner Global Family Enterprise Case Competition on their website.
January 21, 2021