Success from the rink to the classroom: insights from an RC Varsity athlete
2015 NHL draftee and third year RC student Riley Bruce has ambitious goals both on and off the ice.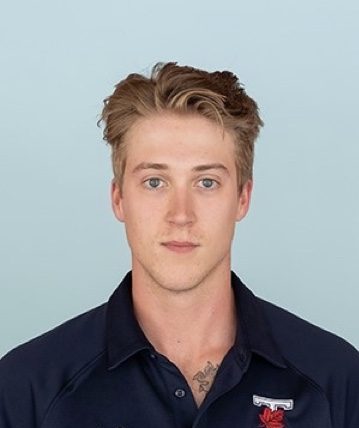 Bruce is currently in his third consecutive season as a defensemen on the Varsity Blues men's ice hockey roster. Balancing a hockey career alongside the academic demands of the Rotman Commerce program isn't an easy feat, but Bruce has developed a variety of skills and strategies to achieve success. Here, he relates the importance of perseverance and goal-setting, as well as some of the ways in which Rotman Commerce has allowed him to realize new ambitions.
Why is this accomplishment important to you?
The double accomplishment of being a varsity athlete as well as getting into Rotman Commerce means a lot to me. Throughout my hockey career, school was always important to me. One of the main reasons I chose to come to U of T was because Rotman Commerce is the best business school in Canada. That's exactly where I wanted to be. Of course, hockey was the other factor. I believed in the program that was being built here by the coaching staff, and the character of the players is unmatched!
What does success look like for you?
Success for me right now is a balance between academics and athletics. Being a varsity athlete is very demanding. Pair that with 5 classes a semester at Rotman Commerce and things can get hectic at times. To me success is keeping my grades up and being able to perform at a high level at the rink every day.
How has Rotman Commerce impacted you?
Firstly, Rotman Commerce taught me that there's more to life than just hockey. Before coming to school, I was singularly focused on playing pro. I was fortunate enough to be drafted into the NHL, but that meant little time to focus on anything else besides hockey. Coming to Rotman has changed my view and I have realized that I am ambitious about things away from the rink as well.
The second way that I have been impacted by Rotman Commerce is through its people. It's refreshing to hear different views, and amazing to be in class with incredibly smart people. It challenges me every day. I genuinely love the work I'm doing! Just the other day, a few students reached out to me about helping start a new initiative called "Blues in Commerce," which is aimed at providing mentoring, tutoring and networking opportunities to varsity athletes in Rotman Commerce.
Looking Ahead
For the past few years, Bruce spent his summers running small businesses in his hometown of Ottawa. He started off with a mobile auto detailing service and added window cleaning services into the mix two summers ago. This summer, he will be working as an associate in the finance and marketing departments of KITS, a retail eyewear company based out of Vancouver.
March 3, 2021