SheBiz introduces young women to careers in business and STEM
More than 350 young women from across the GTA attended SheBiz at the Rotman School of Management last week to learn about career opportunities in business and STEM.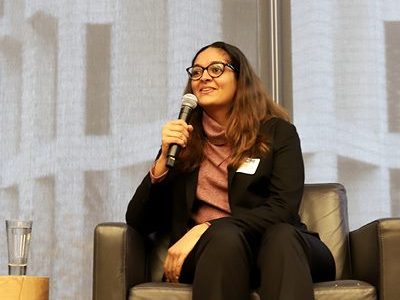 SheBiz is a free day-long event for girls in grades 9 to 11 with the goal of educating female high school students about careers in STEM and business, aiming to inspire this generation to enrol in these disciplines for their post-secondary education. It was created by Women in Capital Markets (WCM), an organization whose mission is to accelerate gender diversity across Canada's financial industry.
"Introducing female high school students to the idea of so-called non-traditional careers in science, tech, engineering, math and business is so important," says Professor Alexandra MacKay, director of the Rotman Commerce program at the University of Toronto.
According to Statistics Canada, women are less likely to choose a career in STEM areas, particularly engineering, mathematics and computer science. In fact, the StatsCan findings show that young men with lower marks in high school were more likely to choose a STEM program than young women with higher marks.
For MacKay, a professor of finance at the Rotman School, closing the gender gap is good for business. "Diversity in business and elsewhere is a foundation for success. We need a wealth of different perspectives to understand and better the world we live in. That's where new ideas come from," she says. "Without events like SheBiz, it's harder for young women to even conceive of some of the futures that are open to them. I'm glad that we've been able to work with WCM to bring this event to the Rotman School."
SheBiz attendees heard from keynote speaker Camilla Sutton, WCM president and CEO, as well as a number of finance professionals, entrepreneurs and scientists. A panel of Rotman Commerce students also shared their experiences of discovering their paths to business school.
The day included hands-on activities that encouraged delegates to apply some of the lessons learned from the panelists, and time for them to collaborate with fellow attendees and begin to build connections with other future leaders.
This is the eighth year SheBiz has been held at the Rotman School of Management.
December 2, 2019