Rotman Commerce team places first in BEAR's Market For Self-Control New Product Challenge
On Wednesday, February 15, the finalists in the Market for Self-Control New Product Challenge, hosted by Behavioural Economics at Rotman, gathered in Desautels Hall to present their products and make their pitches to a panel of four industry judges.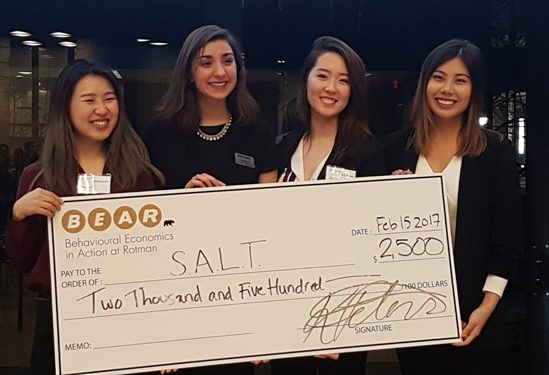 The competition, which was open to MBA, Executive MBA, and Commerce students, attracted over 30 teams, each of which had put forth an idea for a "self-control product" – that is, a device or innovation designed to help people realize their self-improvement goals. The first round of online submissions were assessed by a panel of judges from the Rotman School of Management, and five teams were invited to participate in the final event.
The Rotman Commerce team of third- and fourth-year students Xue Qing (Sally) Tian (Y4), Anjeli Kruytbosch (Y3), Qianyu (Lisa) Chen (Y3), and Tracy Hui (Y4), won the competition for their product, the NudgeRing – a motion-sensing ring that aims to eliminate the compulsive behaviour of acne excoriation (skin picking) through physical intervention and constructive feedback on user progress. Their presentation and product bested those of the other graduate and MBA teams to claim the event's $2,500 grand prize.
February 17, 2017