Rotman Commerce students win 2018 Manulife New Product Challenge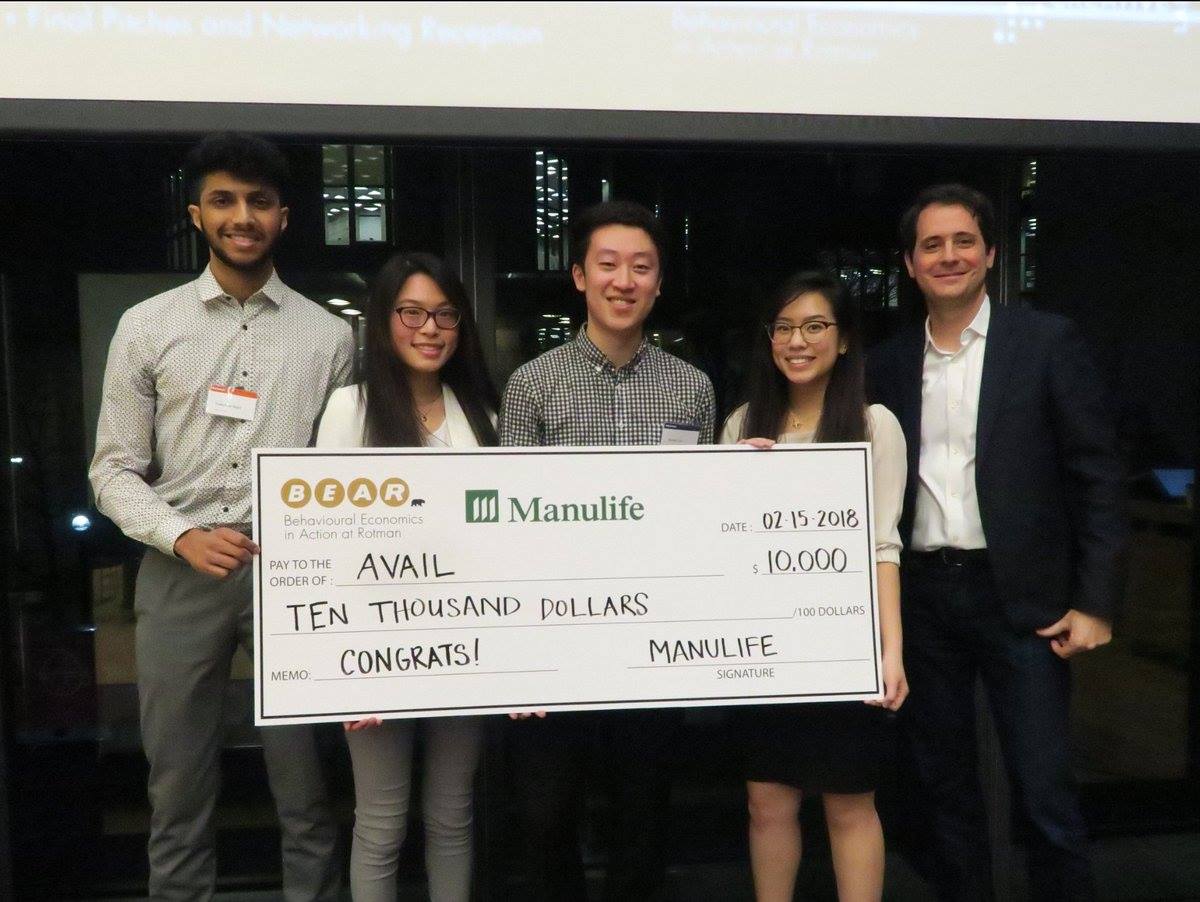 A team comprised mostly of Rotman Commerce students has won the 2018 Manulife New Product Challenge: Market for Self Control. Fourth-year finance students Zi Tynn Cheng and Kim-Thu Nguyen, joined with third-year student Steven Cui and Tash-Had Saqif of Computer Science and Cognitive Science to form the winning Team AVAIL. 
The annual competition, hosted by Behavioural Economics in Action at Rotman (BEAR) and sponsored by Manulife, challenges teams to use the principles behind behavioural economics to develop and pitch new products that enhance self control. The idea behind the competition is compelling: we all have good intentions, but often have trouble following through with them. What kinds of products and services would encourage us to turn those intentions into action?
This year's Challenge saw entries from thirty-nine teams, many of them graduate students from the Rotman School of Management. Rotman Commerce students were represented on eleven of those teams; three of these advanced to the final six.
The final competition was held on February 15, 2018, at the Rotman School. The teams pitched their product ideas to a panel of expert judges from the Ontario Centres of Excellence, Manulife, MaRS Discovery District, and PwC. The proposed products addressed a wide range of behavioural challenges, such as moderating internet usage, adhering to birth control, improving elocution, encouraging housework, saving money, and curbing impulse purchases. Team AVAIL won with their proposal for a behavioural-focused mobile app that helps parents and teens negotiate goals and rewards for internet usage reduction. Their pitch was singled out by the judges for its elegant simplicity, creativity, and implementability.
This marks the second year in a row that a Rotman Commerce team has won the competition. Last year, Xue Qing Tian (BCom '17), Anjeli Kruytbosch (BCom '18), Qianyu Chen (BCom '18), and Tracy Hui (BCom '17) of Team SALT claimed the top honours. For Dilip Soman, Professor of Marketing and Co-Director of BEAR, the back-to-back Rotman Commerce victories aren't surprising. "Rotman Commerce students are bold thinkers," he says. "They aren't afraid to think out of the box and aren't bogged down by thoughts of whether their ideas can come across as potentially silly. This intrepid thinking sets them apart."
More information about this year's Manulife New Product Challenge can be found on the BEAR website.
February 21, 2018