Rotman Commerce students win Creative Shock case competition
A team of four Rotman Commerce students took home the grand prize at this year's Creative Shock international social business case competition, organized by students at the ISM University of Management and Economics in Lithuania.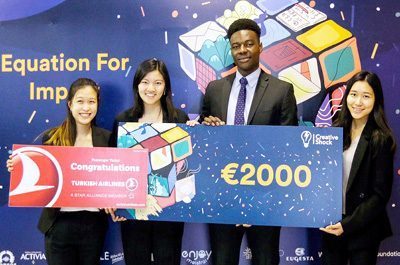 This was the first time that team members Jeffrey Fasegha, Erin Jia, Jamie Lee, and Diana Zhang had competed together and they were excited to take part in a case competition focused on tackling social issues in a financially sustainable way.
The preliminary rounds of the Creative Shock case competition began in October, when the team built a case for farmer's insurance and developed a marketing campaign for a Lithuanian social enterprise focused on reducing textile waste. Placing in the top 10, they were then invited to Vilnius, Lithuania from November 26 to December 2 to solve two final cases.
In the first round of the finals, teams pitched their own social business idea. The Rotman Commerce team proposed an idea to address homelessness in Toronto. The final case was focused on NEMI teas, a UK-based tea company that employs refugees.
Despite this being their first case competition as a team, the students were quick to come together and figure out what experience they each brought to the team.
"We know we each bring a different skillset," said Fasegha. "Before we started working we sat down and discussed what our strengths and weaknesses were and coordinated what roles we were going to take in solving the cases."
The students said that one of the most challenging parts of the competition was having to stay up all night working on the case.
"Case preparation began at 9 PM we had to submit a presentation by 7 AM the next day," said Lee. "That was the first time I pulled an all-nighter."
While in Vilnius, the students also attended lectures, team building activities and networking events.
"It was awesome to have the chance to learn from speakers from around the world about how they're using business to create positive change in their countries," said Fasegha.
For their prize, the team received €2000 and Turkish Airlines tickets to any destination of their choosing.
"Winning this case competition signals to me that I've developed my understanding of social business and that I know what it means to use business as a force for good," said Lee. "I'm thankful for the opportunity to learn about social business on a global scale and am excited for the industry to continue to grow worldwide."