Rotman Commerce student leaders recognized with Director's Award for Leadership
The Director's Award for Leadership recognizes students who display leadership through extracurricular activities within Rotman Commerce. The award recipients engaged in leadership that involved the perspectives of diverse individuals in a collaborative process towards a common goal.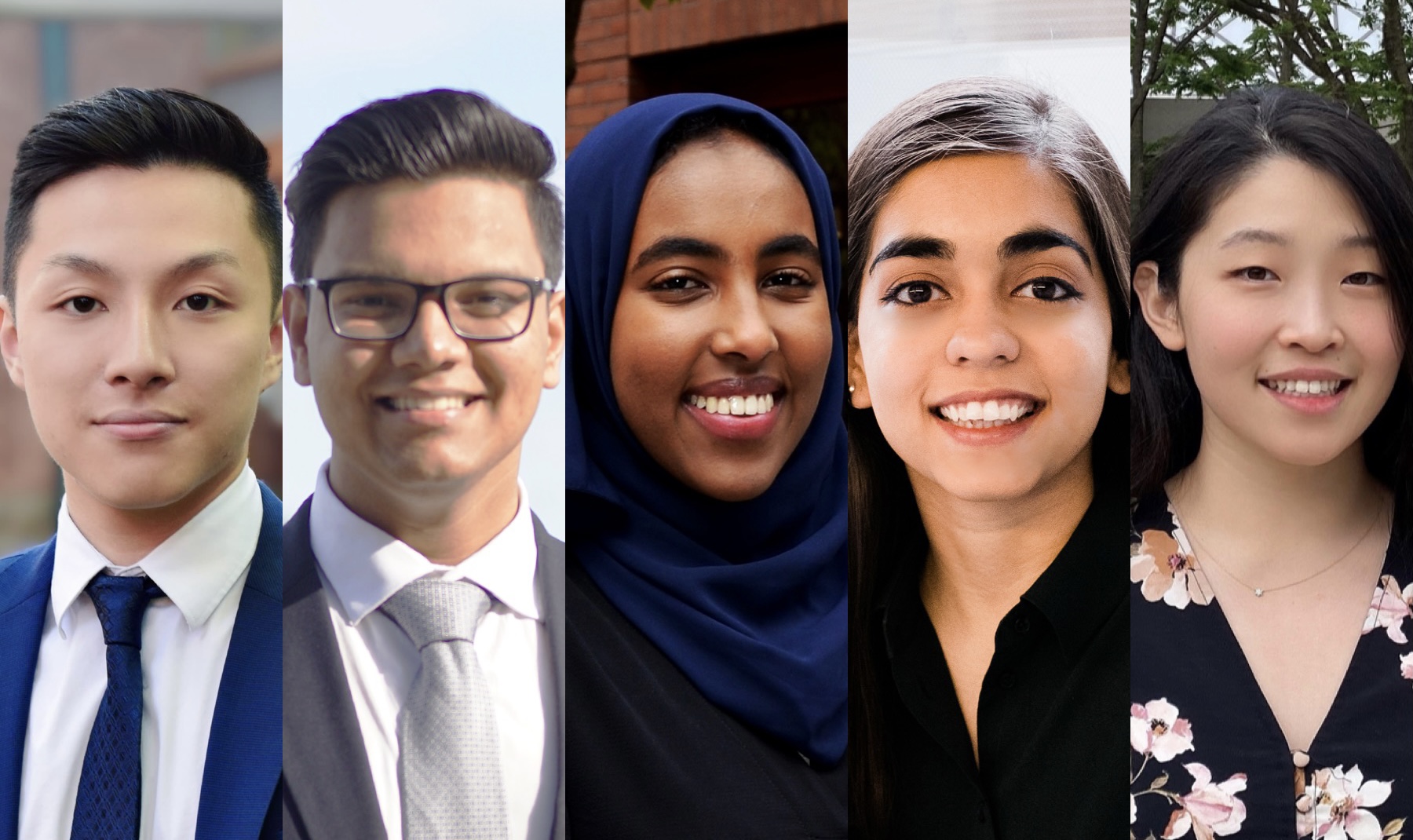 Congratulations to this year's recipients of the Leadership Award:
William Fu (BCom '21, Specialist in Management)
Arbab Kamran (BCom '21, Specialist in Accounting)
Aysha Mohammed (BCom '21, Specialist in Finance and Economics)
Mavish Siddiqui (BCom '21, Specialist in Accounting)
Susanna Zhao (BCom '21, Specialist in Finance and Economics)
| | |
| --- | --- |
| | For William Fu, winning this award is especially meaningful because it recognizes what the Rotman Commerce Students' Association (RCSA) accomplished this past year. Throughout his time at Rotman Commerce, William learned a great deal through being involved in the community. This year, his largest impact was the shift in focus of the RCSA towards advocacy for students and implementing change within the program. He is especially proud of initiatives involving equity, diversity and inclusion, which include training for EDI, events focused on the issue, and practices within student organizations that adhere to a high standard of EDI. William hopes these initiatives can be continued within the community in the years to come. |
| | Winning the Leadership Award is an incredible honour that Arbab Kamran will forever be grateful for. The award is a representation of how far he has come, and a reminder of all the amazing people that he met or mentored at Rotman Commerce. Through his leadership roles at the Rotman Commerce Accounting Society (RCAS), his team created  programs to help educate students about the CPA designation and assisted in connecting students with industry professionals. Arbab also worked with Career Services to help students navigate their career journeys in his role as a Career Peer. Lastly, as part of the Rotman Commerce Student Advisory Group, Arbab communicated student feedback to various Directors at Rotman Commerce, and worked in collaboration to continue strengthening the program for current and future students.  |
| | Throughout her time at Rotman Commerce, Aysha Mohammed consistently sought ways to decrease the institutional barriers towards success for Black students. In winning this award, she is truly grateful and happy to see that such efforts, and the issues  themselves, are being recognized. As co-President of Black Rotman Commerce, Aysha led the formation and operations of weekly office hours where student members are able to get support with course content and career-related questions. In addition, she co-organized the Black Career Conference (BCC), one of the largest conferences of its kind in Canada. Through the conference, her team launched BCC's first annual pitch competition, with prizes totalling $21,000, to provide opportunities for Black entrepreneurs. The conference, in conjunction with weekly office hours, has been successful in securing summer opportunities for Black Rotman Commerce students.  |
| | For Mavish Siddiqui, this award means that her work resonated with others and created an impact. It shows that her collaborations with her team at the RCSA and with RC Assistant Director of Student Life Linnet Kocheril were successful in creating change. As the President of the Rotman Commerce Students' Association (RCSA), Mavish had the pleasure of being a voice of students. She worked with RC administration to address issues and advocate for students in areas of student life, academics, mental health, finances and more. more. Mavish also worked with her team to put out new events, projects and initiatives that allowed students to bond within the virtual environment and feel valued as part of the RC community. Her team also worked to highlight societal issues that affect our students, including EDI, Black Lives Matter and anti-Asian racism. |
| | For Susanna Zhao, winning this award acts as a reminder that the dedication and efforts of students can truly make a lasting impact on communities. Susanna contributed to the Rotman Commerce community through two main student groups: the Rotman Commerce Competition Team (RCCT) and the Rotman Commerce Marketing Association (RCMA). Within RCCT, her team pivoted their competition strategy towards talent development and fostering a stronger case competition culture. Susanna helped create a new summer case training program and opened the training opportunity to all RC students. The result of this approach allowed RCCT to achieve the highest number of international placements and awards to date. At RCMA,  Susanna's focus was to increase internal engagement. Through increasing the number of socials and mentorship opportunities, RCMA became a more tight-knit community and saw a stronger retention of members. |
Note: winners are listed in alphabetical order by last name.
July 26, 2021