Rotman Commerce student athletes recognized at Academic Excellence Breakfast
Fifteen Rotman Commerce students were recognized at the 10th annual Varsity Blues Academic Excellence Breakfast last month at Goldring Centre for High Performance Sport.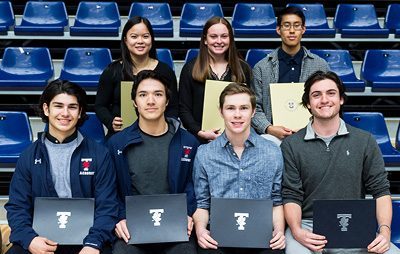 The ceremony honoured student athletes who earned an 80 per cent average or higher in all their courses during the 2018–19 academic year, while competing on a Varsity team.
Each recipient received a pin: enamel for first-time winners, bronze for second, silver for third, gold for fourth, and a diamond pin for anyone earning this award five or more times during their intercollegiate career.
This year, 233 U of T student athletes were given pins recognizing their academic excellence.
Congratulations to the 15 Rotman Commerce students recognized:
Laura Amoi, track & field
Davis Bottomley, lacrosse
Cristine Chao, hockey
Darren Elliott, lacrosse
Aidan Guld, lacrosse
Minsor Huang, fencing
Macon Jeffreys, lacrosse
Roy Lin, fencing
Maxwell Lindsay, hockey
Vincent Luccisano, football
Matthew Mac, swimming
Mark Manolescu, hockey
Kristin Parkes, soccer
Marco Stipo, mountain biking
Riana Vumbaca, field hockey
December 2, 2019