Rotman Commerce alumni recognized with Arbor Awards for exceptional volunteer service
Rotman Commerce alumni Stefan Etarsky, Evelyn Foo, Bernice Pang and Ruben Sahakyan were recognized with Arbor Awards for their contributions to U of T during a ceremony on October 10.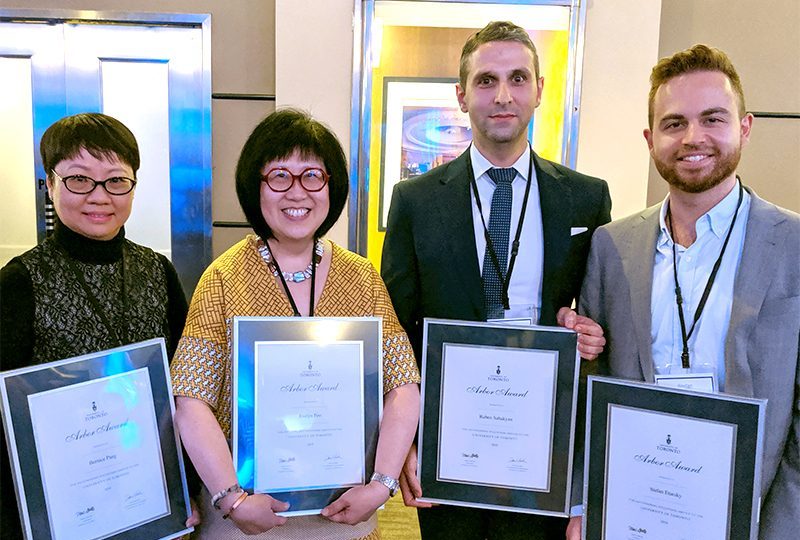 The Arbor Awards acknowledge outstanding U of T volunteers who, through their tremendous generosity, make exceptional contributions to the experience of U of T students, faculty, staff and alumni.
The awards are inspired by the University's motto — Velut Arbor Aevo — "May it grow as a tree through the ages."
Since 1989, more than 2,400 U of T alumni and friends have received Arbor Awards.
This year, more than 100 members of the U of T community were honoured for their ongoing contributions to the university.
Etarsky, BCom '09, is a senior manager at TD. Over the past six years he has shared his expertise on finance and risk management with students while serving as a mentor in Rotman Commerce's popular Alumni Mentorship Program.
Foo, BCom '87, is the President, COO and CFO of Galileo Global Equity Advisors. She has been part of the Rotman Commerce Alumni Steering Committee since 2018, and has been a mentor for the last four years. She has also been generous with her expertise, sharing her experiences as a panelist in our Alumni Network's 2018 Women in Leadership forum.
Pang, BCom '91, is CFO and Executive Director at Morgan Stanley Canada. A Rotman Commerce mentor since 2008, she has developed long-lasting relationships with students and alumni and has an open-door policy for students she has met in her years as a mentor.
Sahakyan, BCom '11, works in tech investment banking for GMP Securities. He has been a mentor since 2013. Ruben has attended countless events, been a panel speaker and shared his expertise in finance with both current and potential students.
Read more about the Arbor Awards.
October 16, 2019