Recognizing leadership at Rotman Commerce
The U of T Student Leadership Award (UTSLA) celebrates outstanding leaders in the U of T community who foster a diverse and inclusive environment.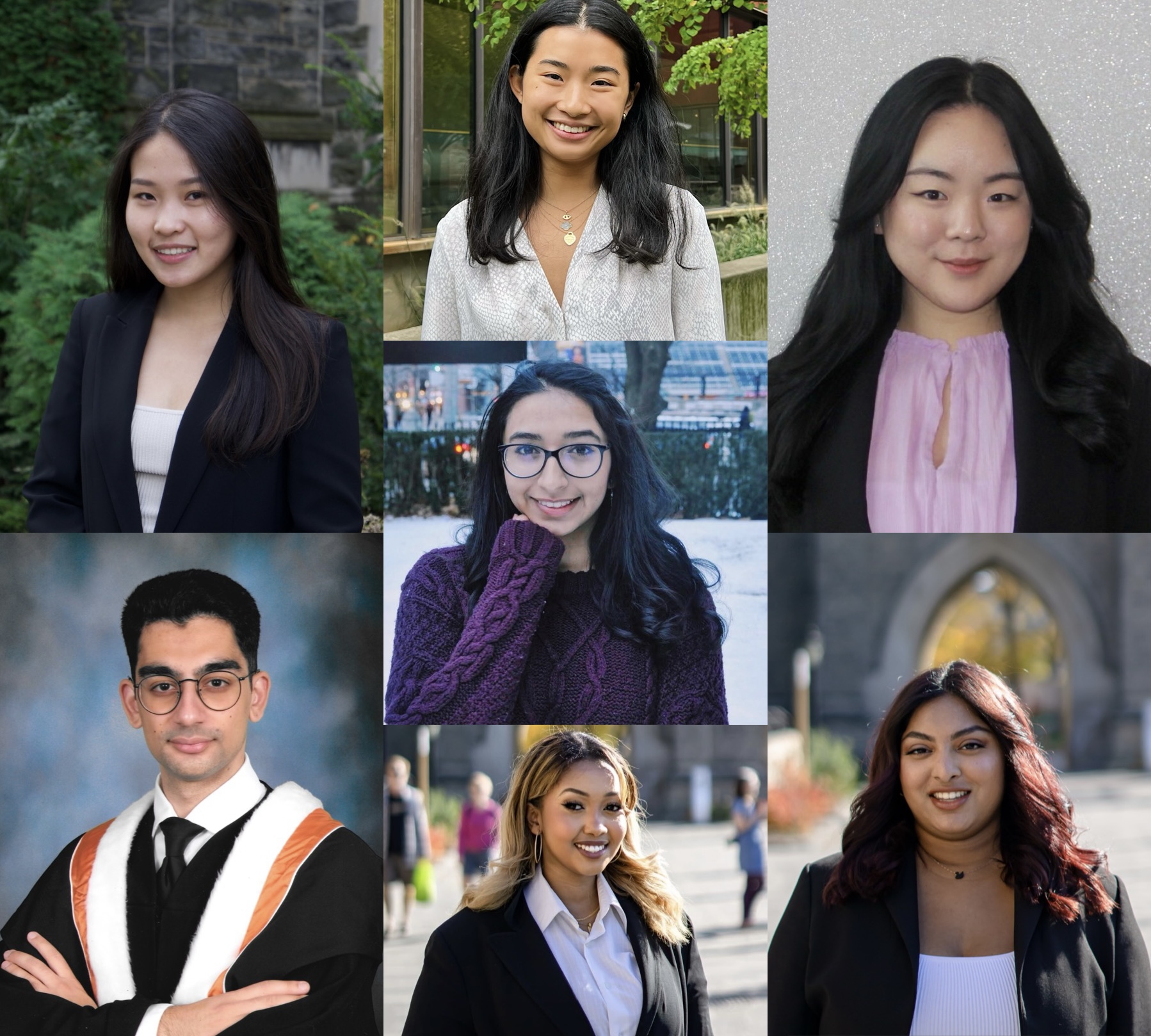 Congratulations to the five RC recipients and two Woodsworth College recipients of this year's UTSLA:
Annabeth Lin (BCom '23, Specialist in Management)
Bashaar Hassan (BCom '23, Specialist in Finance & Economics)
Medha Wadhwa (BCom '23, Specialist in Management)
Megan Chong (BCom '23, Specialist in Management)
Zimman Yousuf (BCom '23, Specialist in Accounting)
Erin Kim (BCom '23, Specialist in Management)
Serah George (BCom '23, Specialist in Management)
RC recipients
As captain of the RC Competition Team (RCCT), Annabeth Lin trained 27 competitors in their core case competition skills. Her mentored teams competed in 12 international competitions, and secured 5+ invites to international competitions in Europe, Asia, and North America.
Annabeth also led the RC Entrepreneurship Organization (RCEO) as President, launching the first annual Boundless case competition during her tenure. Over 50 teams tackled an innovative and complex business challenge in the startup space.
Making impact through mentorship and giving back to the community is important to Annabeth. "I owe the majority of my personal growth and development to the RC community and alumni," she said. "Making small steps to drive change ultimately accumulates into a large impact. I hope to inspire future generations of RC students in giving back to their community, one step at a time."
This fall, Annabeth will join Monitor Deloitte as a consultant, while also running a sustainable agri-tech startup.
Bashaar Hassan launched RC's Coding Café program this past year. "My goal was to open a safe and welcoming space for RC students to get excited about coding," he shares. "I am eternally grateful to Professor Ryan Webb, Valeria Sladojevic-Sola, and the entire TD-MDAL team for their support!" Bashaar was also involved with the Rotman Commerce FinTech Association (RCFTA) for three years, where he worked with the team to launch a free-to-use trading platform, create internal development initiatives, and host RC's very first datathon.
Bashaar shares this reflection: "For those of us involved in launching long-term initiatives to support the community, we rarely get to see the large-scale impact we envision," he said. "In my eyes, the UTSLA is reassurance from the RC and U of T staff that they will continue finding ways to use the programs and tools that I've helped build for future students, long after I'm gone. That's all I could have ever hoped for."
Bashaar's post-graduation plans involve staying in Toronto to work as an Analyst at Level5 Strategy.
Medha Wadhwa was involved with Rotman Commerce Arts Group (RCAG) and Rotman Commerce Toastmasters (RCT) throughout the four years of her academic journey. She started as a first-year intern for RCAG, and later moved on to become Director of Corporate Relations. At RCT, Medha began as a general member and was most recently VP External. At RCT, Medha launched the flagship event RCT x RCPA: Roaring 20s Speakeasy, an incubator for all forms and styles of art to provide a safe space for artists to experiment and take risks.
"As a first-generation Canadian and a student with a disability, most of the work I've done through my leadership positions has been in an effort to make the RC and U of T Community a more inclusive and accessible space," she shares. "At every step, I've received support and resources from the RC and U of T community."
Currently, Medha serves as the secretary of the Woodsworth College Students' Association (WCSA) and is a don at Woodsworth College Residence. She hopes to spend her summer travelling and is looking forward to starting a career in the entertainment and media industry in the fall.
Megan Chong served as President of the Rotman Commerce Sales Group (RCSG), where she led a team of 22 students in spearheading two new events meeting unmet needs in the student body. The group's most recent event secured $2,500 in sponsorships and reached a record attendance of over 90 students. Megan also obtained sponsorship funding as a Corporate Relations Manager for Rotman Commerce Women in Business (RCWIB), worked as a pro-bono consultant at GRC and Consult for Impact, and provided mentorship as an orientation leader.
"Receiving this award means so much to me," says Megan. "I am so grateful for all the encouragement and guidance at Rotman Commerce. I would not be where I am today without the unconditional support of my friends, family, classmates, upper-year mentors, professors, TAs, and advisors."
Going forward, Megan plans to bring her willingness to challenge the status quo and implementation of new ideas to every aspect of her life in order to benefit her community.
The UTSLA endorses one of Zimman's central goals – adding impactful contributions to every initiative she undertakes. "I dedicated my four years at RC to self-improvement and motivating and mentoring other students to do the same," she said. "I hope that I have paid it forward."
After graduation, Zimman will join Capco as a Business Consultant.
Woodsworth College recipients
For Erin, receiving the UTSLA is both a recognition of her hard work as well as an opportunity to show her gratitude to everyone she has worked with over the past four years. "Being in a position of leadership allowed me to build genuine relationships with incredibly intelligent peers," she said. "I learned and grew immensely by working collaboratively with my team – this is why I believe I received this award. I want to thank each and every one of them!"
Looking ahead, Erin will join the Advertising, Marketing, and Commerce team at Deloitte Consulting as a Business Analyst.
This past year, Serah George was involved with the Rotman Commerce Competition team as a co-captain, where she helped train and prepare competitors to travel internationally and compete. She was also Vice President of Rotman Commerce Women in Business (RCWIB) and helped the group transition to its first WLS conference back in-person since 2020. In the past, Serah has also been a researcher at the Reach Alliance (Munk School) and a mentor within various programs. She describes these communities as highly supportive to her personal development since her first year, and values the skills she learned and the people she met.
For Serah, leadership is about empowering others on her team to achieve a shared goal. Winning this award means a lot to her, as it shows that she was able to give back to the communities that gave so much to her. "Coming into RC, I was not a confident person who knew what I wanted," Serah shares. "Being part of these groups helped shape who I am today, and I'm excited to have been a part of that legacy."
Following graduation, Serah will join McKinsey & Company as a Business Analyst. In the future, she hopes to ultimately work in the area of global development or social innovation.