RCWIB x WLS: the 14th annual Women's Leadership Symposium
With the fourteenth annual Women's Leadership Symposium (WLS), Rotman Commerce Women In Business (RCWIB) continues to create an inspiring and supportive environment for the community to connect and thrive.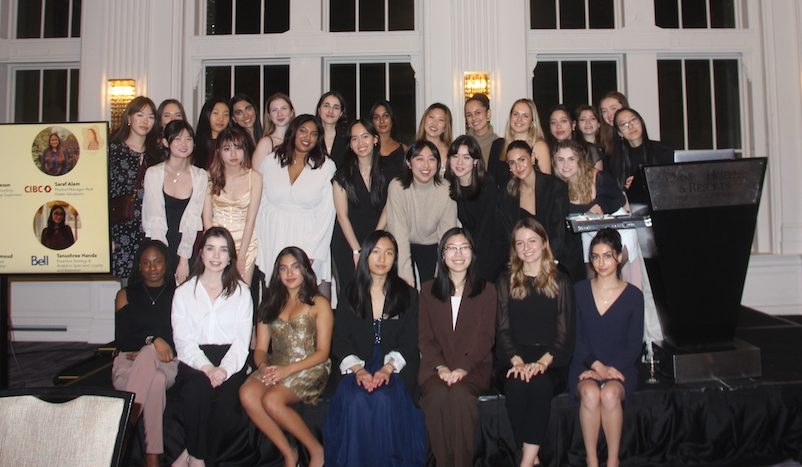 Building connections from night to day
"Hosting the cocktail networking reception at the evening social and the formal networking session on the conference day was a great honour for our team, as we had the opportunity to connect attendees with corporate representatives and campus recruiters."

Emma Moskalyk, BCom '24, and Delaney Yau, BCom '24
Founded in 2010 by Jordana Greenberg, Rotman Commerce Women In Business (RCWIB) has one goal in mind: to unite and empower young females in business. With over 50% of the RC student population identifying as female, RCWIB aims to offer mentorship, skill-building and networking opportunities for the professional development of individuals.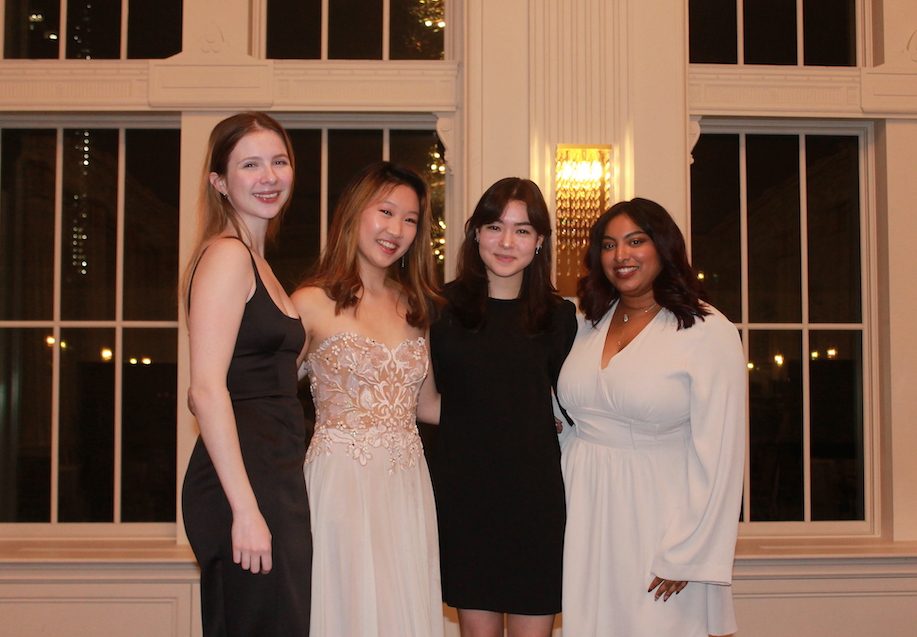 Over the course of two days, the fourteenth annual Women's Leadership Symposium (WLS) offered ample opportunities for networking and learning from experienced professionals as well as peers through a dynamic mix of an evening social preceding an all-day conference. Conference day was packed with engaging panel discussions on various topics, including finance, marketing, social media, consulting, and entrepreneurship, leaving students inspired and informed. Accompanying the panels were five workshops: Critical Lessons Learned for Starting Your Career, Overcoming Imposter Syndrome, Navigating the Glass Ceiling, Leadership Storytelling, and Achieving Life Satisfaction.
Directors of Conference, Emma Moskalyk (BCom '24) and Delaney Yau (BCom '24), share, "The Mixed Careers panel was a great addition to this year's event. The panel shed light on how professionals with business backgrounds were thriving in non-traditional business fields such as health, law, non-profits, and real estate. It really showcased the versatility of business skills."
For Emily Kemp (BCom '23), President of RCWIB, the evening social was a notable highlight. "It was a wonderful opportunity to network with reps and other students in a more casual way. Plus, it's always so fun to dress up; everyone looked so glamorous!" Serah George (BCom '23), Vice-President of RCWIB was excited to host the workshop, "Achieving Life Satisfaction." She admits that though she was intimidated at first, the opportunity to engage with incredible women was so valuable.
Developing personally and professionally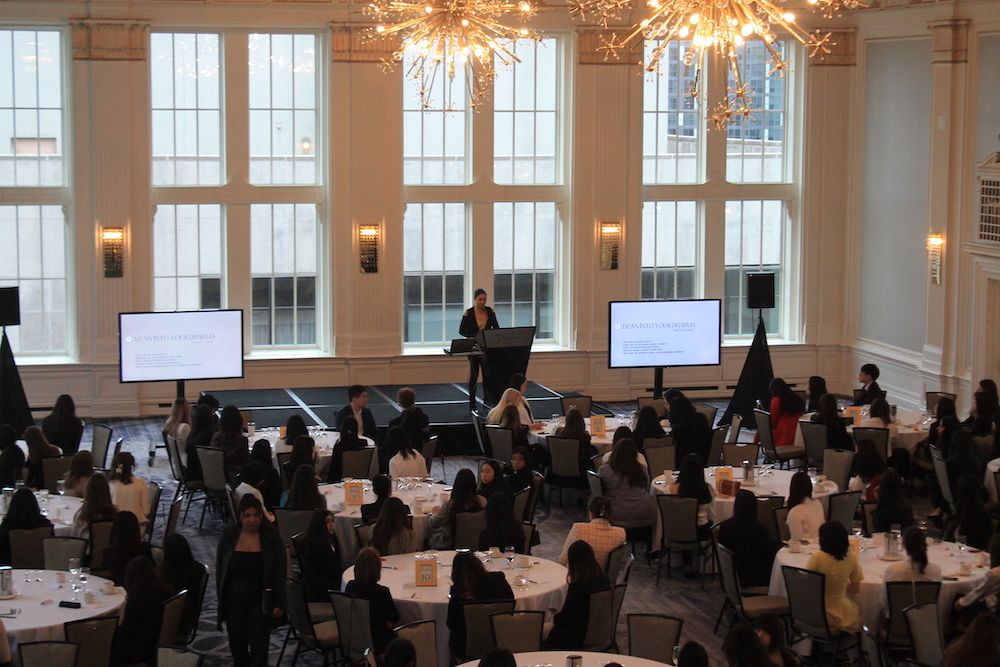 "WLS is about pushing yourself outside your comfort zone in a supportive environment. It's about practicing communication, storytelling, and leadership skills that are crucial to progressing in the business world, while also learning how to navigate some of the challenges we face as women in these spaces."

Serah George, BCom '23
Serving as a space to create long-lasting connections with industry representatives, WLS has been integral for both Emma and Delaney's professional journey. "Through engaging workshops and panel discussions, students can discover important lessons about their career journey and ambitions." Whether it be with professionals or peers, Emily highlights the value of building your network. She notes, "Even if it's not with corporate reps, you have the opportunity to meet lots of other students from RC, U of T, and even other universities."
Empowering the RC community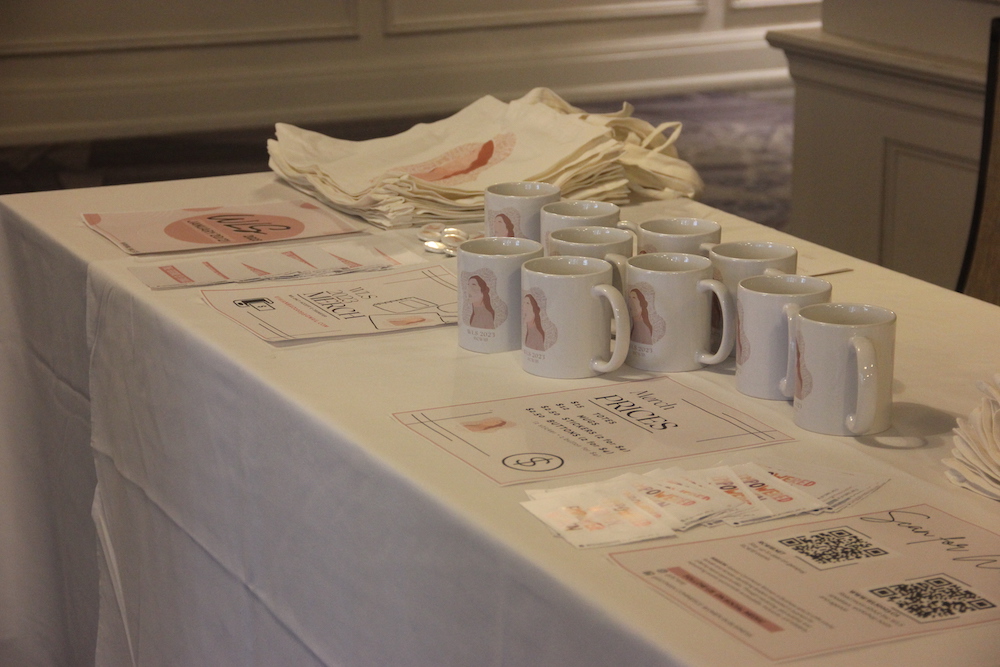 "WLS aims to unite and empower students and the RCWIB takes pride in bringing the entire RC community together."

Emma Moskalyk, BCom '24, and Delaney Yau, BCom '24
For the first time this year, RCWIB collaborated with the Rotman Commerce Consulting Association (RCCA) and the Rotman Commerce Marketing Association (RCMA) for the Consulting and Marketing & Social Media panels. "It was an opportunity for RC clubs to promote themselves to the 200 delegates and 90 professionals present at WLS." By expanding the assortment of RC clubs featured, Emma and Delaney hope to encourage awareness and participation in WLS.
Increasing men's engagement at WLS remains a goal for Serah. "Diversity is such a crucial aspect of having change-making discussions, and being a part of these conversations can help delegates become better allies and more actively support their colleagues in the corporate world."
A bright future ahead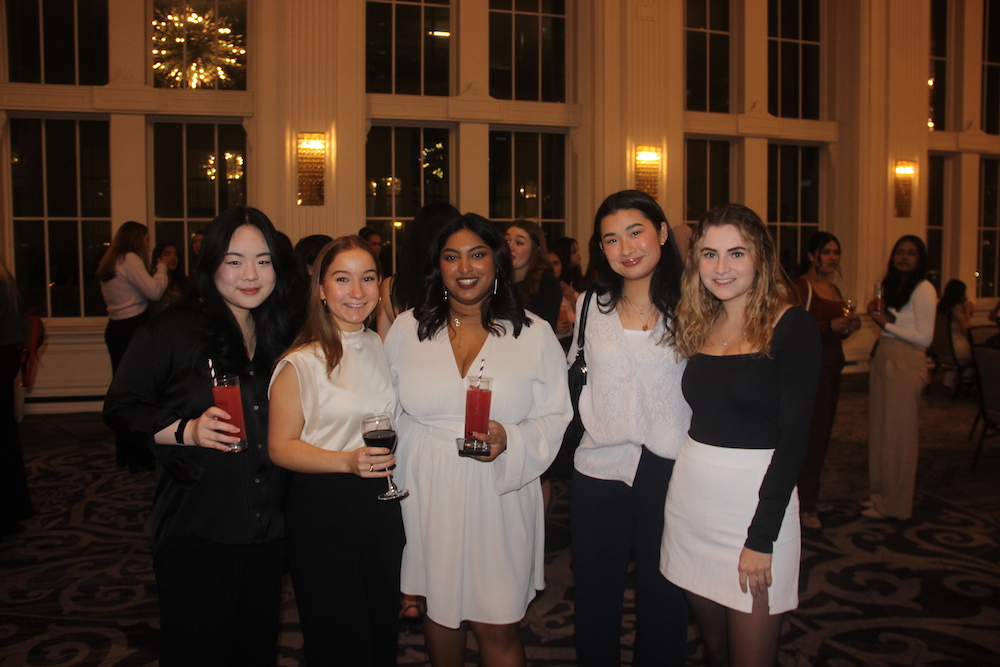 "RCWIB has grown so much and in such amazing ways since I joined in my first year. By expanding events and program, I hope we inspire students to work towards gender equality in the workplace."

Emily Kemp, BCom '23
Through their mission to empower women with confidence in the business world, RCWIB aims to leave its mark on the RC community. After witnessing the team's growth over the years, Serah is proud of its many achievements. "I can't wait to see RCWIB collaborate with more inspirational women and create a lasting impact for future generations of students."