Oakville Trafalgar team takes top prize at Rotman Commerce Boardroom Competition
On Saturday, March 17, a team of Grade 12 students from Oakville Trafalgar High School took the top prize in the finals of Rotman Commerce's second annual Boardroom Case Competition. Competing against eight other finalists from Ontario high schools, the Oakville students won with their pitch for FitCalm, a subscription-based meditation and fitness app to promote mental and physical health in youth.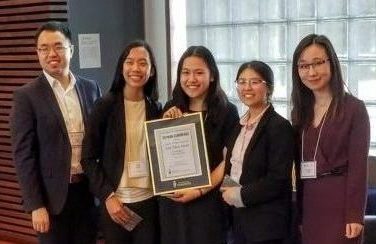 Over 70 teams entered the competition, which focused on innovation in healthcare. To reach the finals, the Oakville Trafalgar team of Javan Jiang, Jennifer Ge, Emily Barber, and Danielle Lim submitted a written pitch, which was selected from among thirty-six other proposals to move on to the final presentation round. While noting that the overall quality of the pitches was very high, the judges singled out the FitCalm team for their creativity and clarity of ideas, as well as their exceptional marketing plan. While much of the day was spent preparing and presenting, the teams had the opportunity to hear from keynote speaker Dr. Ryan Doherty, Open Data and eHealth thought leader, and President and Founder of iamsick.ca, along with a panel discussion with three Rotman Commerce and U of T graduates.
An initiative of the Rotman Commerce Alumni Steering Committee, the Boardroom Case Competition was held for the first time in 2017, and was designed to give prospective students a taste of university-level business education and spark interest in business studies.
"The Boardroom is a wonderful way for alumni, students, and staff to work together to provide inspiring educational opportunities to high school students," says Jeannine Woodall, Rotman Commerce's Director of Academic Services and Student Life. "It encourages them to take an interest in business, introduces them to the professional talent of Rotman Commerce alumni, helps show prospective students how Rotman Commerce is an outstanding undergraduate business program that is dedicated to reaching out to young people and introducing them to the multi-faceted aspects of business education and its relevant application today."
As winners of the competition, Jiang, Ge, Barber, and Lim will all receive a $2,500 scholarship towards their first year of tuition at Rotman Commerce.
March 26, 2018