Inspiring growth and community at the fifth-annual Black Career Conference
The Black Career Conference (BCC) empowered Black students to enhance their professional skills and build meaningful connections recently over the course of two days. Abdullah Dwyer (BCom '23), Vice President of Black Rotman Commerce (BRC), Elvire Agossou (BCom '23), Marketing Lead at BCC, and Tidiane Diop (BA '23), Conference Lead at BCC, shared their personal takeaways from this impactful conference.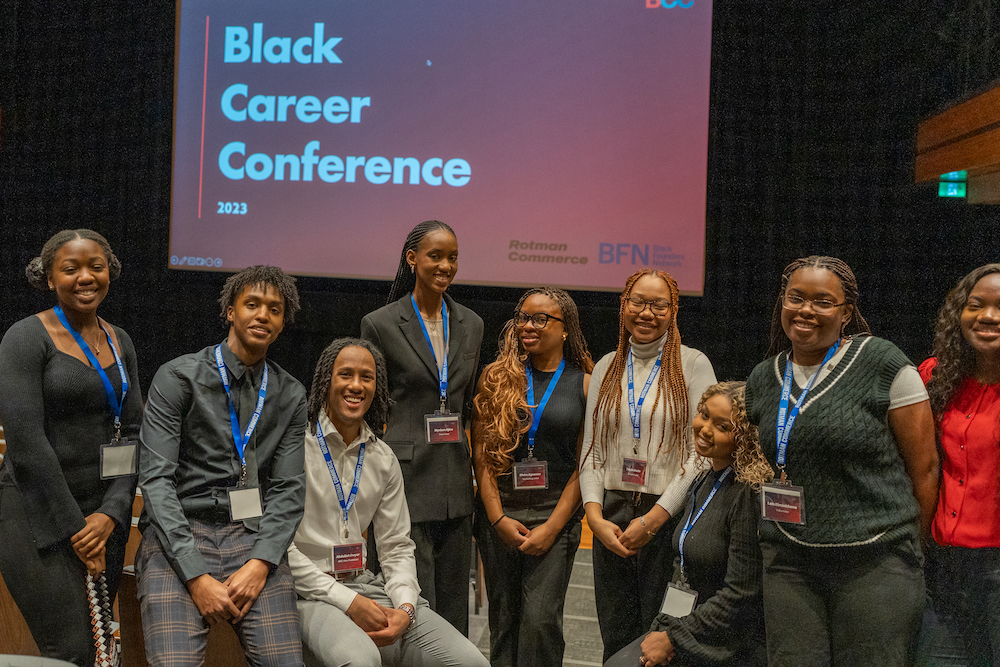 Putting interest into action
Organized by Black Rotman Commerce and presented with support from the Black Founders Network (BFN) and Rotman Commerce (RC), day one of BCC was dedicated to the annual Pitch Competition. Amongst a competitive pool of 60 applicants, 10 finalists were selected to pitch their business visions to a panel of judges and a live audience. Conference attendees listened to the founders' innovations, asked questions, and voted on their favourite pitch. Tidiane shared, "The audience's feedback was instrumental in awarding the Audience Choice Award of $1,000, while the judges selected the top three each awarded $10,000, $6,000, and $4,000 respectively."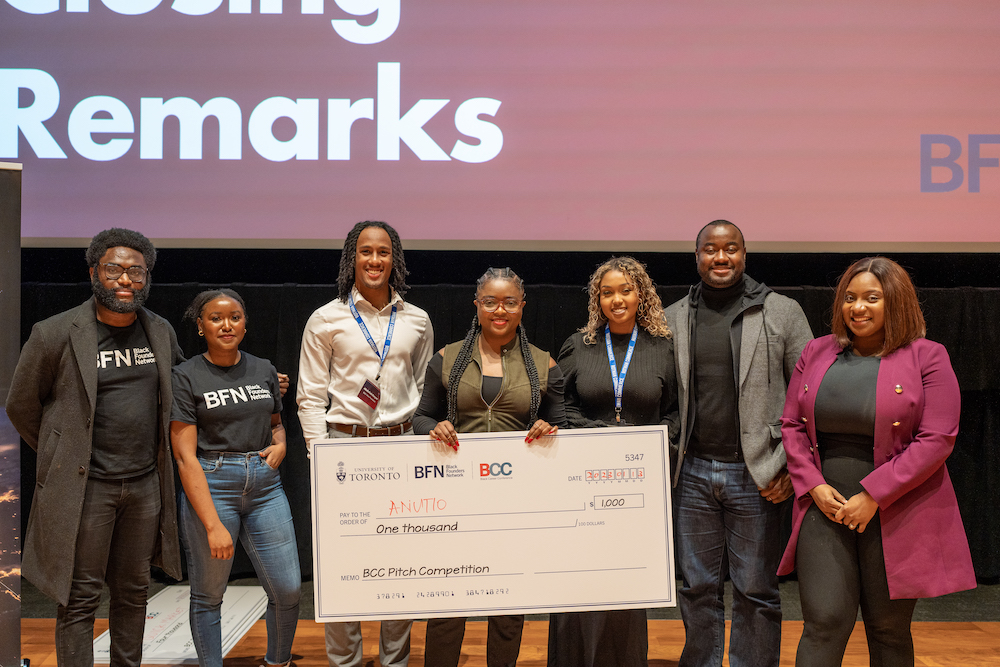 Day two of the conference delved deep into diverse industries, with eight informative panels covering entrepreneurship, real estate, technology, and more. Throughout the day, sessions were hosted by sponsors including the Black Founders Network, PwC, TD Bank, Mackenzie Investment and CPPIB. The day's keynote was delivered by Mark Harrison, founder of the MH3 Collective, co-founder of the Black Talent Initiative and Board Chair of Big Brothers Big Sisters of Toronto. Elvire notes, "Students had the opportunity to learn from industry professionals and each other."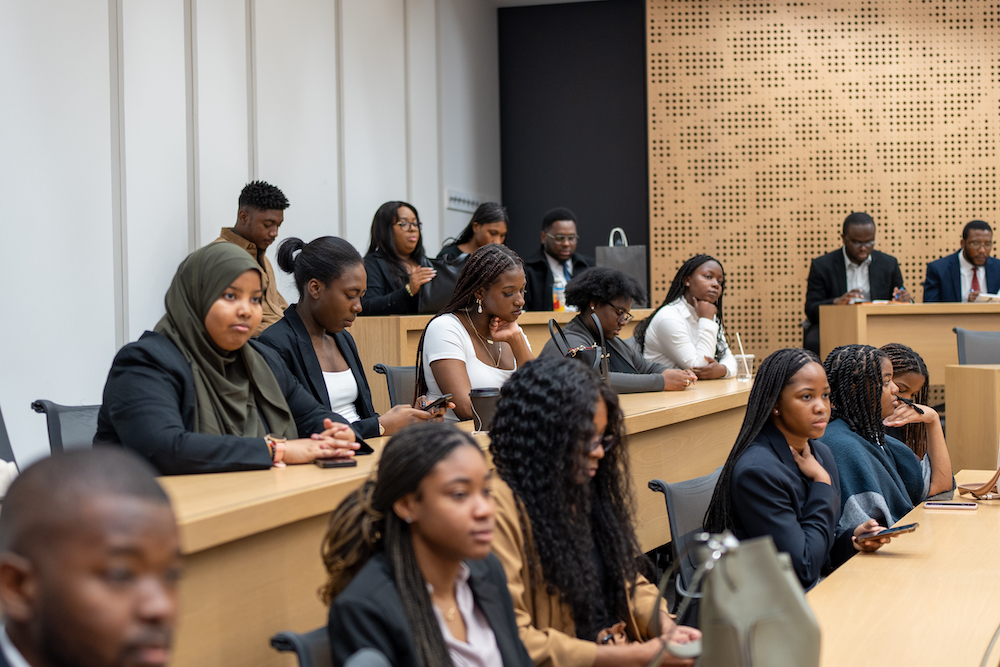 Keeping a vision alive
"The Black Career Conference strives to be a cornerstone in the Black business community in Canada, providing opportunities for Black students, graduates, and professionals."

Elvire Agossou, BCom '23
After being hosted online for the past two years, Tidiane shares that this year's goal was to bring the focus back to in-person, face-to-face interaction and networking. "The challenge with this is that we are unable to reach international audiences in the same way that we were able to in the past, and that requires a different logistical understanding." Despite the challenges, the dedicated BCC team worked vigorously to ensure a meaningful and successful event that allowed participants to learn, network and grow their community.
Endless opportunities to discover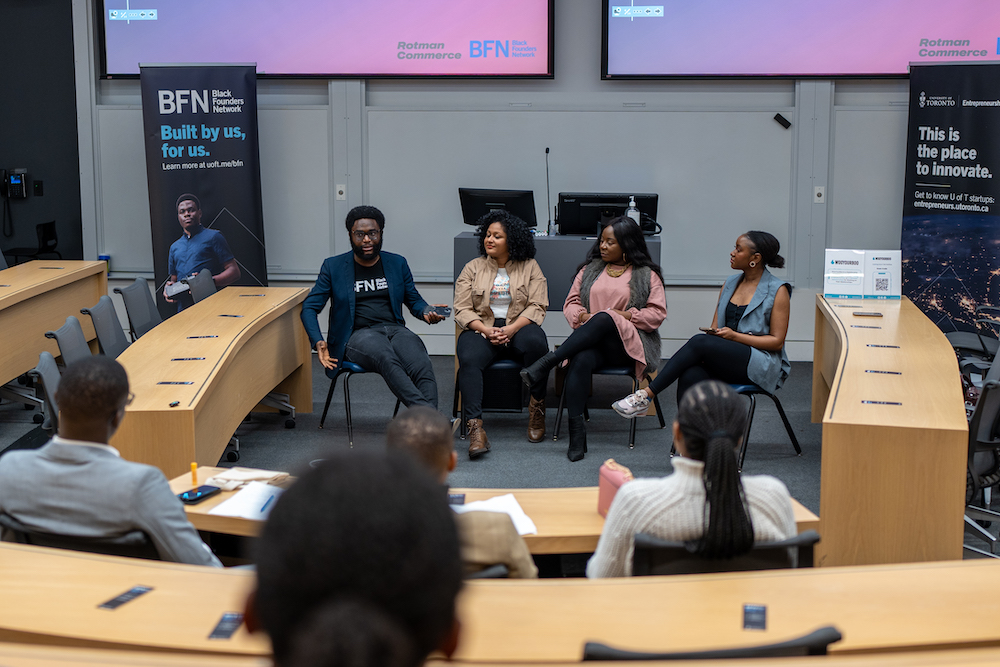 "Talking to Black professionals across a plethora of industries showed me the countless opportunities there are for a young Black professional that I wouldn't have had otherwise."

Abdullah Dwyer, BCom '23
For Abdullah, attending the panel discussions at BCC expanded his insight on a number of career pathways available for young Black professionals. Throughout the day, Abdullah put his networking skills into action by building valuable connections with Black professionals and company representatives. "This is an important skill moving into the professional world since relationship building and building your personal brand is so crucial for success."
Taking the time to adapt and reflect
"Ultimately, it is crucial to take some time off after the event to get feedback and evaluate the overall success to ensure that we continue to grow."

Tidiane Diop, BA '23
Elvire and Tidiane highlight that the complex process of planning for the BCC was an exceptional learning experience. For Tidiane, organization was crucial, but above all, being able to adapt to unexpected challenges was a key skill in planning BCC. Elvire shares, "It is imperative to be organized and responsive while maintaining a certain level of flexibility to appropriately make changes and deliver essential material in a timely manner."
Fostering a stronger community through BCC
As BCC works towards expanding its impact across Canada, Abdullah believes expanding the panels and industries highlighted will be key. "Since we are business students, we tend to focus on industries such as accounting, finance and marketing; however, there are so many potential career paths outside of the traditional business-oriented jobs, such as sports, politics and medicine."
Tidane imparts, "Our main goal is to make the Black Career Conference a platform where curiosity can meet opportunity; in that way, community members can attend and learn from multidisciplinary experts and build relationships that will support them throughout their careers."