High school students get a taste of business at Rotman Commerce
More than 60 grade 12 students from across the GTA got a taste of what it's like to study business through Rotman Commerce's Market Simulation Challenge.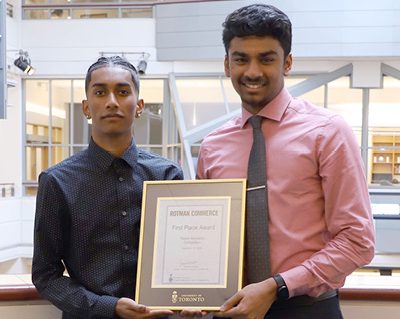 The challenge, which took place on December 10 in the Rotman School's
BMO Financial Group Finance Research and Trading Lab
, introduced students to the field of finance and gave them an opportunity to learn through simulated business scenarios.
Students participated in a morning workshop designed to introduce them to financial markets and the Rotman Interactive Trader (RIT) software. In the afternoon, they demonstrated their newly learned skills through a trading challenge on RIT. Students were asked to trade stocks in simulations created by Rotman faculty.
The cases used in the challenge were developed in the finance lab and are a part of the curriculum for Rotman Commerce students.
"The idea behind the market simulation challenge is to introduce high school students interested in business to the financial markets," said Melissa Clancy, Rotman Commerce recruitment and admissions officer. "Participants learn the basic principles of the stock market and fundamentals of real-time trading."
Alagan Balakumar and Sanju Selvendran from West Hill Collegiate Institute won the challenge. Mackenzie Johnson and Emily Tang from Elmwood School came in second, while Kevin Sun and Fenglin Wang from Bloor Collegiate Institute took third place.
"Both Sanju and I plan to pursue business in the future," said Balakumar. "He hopes to become an accountant and I want to work in finance. This was the perfect opportunity to learn about the stock market and practice making quick decisions under pressure."
This is the fifth year Rotman Commerce has hosted the Market Simulation Challenge for high school students. A similar challenge will be held in May 2020 for grade 11 students.
December 13, 2019