High school students dive into the field of finance – virtually
Rotman Commerce and the BMO Financial Group Finance Research and Trading Lab welcome high school students from across Canada to exciting online trading competition.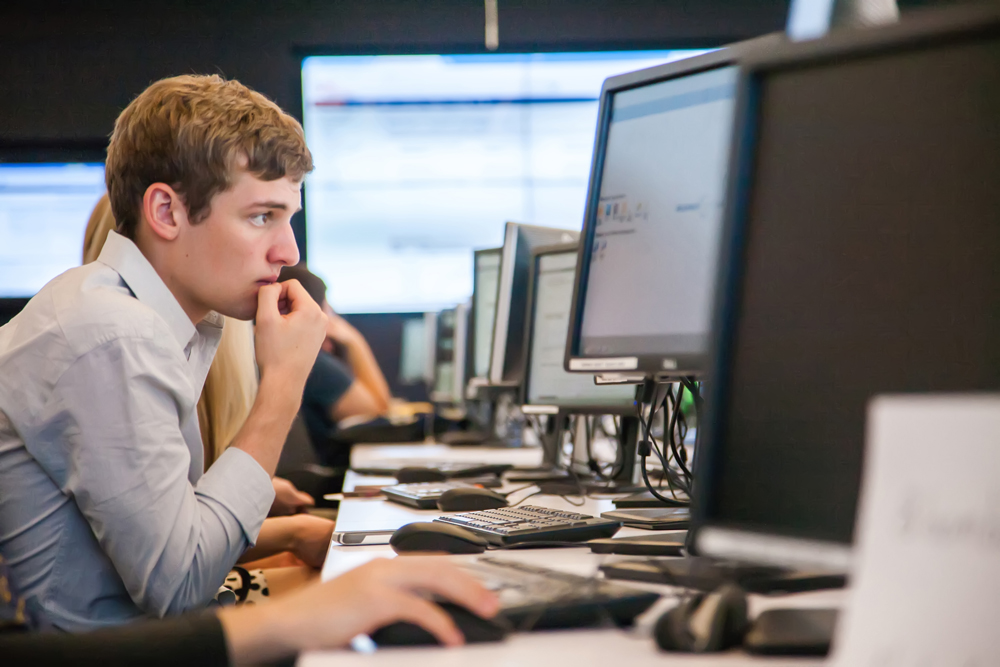 Put on hold for the 2020/21 academic year due to the pandemic, the High School Market Simulation Challenge returned in December 2021. For the first time, the competition, which has been held in the BMO Financial Group Finance Research and Trading Lab (FRT-Lab) since 2017, was conducted entirely in virtual format.
The Market Simulation Challenge is usually held twice annually, first for grade 12 students in December prior to the university application deadline, and again in May for current applicants and prospective students in grade 11. It's a fantastic introduction to the field of finance for high school students, and an opportunity to learn through simulated business scenarios delivered on the Rotman FRT-Lab's own RIT Market Simulator – a experiential learning platform designed to help users learn about integrating markets, data and research with practice making financial decisions.  
High school students participate in a morning workshop with a multi-heat trading competition in the afternoon. The team with the most profitable aggregate performance is crowned champion.  
This year, the winner was a team of grade 12 students from Maple, Ontario. 
"It's been one of our most popular youth outreach events for years," said Mark Berkovich, Recruitment Officer at Rotman Commerce. "Given the technology requirements, we had thought that such an event would not be feasible without the lab itself. When the FRT-Lab team came to us with a virtual solution, we were thrilled to bring it back. It's such a valuable learning resource – and a lot of fun." 
Historically, the competition invited prospective students in grades 11 and 12 from the Greater Toronto Area. With the competition going virtual, the invitation was extended across Canada and received considerable national interest.  Nearly 300 high school students from Victoria to Halifax registered for the inaugural virtual event, shattering attendance numbers from past events which were limited by physical capacity.  
"By leveraging our experience in delivering virtual classes and activities over the past two years, students were incredibly engaged throughout the remote collaboration sessions on RIT Market Simulator," said Bachir Chehab, Associate Director at the BMO Financial Group Finance Research and Trading Lab. 
From a Recruitment and Admissions perspective, the growth of the competition affirms the importance and value of virtual recruitment activities. Both Rotman Commerce and the Rotman FRT-Lab are excited to bring the competition back to the Lab physical space when COVID protocols allow, perhaps in a hybrid form.
"Despite all of the challenges the pandemic threw at us, it also provided enormous room for innovation," said Mark. "We're able to attract and engage with students from cities and markets that we've never visited because of this new approach to recruitment – not just in Canada, but all over the world." 
February 11, 2022