Goals and graduation: this RC soccer player's next big steps
Graduating RC student Ralph Kerrebijn aims beyond the business field with his foray into the world of professional soccer.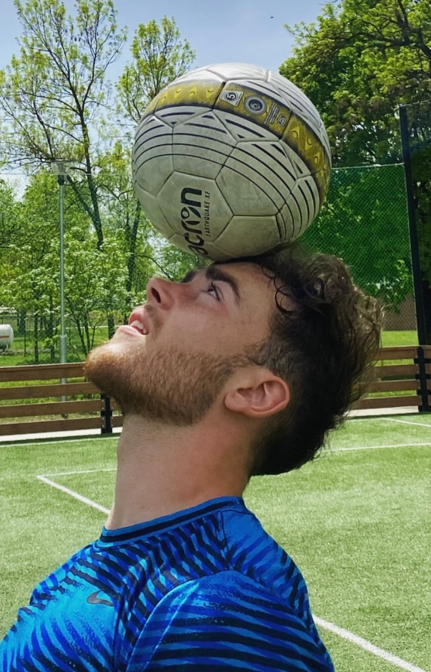 Kerrebijn's post-graduation steps are a little different than most – postponing a career in finance or consulting means he can focus full-time on his ambitions in the field of professional soccer (football).
Kerrebijn dreamt of becoming a professional soccer player for as long as he can remember. Realizing this ambition though wasn't without challenge. "Moving to Canada made it a lot harder to pursue this goal, especially once I started university," says Kerrebijn, who is originally from the Netherlands. While his parents' decision to take the family to Canada was not ideal to him at the time, he now looks back on the move in a positive light. "I was able to keep up my training, and I'm very happy and proud that my many hours on the field while at the same time pursuing my degree have paid off – I am now playing for a professional soccer league in Serbia." He asserts that with hard work and the right mentality, anyone can accomplish their goals.
Balancing academic demands alongside a rigorous training schedule shaped his understanding of what success looks like in his own life.
"I believe happiness comes from having the courage to take on challenges – which are not without risks – and to take charge of your life by pursuing what you enjoy doing," said Kerrebijn, "it took me three years of university and two internships in finance before realizing that what I wanted to do at this juncture of my life is to pursue my soccer career." He adds that while soccer may be his focus for now, turning his talents to a career in business will be the next chapter.
While Rotman Commerce opens many doors to successful careers in business industries, these paths are certainly not all-encompassing. Students like Kerrebijn demonstrate the importance of pursuing your own unique goals post-graduation.
Kerrebijn looks upon his time at Rotman Commerce as a meaningful time of growth. His experiences taught him many valuable lessons that go beyond the classroom. "RC's healthy competitive environment allowed me to develop many key qualities, such as work ethic, determination and mental fortitude. These are strengths I will carry forward into my soccer career, and throughout my life." Further, Kerrebijn is grateful for the opportunity to meet many passionate, driven students in the Rotman Commerce program who have since become his closest friends.
Looking ahead, Kerrebijn is eager to focus full-time on his soccer career. Currently playing for OFK Zarkovo, Serbian First League, he ultimately aims to work his way up to a higher European league. Additionally, he is considering pursuing a computer science degree in the near future. His long-term aspirations include returning to the fields of finance or consulting after a successful career in soccer.
Note: this article is a part of our series featuring graduating students leading up to Convocation.
May 13, 2021