Giving back to empower a new generation 
Dr. Rajeev Chib, EMBA '08, is the group lead and one of the 11 alumni that came together to create the "Rotman Asia Alumni Scholarship" (RAAS). This scholarship is awarded annually to an exceptional international student attending the Rotman Commerce program.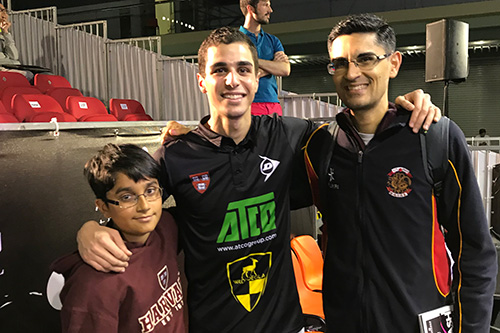 "Toronto is one of the most diverse cities in the world – it's the melting pot of Canada." Dr. Chib wants international students to feel proud that they are a part of the Rotman Commerce brand and the city of Toronto as a whole. Creating the RAAS allows him to advance this goal, and to inspire young students so that they can also give back in their own way one day.
Dr. Chib looks back fondly on his time earning his EMBA at Rotman. His experience equipped him with the baseline strategy, negotiation and presentation skills that he later applied to the world of business. Dr. Chib expresses that Rotman was a "trampoline" in his career – a pivotal point and a memorable experience.
Following his time at Rotman, Dr. Chib's career path led him into the financial services industry, where he has worked for the past 27 years. This includes 20 years at Citi Bank, which also allowed Dr Chib. to work globally – in New York, Toronto, and most recently Hong Kong for the past 15 years. In his current position as CAO (COO) at Citi Bank, Dr. Chib is heavily involved in regulatory projects across the Asian region. He creates strategic partnerships with heads of businesses across Citi's products and country distribution channels. As CAO, Dr. Chib demonstrates servant leadership by providing strong support for his employees. He attentively listens to their ideas and concerns, and is the change he wants to see by acting on commitments he promises to his staff.
Inspiring the next generation
As a way of giving back to the Rotman community and paying it forward, Dr. Chib hopes that the RAAS will provide a deserving international student with access to a world class education by giving them a financial boost to assist with tuition fees. As someone who wants to inspire and empower the next generation of young business professionals—he is also a dedicated mentor to many RC and RSM students.
Dr. Chib has a powerful message for all Rotman Commerce students: "stay curious and learn to listen." He encourages you to bring the best version of yourself to every task, project and interaction—this goes a long way and gets noticed by those around you. "Not every task will be as exciting as the last and you might not always want to put in 100% of your effort, but hard work adds up and will eventually lead to bigger and better things."
Dr. Chib also advises you to "create your own brand" and always perform a mark to market on yourself. This allows you to pause and reflect on your strengths and goals, which means that you can then execute with a clear plan.
The generosity of Dr. Chib has a rippling affect within the Rotman Commerce community and will inspire the next generations to continue to pay it forward. Remember to stay curious.
To donate to the Rotman Asia Alumni Scholarship, please follow the link below.