Gearing up for success
For Rotman Commerce Varsity Blues athletes Katie Gay, Adele Chun and Alex Bishop, sports are an important source of learning outside the classroom.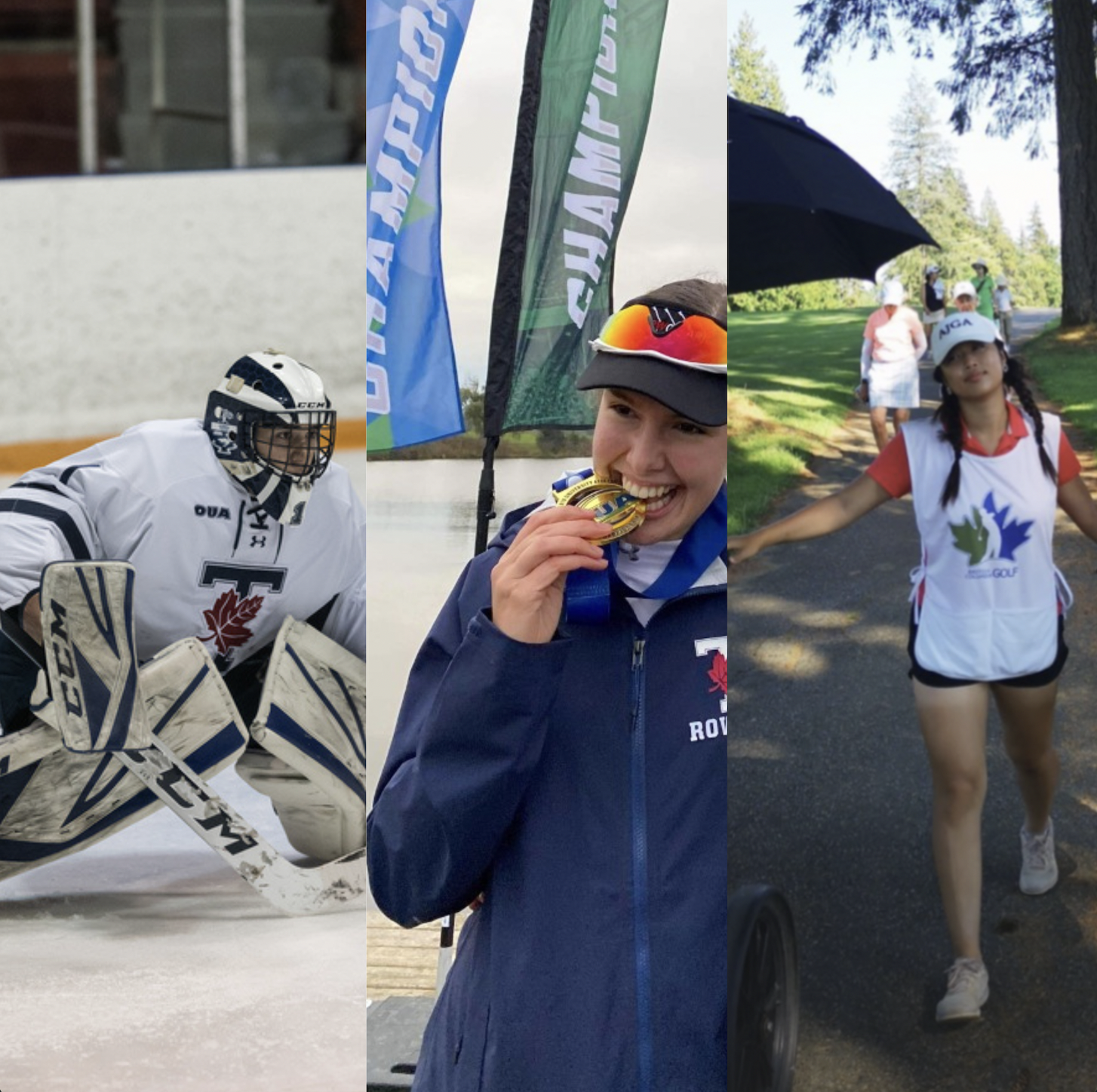 "Being part of the U of T Varsity Blues rowing team gives me a purpose and identity outside of academics that isn't associated with my grades," said Katie. "For a few hours a day, I love being focused on a team where I can push my boundaries and bond with some of my best friends over a sport we love."
About the athletes
Katie Gay (BCom '22) starting rowing on the Varsity Blues novice team in 2018 as a way to stick to a schedule and meet friends outside of Rotman Commerce. Now, four years on, she serves as women's captain and holds several major accomplishments, including stroke seat of the women's 8+ at the OUA championships in 2021 where the team claimed bronze. At the same competition, she stroked the women's pair and won gold.  
Adele Chun (BCom '25) has several victories under her belt since joining the Varsity Blues women's golf team a few months ago. With three wins (and counting) playing for U of T, she shares that golf became particularly important to her when she realized that it could teach her key soft skills with applications outside of sport.  
Alex Bishop (BCom '22) helped the Varsity Blues men's ice hockey team to a number of victories through his position in net over his four years of involvement with the team. In the 2019/20 season, Alex was named the U SPORTS male athlete of the month and the OUA West second team all-star. A recent highlight: he served as back-up goalie for the Toronto Maple Leafs in their game this past October 16. 
The importance of extracurriculars
Both Katie and Adele emphasize the many benefits that incorporating a sport or another extracurricular activity into your daily routine can bring.  
"To incoming Rotman Commerce students intimidated by the challenging program, if there's an extracurricular you're interested in, make time in your schedule. Give it a try!" said Katie. Her involvement in rowing gives structure to her day, helps her stay organized, and allows her to face an academic workload without burning out. 
For Adele, extracurriculars are a key part of her identity that allow her to stay true to herself and celebrate personal milestones. "My involvement in golf distinguishes me from others and gives me a space where I can set goals for myself and identify areas of improvement," she said. 
Alex adds that playing a sport can provide an important support system. 
"The hockey community is one big family where you're able to make lifelong friendships and build soft skills that you can use for the rest of your life."

Alex Bishop, BCom '22
A well-rounded view of success
Currently, most of Adele's goals revolve around her academics. "Although golf in itself is very important to me, my main focus is school," she said. "Some of my key targets for the next couple of years include attaining a high GPA, and applying for and securing internships." 
Katie's approach to success incorporates her four-years' of experiences as a Rotman Commerce student. 
"Having a busy schedule can be tough sometimes, but when I think of extracurriculars as activities that I love and choose to do, it makes the day exciting rather than overwhelming."

Katie Gay, BCom '22 
For Katie, the experiences she accumulated through sports and student groups were some of the best learning opportunities that she'll remember the most from her time at U of T. 
For Alex, "Success is the culmination of all the little things you do to prepare yourself, from studying for exams to visualizing for a hockey game."  
Proud RC representatives
"I love how everyone in the Rotman Commerce community has such diverse interests," said Katie. "So many people are working on something outside of school; we can talk for hours about non-academics." She shares that being surrounded by such passionate people puts you in the proper environment to be passionate and adventurous too. 
As a first-year student, Adele notes, "I feel that university is a period of your life when you grow the most. It's the time to choose and explore what you might want to do for the rest of your life," she said. 
Looking ahead
After graduation in June 2022, Katie will begin as a Consulting Analyst at Accenture in the Toronto office. Her interests include how corporations approach innovation and sustainability in profit-driven industries.  
Although only in her first year of studies, Adele holds her goals for the future clear in mind. After graduation and a few corporate internships throughout the years, she plans to go to law school.   
Alex shares that his experiences at Rotman Commerce set him up for success after graduation in June. "Through the material learned across my lectures, and the networking opportunities RC provides, I feel confident heading into the workforce in a few months," he said.  
December 9, 2021