Four graduating Rotman Commerce students recognized for community involvement
The Rotman Commerce Director's Awards for Community recognize students who exemplify community spirit in their approach to learning and involvement within Rotman Commerce. They exemplified the Rotman Commerce values of mutual respect and collaboration, support and inclusion of diversity, professionalism, personal responsibility and integrity, and commitment to excellence in all endeavours.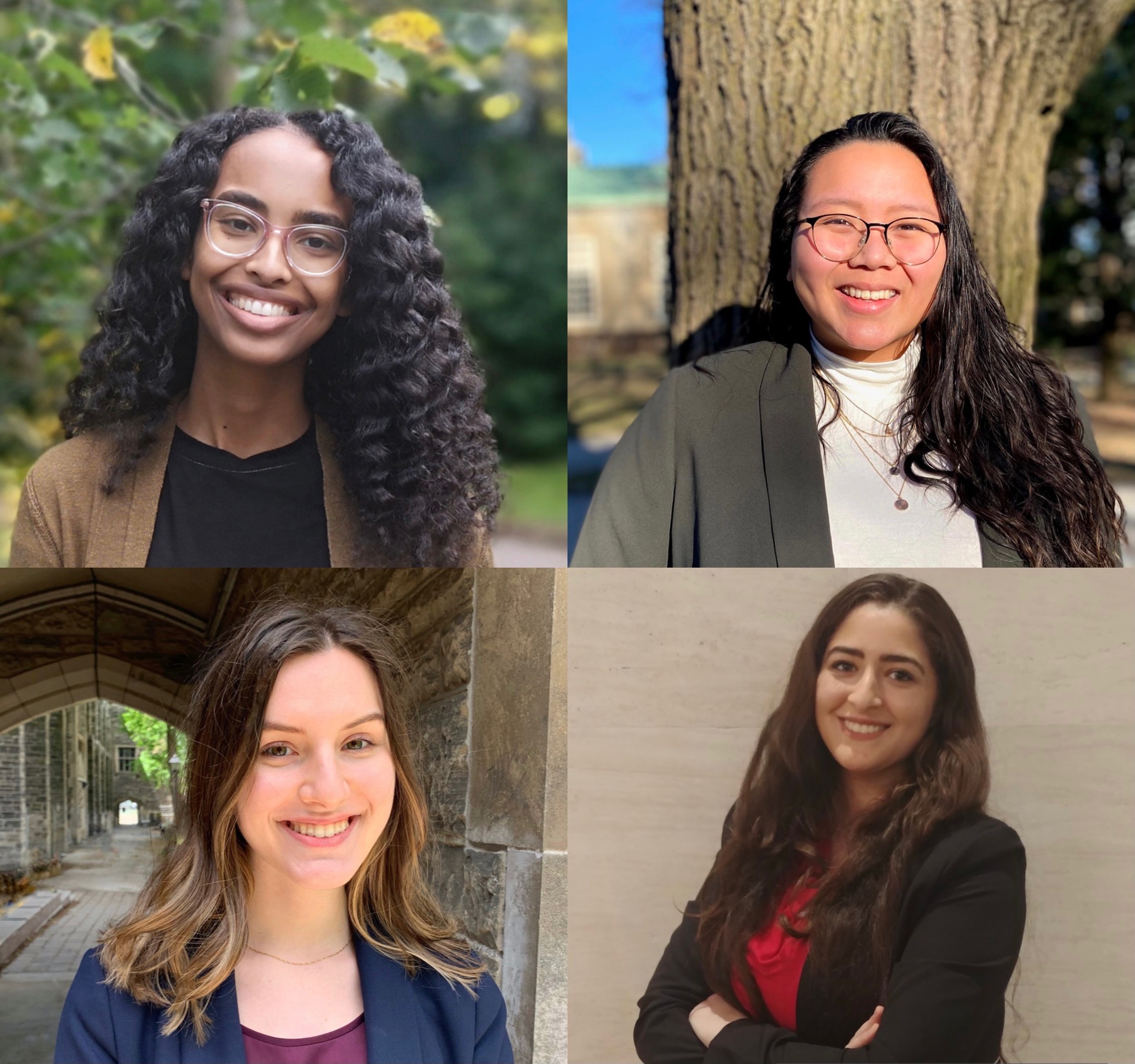 Congratulations to this year's recipients of the Community Award:
Jasmine Ali (BCom '21, Specialist in Finance and Economics)
Eclipse Jordan Atencio-Malixi (BCom '21, Specialist in Management)
Angela Bosenius (BCom '21, Specialist in Accounting)
Mona Omran (BCom '21, Specialist in Accounting)
The four recipients of this award have common themes: they are leaders of the Rotman Commerce community who focused on creating spaces where students from diverse backgrounds would feel welcomed and connected. They are advocates who strived to empower those in their communities. They are mentors who generously shared their time and experiences.
| | |
| --- | --- |
| | For Jasmine Ali, this award reflects the importance of empowering students to strengthen their communities both on and off-campus. As co-President of Black Rotman Commerce, she organized several events and programs to support Black students in their academic and professional pursuits. The group's largest event, the Black Career Conference, saw over 500 attendees. To address the adverse effects of the pandemic on the Black community, Jasmine led her team to fundraise and award $24,000 to Black-owned businesses and students. Furthermore, as co-Captain of the Rotman Commerce Competition Team, she developed an intensive, year-round training program to strengthen her team's problem-solving, research and ideation skills. Her team of four ultimately placed in the top 3 at the world's largest international undergraduate case competition, the John Molson Undergraduate Case Competition. Jasmine also co-founded the group's first open summer training program to share her team's learnings with the greater student body. |
| | To be recognized as a Director's Award winner makes Eclipse Jordan Atencio-Malixi feel grateful to have a community that welcomed her and helped her grow into the person she is today. Through her four years as part of Rotman Commerce Women in Business (RCWIB), Eclipse focused on community engagement by consistently looking for ways to collaborate with RC student groups, U of T clubs, and Toronto organizations to highlight learning and career paths previously underrepresented, especially to women in business. By bringing diverse groups and perspectives on campus, her team strived to increase representation and empower RC students. Eclipse aimed to make RCWIB even more accessible and welcoming by growing the group's mentorship program, increasing their presence, and helping students find a supportive place on campus. |
| | Angela Bosenius is proud to be a part of a class that has such a strong sense of community. In her four years at Rotman, Angela was involved with the Rotman Commerce Accounting Society (RCAS) and the First-Year Learning Communities (FLC) program. Serving as Vice President of RCAS in her fourth year allowed her to further the group's mission to educate, develop and connect students in the accounting specialist to the accounting industry. As Senior Peer Mentor for the FLC program, Angela had the privilege of overseeing a program that helps first year students develop a sense of community and belonging, allowing them to successfully adjust to university. She looks back with gratitude to those at Rotman Commerce who mentored her, guided her, and most importantly helped her strive towards a better future for herself and the broader community. |
| | |
| --- | --- |
| | To Mona Omran, this award means that she was able to assist and give back to the Rotman Commerce community. Always striving to help others, Mona heartily jumped at every opportunity to give back to the RC community, from hosting events for RC students to helping them grow professionally, academically and personally. Throughout her time as a RC Houses Executive, Mona helped organize, plan and execute events for RC students with the goal of building the inclusive and diverse community at Rotman Commerce. Seeing everyone gather as a community, smiling, and forming lifelong connections made all the work worthwhile! Mona was also involved in the community as a RC House Co-Captain, Mentor, and House Coordinator, as well as an FLC Case Competition Judge and an Upper Year Representative. |
Note: winners are listed in alphabetical order by last name.
July 5, 2021