Empowering a future generation of Canadian athletes
From interviews with industry trailblazers to skill-building resources, Maple Athletes guides aspiring Canadian athletes on their recruitment journey. As Rotman Commerce students Joon Choi (BCom '25) and Richter Heintz (BCom '25) reflect on the inspirations behind co-creating this platform, one goal remains: to educate young Canadian athletes on getting to the next level.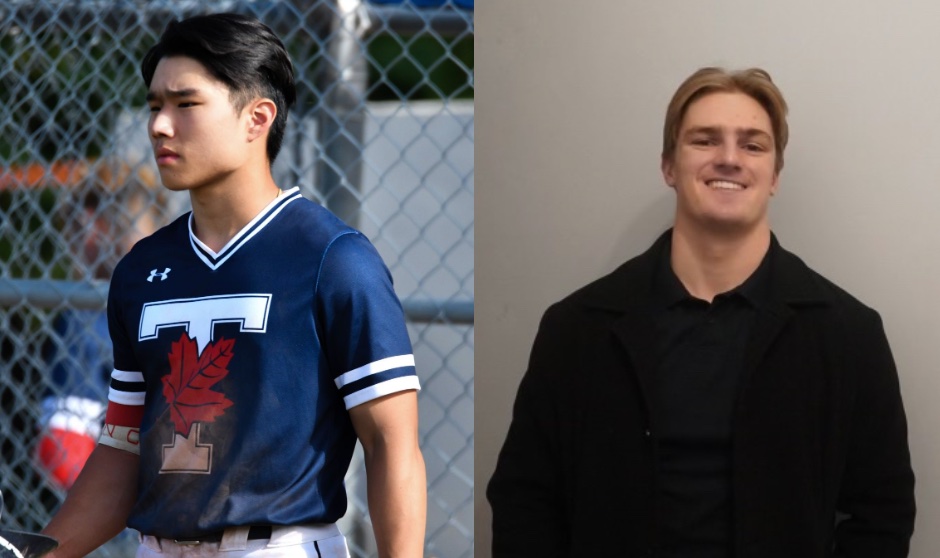 Bringing a vision to life
Founded in the spring of 2022, Maple Athletes is on a mission to support young Canadian athletes in understanding the collegiate recruitment process. The platform transforms stories of professional athletes into knowledge and tools for entering the industry.
"We started Maple Athletes out of a passion to contribute to the success of Canadian athletes."

Richter Heintz, BCom '25
Behind the launch of Maple Athletes was a vision stemmed from Joon and Richter's experiences as high school athletes. The two noticed a lack of recruitment resources that were available in Canada, ultimately making the transition to collegiate sports difficult to navigate. Joon shares, "As a baseball player myself, and having played with some incredibly talented players, I knew Canada had a deep talent pool of athletes. So, we wanted to make the information that these talented Canadian athletes need easily accessible." Since then, Maple Athletes has expanded through its skill development resources, academic advice, and NIL (Name, Image and Likeness) opportunities.
The value of mentorship
"Knowing the value of mentorship—the value of having somebody to share advice—was certainly an inspiration to create Maple Athletes."

Richter Heintz, BCom '25
Richter emphasizes how mentorship, both through his parents and older brothers, played an important role in his life growing up. By sharing the advice of professional and collegiate athletes, he hopes to shed light on Maple Athletes' core value of mentorship. "Our interviews have a central theme of advice and education; this allows young athletes to engage in our content and understand the different pathways of current athletes."
Sharing stories to make an impact
"We strive to use their stories and transform their experiences into valuable lessons for young Canadian athletes."

Joon Choi, BCom '25
Maple Athletes have collaborated with numerous professionals, including those who competed in the Olympics, FIFA World Cup, and MLB. Through interviewing these accomplished Canadian athletes, Joon shares how unique their paths are—each filled with their own setbacks, injuries, and obstacles. The diverse stories are essential in inspiring young athletes hoping to follow in their footsteps.
For Richter, the athletes' advice is not just educational, but also inspirational. He notes how each of them are open to sharing their experiences, whether it be things they've done correctly or wish they could've changed. "We have received many messages from athletes, parents, and youth coaches who have found our content helpful—these messages make us love what we are doing!"
The future of Maple Athletes
"Our goal is to continue expanding our reach in order to help as many aspiring Canadian athletes as possible."

Richter Heintz, BCom '25
Sharing the knowledge and wisdom to inspire a future generation of Canadian athletes continues to be a central focus for Maple Athletes. As they are in the midst of collaborating with sports brands and companies on various initiatives, Joon and Richter look to the future with excitement.