Director's Award for Innovation granted to four graduating Rotman Commerce students
The Rotman Commerce Director's Award for Innovation recognizes students who express creativity through the introduction of new ideas, projects and practices that better the Rotman Commerce community. At Rotman Commerce, we are fortunate to have a wealth of service-oriented, creative thinkers passionate about challenging the status quo, fostering inclusivity, and inspiring change.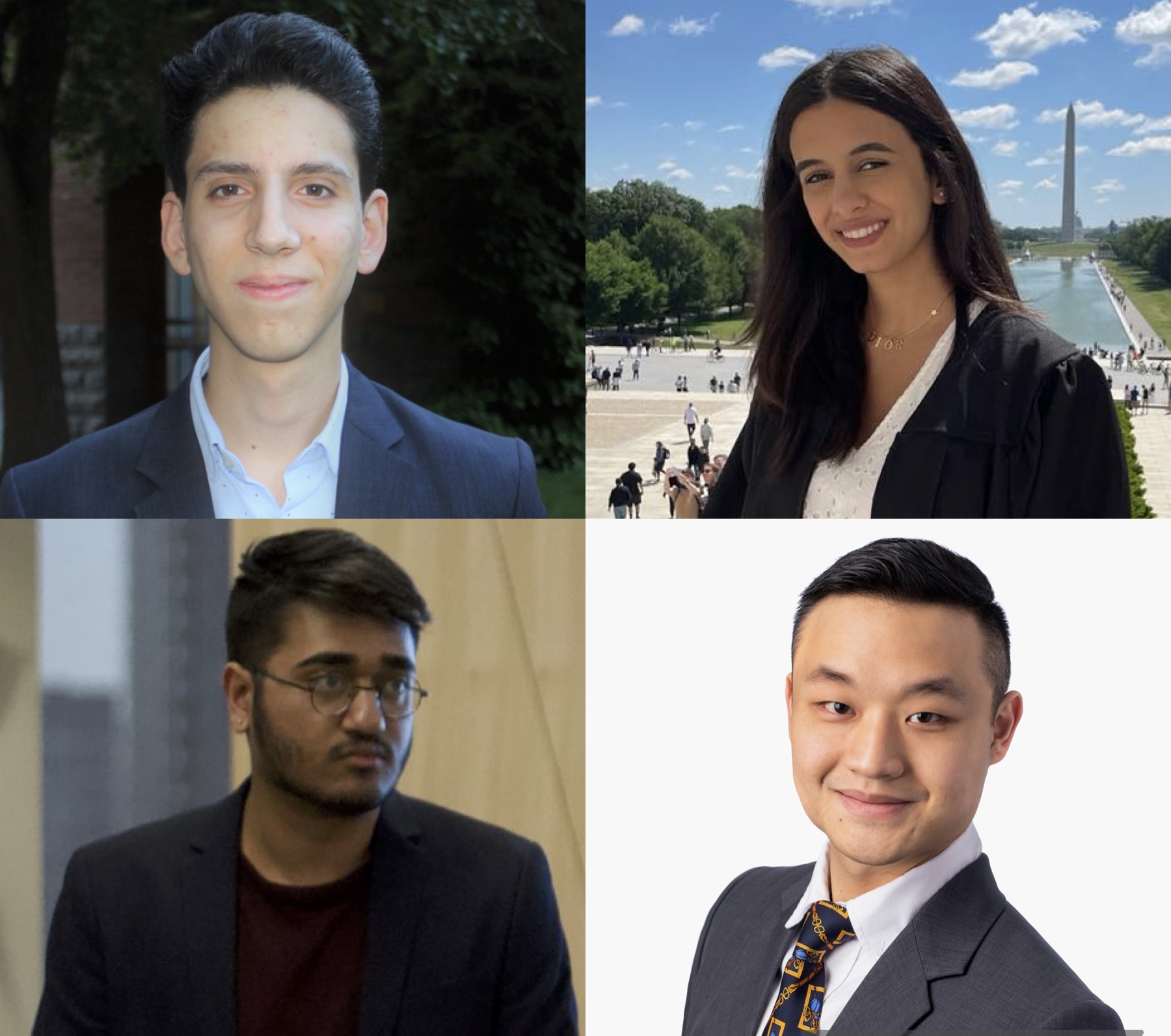 Congratulations to this year's recipients of the Innovation Award:
David Lio
Saba Malkawi
Nicholas Mukund-Persaud Sachdev
Chaderic Ong
| | |
| --- | --- |
| | For David Lio, this award is a recognition of the amazing work that his team at RC FinTech and the Woodsworth College Students' Association did together. Their efforts resulted in lasting additions to the RC community – the Sandbox Research Terminal and the Woodworth Cooperative Tax Clinic. As President of the RC FinTech Association, David led an interdisciplinary team of over 30 students in the creation of a cloud-based financial research terminal, a tech podcast called TechTalks, a Journal of Finance & Economics, and the facilitation of the Innovation Symposium. Alongside his peers, David established the Woodsworth Cooperative Tax Clinic as part of the CRA's volunteer income tax program and the creation of a $75,000 endowment fund designed to provide financial support to BIPOC students.  |
| | Saba Malkawi is honoured to receive this award, as it is an indication of her impact to the RC community. Throughout her time at RC, she was continuously inspired to work hard to empower others to bring value to the table. As President of the Rotman Commerce Business Design Association (RCBDA), Saba worked hard to integrate the concept of design thinking into the RC community. Alongside her team, she hosted events, including workshops, case competitions and networking sessions that helped students learn about design concepts. Her team also introduced several new events with partners such as the Rotman Commerce Innovation Group (RCIG) and IBM which helped the RCBDA take on a new style of presenting design thinking while also increasing their outreach.  |
| | For Nicholas Mukund-Persaud Sachdev, the Innovation Award recognizes his contribution to the Rotman Commerce community and is a sign that his hard work is not going unnoticed. Founding a Rotman Commerce student group in his second year allowed him to foster an environment where students learned and grew with access to various resources, networks and opportunities. Through their participation, students developed a number of transferable skillsets that they have used to grow their careers. As a former program manager, Nicholas had the opportunity to hire, train and manage numerous Rotman Commerce students in analyst roles. The role allowed students to develop professional experience and skills, and also presented an environment that further enhanced their problem-solving and critical thinking abilities.   |
| | For Chaderic Ong, this award recognizes his dedication to the RC community and the organizations that he has impacted. He is truly honoured and contributes much of this accomplishment to the family, friends and colleagues who supported him. As a Galbraith House Co-Captain and Marketing Director at Rotman Commerce Entrepreneurship Organization (RCEO), Chaderic advocated for increasing cohesiveness within the student body through social and academic events that inspired community bonding. Chaderic also had the opportunity to lead research for the Centre for Professional Skills, suggesting ideas and curriculum changes to improve the availability of university-wide professional resources for students. In addition, he helped launch two start-ups, with the goal of making the lives of university students easier through providing a range of web-based services, such as laundry, tutoring and grocery delivery.  |
Note: winners are listed in alphabetical order by last name.
July 19, 2021