Courage to advocate and a heart for community: graduating students leave their mark
Graduating students Megan Liu, Kelly Cao and Kira Cheung (BCom '22), and University of Toronto Student Leadership Award (UTSLA) winners, are not afraid to advocate for change. Their courage to identify and address gaps within the RC community is leading us to continual transformation and to a brighter future.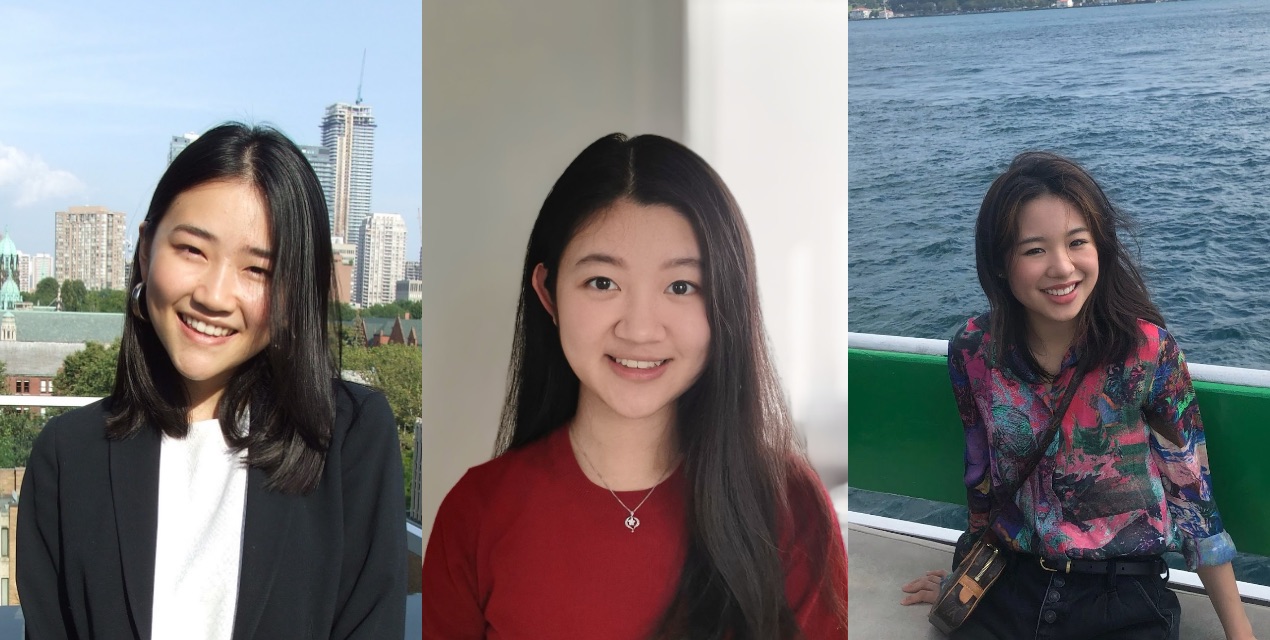 Turning ideas to innovation
For as long as she could remember, Megan Liu (BCom '22) dreamed of founding her own venture. During the pandemic, she recognized the stress on small businesses and the growing concerns of mental health. This led her to introduce Initio and MindfulU, both recipients of the UofT Covid-19 Student Engagement Award. Initio focuses on showcasing small business innovations, while MindfulU aims to expand mental health awareness to university students. Despite the initial doubts, Megan gained confidence to act on her strengths and new ideas.     
Within the Rotman Commerce Student Association (RCSA), Kira Cheung (BCom '22) successfully expanded the Treasurer role to provide international students with financial support during the pandemic. By actively leading the Finance committee, Kira launched the RCSA International Students' Scholarship—the first scholarship at RC developed by students.
Empowering the RC community
"I think helping my peers within Rotman Commerce will inspire others to do the same, creating a virtuous cycle of support between students and alumni."

Kelly Cao (BCom '22)
The peer-to-peer support evident within RC has inspired Kelly Cao (BCom '22) to give back to the community. As someone who has been supported by her peers, Kelly shares her strive to foster strong relationships. She's confident that everyone's contribution will have a compounding effect in bettering RC.
Lessons from leaders
Whether it be volunteer work or attending events, Megan urges students to get involved and remain open-minded. "Becoming a leader does not happen instantaneously. A leader should first understand their community before they can lead and create change."
For Kelly, joining clubs are essential to increase leadership. Clubs have allowed her to discover different passions and expand her community involvement. By finding a club that personally resonates, Kelly highlights that, "Staying in the organization and supporting that community's growth naturally allows you to act as a leader."
Kira mentions that "Consistency is more important than motivation because motivation comes and goes—but consistency is what you can control." Consistency has honed on Kira's leadership progression, as it allowed her to stay driven.
Post-graduation goals
Following graduation, Megan will be founding a new startup with the NEST Hatchery program prior to joining a consulting firm in the fall. She hopes to gain exposure to different industries before full immersion in entrepreneurship. Kelly will be joining Oliver Wyman in an exciting transition to consulting from finance.