Computing your future
Graduating RC students Aaron Kwok and Khadija Waseem explore career opportunities outside the traditional business field.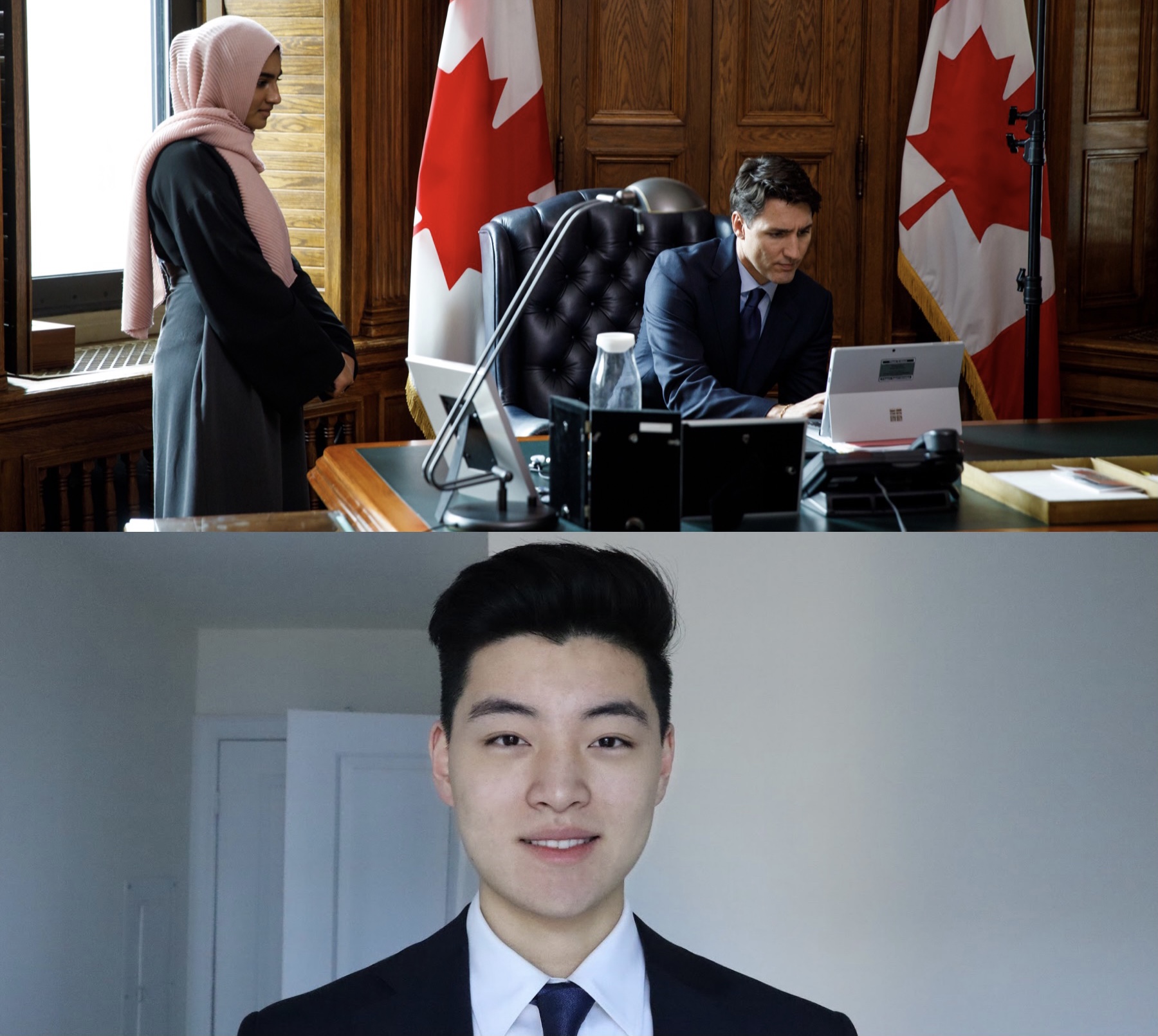 Working in quantum computing may not seem like a conventional path for a commerce graduate.
"After working in different areas of the finance industry, I wanted to diversify my experiences beyond traditional business roles and work in a startup environment," said Aaron. An aspiring entrepreneur himself, Aaron spent the past year working for the quantum computing hardware startup Quantum Brilliance via the Creative Destruction Lab.
"When I first joined Quantum Brilliance, I knew nothing about quantum computing and related technologies," said Aaron. His time and dedication to familiarize himself with the industry ultimately paid off. He worked closely with Quantum Brilliance's co-founders to help release the world's first room-temperature quantum computer in March 2021.
"Reflecting on these experiences and accomplishments makes me realize how much I've learned and grown throughout my time at Rotman Commerce," said Aaron. "They are important to me because they represent the outcome of countless hours of hard work, perseverance and learning."
Similarly, Khadija is pursuing a career path outside the conventional realm of business. "What attracted me to the ever-changing, fast-paced world of startups, technology and AI is how democratic, emerging markets are for those willing to adapt and pick up new skills," she said. "What is essential in emerging tech spaces is to ensure that technical processes are viewed through diversity and intersectional lenses from the get-go. This ensures that systemic barriers are not embedded in their foundations." Khadija fostered this goal through her role building out #movethedial's first intersectional strategy as a marketing specialist for Google, and as a Young Thinker in Residence at MaRS Discovery District, North America's largest innovation hub.
Khadija is now exploring opportunities in the fields of policy and strategy, and works as a policy assistant for the federal Minister of Women and Gender Equality and Rural Economic Development. The pivotal moment that led her career shift towards policy occurred when she was a part of Daughters of the Vote in 2017. Her question to Prime Minister Justin Trudeau went viral, and in the following year, she was invited to join the Prime Minister's Office policy team. In this role, she helped create Canada's first youth policy for youth by youth which consulted over 10,000 Canadians and served 7 million Canadian youth aged 15-29.
"I've shattered glass ceilings in spaces where few who look like me have ventured," said Khadija. "My experiences taught me to overcome the fear to speak at tables for marginalized groups. If I did not speak, it could be left unsaid."
For both Aaron and Khadija, success is largely related to bettering the lives of those around them while staying true to their individual goals and identities – no matter how unconventional they may be.
"Success to me is a process of exploration, as opposed to a destination," said Aaron. "It means being able to chart your own path freely in life — both personally and professionally — while making positive contributions to others and the world around you."
Khadija echoes the importance of actualizing your potential to create positive change. "Success lies in your ability to leave spaces better than you found them, and in navigating these spaces to create pathways for those who will come after you," she said. "I have also learned that success is about appreciating your own unique journey. Celebrate your resilience. Manifest your individual purpose."
She adds that her experience at Rotman Commerce was central in teaching her about the importance of trailblazing new pathways, particularly for others with intersectional identities. "It's so easy to freeze in fear of the unknown instead of walking the road less travelled," she said. "I learned to walk forward with intention, purpose and faith. I also learned to advocate for myself and for those around me, and to take up the space I need to speak my truth. The hurdles and barriers to success for those with intersectional identities are so much larger than others can imagine. My biggest takeaway is to believe that you are capable beyond measure. You can overcome any obstacles that stagnate your growth."
Aaron echoes the idea of learning to recognize his ability to overcome challenges. "My time at Rotman Commerce taught me that there's nothing I can't learn or overcome so long as I approach it with the right attitude," he said. Other key takeaways that will be essential to his career moving forward include being a better leader, dealing with ambiguity, learning to set priorities, and working effectively in cross-cultural teams.
Come September, Aaron will join KPMG as a Management Consultant. Khadija plans to continue pursuing her passions in the spheres of policy, strategy and consulting while working to uplift and advocate for marginalized communities.
Note: this article is a part of our series featuring graduating students leading up to Convocation.
June 24, 2021