Braemar College students win the day at Rotman Commerce's inaugural high school trading competition
Rotman Commerce and the Rotman School's BMO Financial Group Finance Research and Trading Lab played host yesterday to 64 high school students from 32 Toronto-area high schools, who participated in an all-day event on financial markets.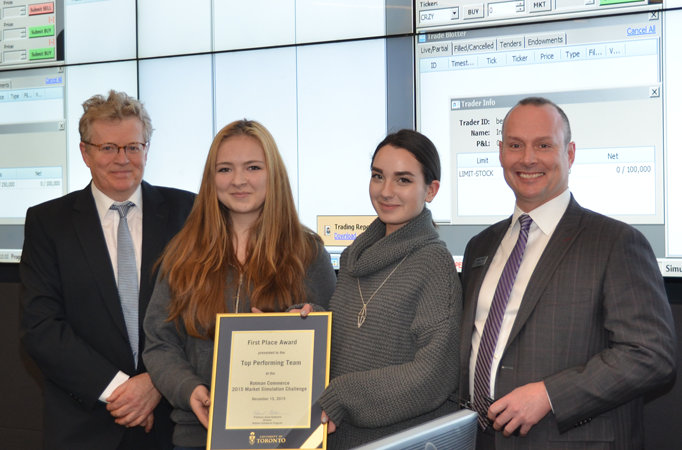 The students spent the morning learning about managing liquidity and market risk, and in the afternoon tested their knowledge in the first Rotman Commerce Market Simulation Challenge.
Romana Cernakova and Katerina Lachilova of Braemar College came out on top, winning the first-place team title. Will Meyer and Jack Capombassis from the York School came in second, while Daniel Fridman and Joseph Sumabat from the Crescent School took third place.
The BMO Financial Group Finance Research and Trading Lab is a state-of-the-art facility at the Rotman School of Management in which Rotman Commerce students have the opportunity to get hands-on experience in financial trading simulations. Every year, the Lab holds the Rotman International Trading Competition, an intensive three-day simulated market challenge that draws participants from universities around the globe.
December 16, 2015