An RC student's entrepreneurial roots
Her heritage shaped her entrepreneurial spirit. Rotman Commerce student and small business owner Megan Chong (BCom '23) reflects on the inspirations behind her outlook and work.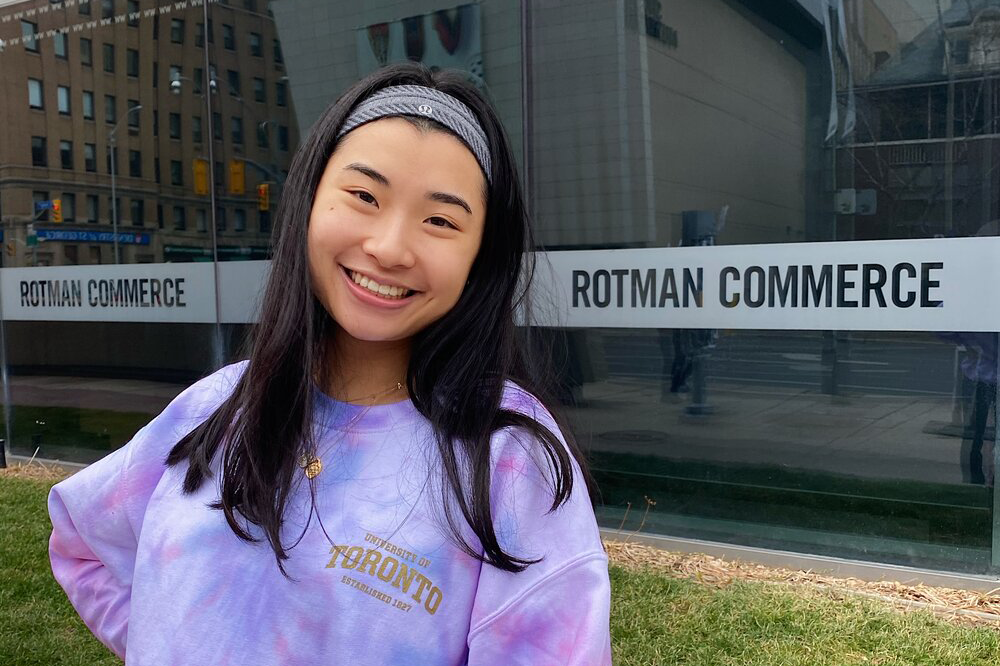 As an incoming fourth-year student specializing in Management, Toronto born-and-raised Megan Chong has a vibrant schedule. She coaches figure skating, has a small business, and dedicates her energies with friends and family. Her business U of Meg—where she reworks authentic university merchandise—has taken a strong presence across a number of Canadian universities. At Rotman Commerce, Megan is passionate in giving back through mentoring first-year students. Reflecting on her journey thus far, Megan is motivated by her family and particularly points to the central role that her Asian identity has played as her inspiration.
What is building a community like at Rotman Commerce?
The RC community is welcoming, supportive and diverse. Although most of my experience to date has been online, I have been able to make some great friends in class—through extracurriculars, social media, upper year mentors and even through friends of friends! We're extremely tight knit—everyone knows everyone in one way or another. This is especially comforting given the large size of the University.
As a Student Ambassador, I help integrate incoming students to the RC community. Transitioning from high school to university is a big step! I love guiding first-years through the process. It's so rewarding to see these students thrive in the RC program and contribute back to the community as well.
How did your entrepreneurial spirit come about?
I am proud to be Chinese Canadian, and I love that I get to honour this side of my identity. In the early 1910s, my ancestors moved from China to Canada. Every day, I am grateful for their courage to start a new life with so many obstacles and barriers.
My family on my father's side was one of the first Chinese vegetable farmers in the GTA. I always admired their hard work, strength, willingness to take risks and their humbleness. I think my true entrepreneurial spirit came from my grandfather Harry and great-grandfather Henry. I often think that my business is also an extension of them and what they have accomplished in Canada. Although my grandfather and great-grandfather were never able to see my small business come to fruition, I know that they are proud of me.
What was the initial experience when starting your business, U of Meg?
Starting U of Meg is such a rewarding experience and I've been applying knowledge from my courses to my business. Everyone at RC is supportive of my business and are always willing to lend a helping hand. Professors, TAs, RC alumni, and staff members are some of my biggest cheerleaders and I'm very appreciative of their encouragement, along with mentorship.
There have been many challenges throughout the two years of running U of Meg, but currently my greatest challenge is finding a balance between schoolwork, my business, and spending down time with friends and family. I've been better at setting boundaries for myself, taking mental health breaks when needed, and asking for help from loved ones. Despite the challenges of running a business while being a full-time university student, I have been able to experience some cool opportunities including having Loud Luxury wear my merchandise on stage for one of their shows!
What does representation mean to you and how do you see Asian heritage being celebrated at RC?
I think representation is so important because young people should feel inspired by seeing others who look like them doing great things. I look up to various Asian businesspeople, such as Leena Nair, Global CEO of Chanel, and Melanie Perkins, Co-Founder and CEO of Canva. RC has a rich Asian student body. I see students coming together and sharing their stories and experiences, as well as uplifting each other, inside and outside the classroom.
What advice would you give to students coming to RC and thinking of starting their own business and adapting to a new environment?
"Love what you do and love your product or service. Be consistent and transparent. I share these two tips with everyone."

Megan Chong, BCom '23
Be consistent in every aspect of your business—in your product and brand, or when posting on social media. Make everything a cohesive story. Be transparent; share everything about your small business. People are curious and want to be inspired. Take time for you; it's ok to take breaks and recharge.
Have an open mind and say yes to things. You only get one university experience, so make the most of it. Not everything is going to be perfect right away, but continue to trust the process. If you need any more tips, I have a full university guide on my U of Meg website.