Ace your courses with RC's academic resources
Are you having difficulty staying on top of your coursework, speaking in front of an audience, or collaborating with your peers? Whether you're just getting started in first year, or in your upper years, RC's Academic Services is here to support you on your academic journey.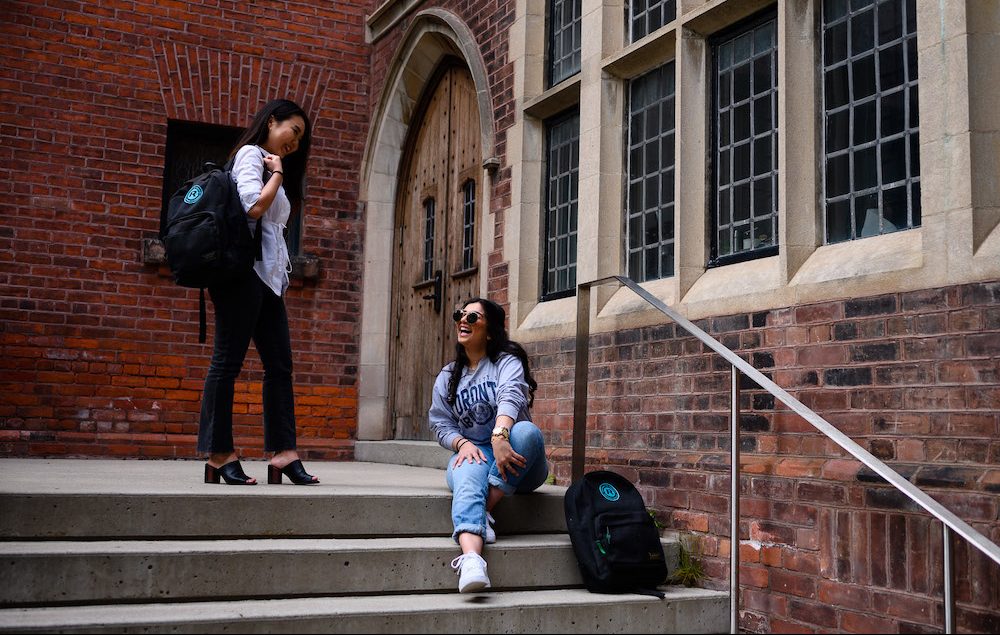 Academic Advising
If you have any questions about your RC courses, specialists, focuses, overall degree requirements or navigating UofT, this is where RC's Academic Advisors can support you! Book a one-on-one appointment with an Academic advisor to discuss questions or issued related to completing your BCom degree. Book appointments under the Advising section on the RC Portal.
Academic Skills Coaching
Every course comes with its weekly assessments and end-of-term projects, so it might seem like an overwhelming to balance your schedule. This is where RC's Academic Skills Coach can support you! Book a one-on-one appointments with Kimberley to discuss improving your skills to meet the challenge of your RC courses. Book appointments under the Advising section on the RC Portal.
RC Academic Peers
"Speak with an RC Academic Peer to gain the perspective of someone further along in the program who can provide advice—they've likely experienced what you are going through! After every meeting, you will leave with a new perspective, gain knowledge and skills, as well as receive endless support."

Alexandra Kirou, BCom '24
Academic Peers are upper-year students who can answer many questions regarding course material, effective study habits or about the transition to university. Remember, they were once in your shoes! With their previous experience of the RC coursework, your Academic Peers can provide their personal tips and advice to reach your goals. To contact an RC Academic Peer, please email rcacademicpeers@utoronto.ca.
Rotman Commerce Peer Tutor Network (RCPTN)
If you are struggling in any of your first, second or third year RC courses and would like to connect with a fellow RC student for paid tutoring – use the RCPTN! Tutoring can help you to gain a better mastery of your course material and prepare you to do well in your tests and assignments. Check out our Peer Tutors on Tutor Ocean.
RC Teamwork Mentors
Collaborating and working with your peers is an integral component in your studies at RC. Though working on teams can often be challenging, Teamwork Mentors are available to help you navigate the way. Whether it be resolving issues with team members or how to best communicate with your peers, Teamwork Mentors are a great resource to help create a stronger dynamic for your group projects. Book an appointment through the Centre for Professional Skills WC Online platform to speak with a Teamwork Mentor.
Writing and Presentation Coaches
Enhancing your written and oral skills are essential for both your courses and the workplace. Writing Coaches are available to review drafts of your reports or essays to provide feedback and ensure they are concise. With RC's Presentation Coaches, you'll quickly become a natural at speaking in front of your peers. Your coaches are here to offer tips and tricks on developing your professional skillset to standout when communicating with others. Book an appointment through the Centre for Professional Skills WC Online platform to speak with a Writing or Presentation Coach.
Recognized Study Groups
Looking for the perfect opportunity to meet your classmates and learn from one another? Join a Recognized Study Group (RSG)! As a student-lead study group of eight peers enrolled in the same Faculty of Arts & Science course, participating in an RSG allows you to earn a Co-Curricular Record (CCR) credit. Discussing key concepts, reviewing notes together, and asking each other questions are effective strategies to deepen your understanding of the course. Check CLNx for more details on Recognized Study Groups.