Academic Excellence Award granted to eight graduating Rotman Commerce students
This prestigious award recognizes the top 1% of graduating students with the highest CGPA (Cumulative GPA) within Rotman Commerce.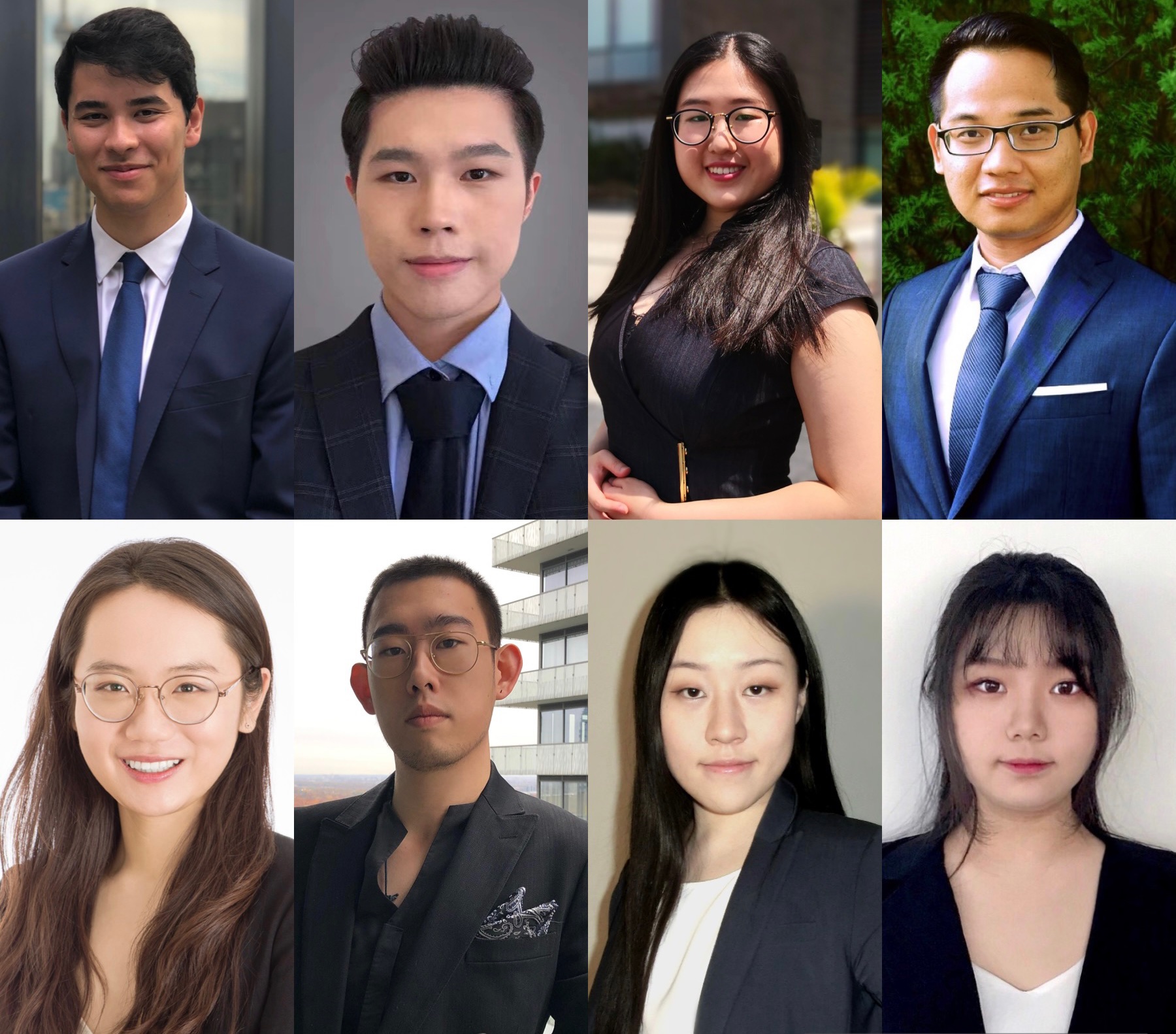 Congratulations to this year's recipients of the Academic Excellence Award:
Jacob Leong (BCom '21, Specialist in Finance and Economics)
Yuzhou Li (BCom '21, Specialist in Finance and Economics)
Jenney Ren (BCom '21, Specialist in Finance and Economics)
Ivan Thang (BCom '21, Specialist in Finance and Economics)
Xue (Sunny) Xiang (BCom '21, Specialist in Management)
Jinghan Yang (BCom '21, Specialist in Finance and Economics)
Yaozhi (Cheryl) Zhang (BCom '21, Specialist in Finance and Economics)
Yuqi Zhang (BCom '21, Specialist in Accounting)
Asked what receiving this award means to them, each student highlights a different source of significance.
| | |
| --- | --- |
| | For Jacob Leong, winning this award represents the culmination of his four years in the Rotman Commerce program and is a reflection of his academic efforts. It also reflects the support of his friends and peers throughout the years, who helped him with his studies and thus allowed him to excel. |
| | Winning this award gives Yuzhou Li the confidence to pursue greatness, such as breaking into the top investment bank. In addition, receiving this honour shows him that hard work will always pay off in the end. |
| | Jenney Ren is delighted to be recognized by Rotman Commerce for her achievement, especially since she  took a number of challenging courses. She expresses her gratitude towards the Rotman Commerce community. |
| | For Ivan Thang, receiving this award is a great achievement crystalized not only from hard work,  but also from the great mentorships and lasting friendships that he was fortunate to have at Rotman Commerce. He is grateful for having the opportunities to learn and grow along with the community. This award is a great success for him to conclude a great journey and to confidently start a new one. |
| | Sunny Xiang sees the Academic Excellence Award as a great honour that acknowledges her hard work throughout her undergraduate years. For her, receiving the award feels like a formal closure – the best kind. |
| | Jinghan Yang appreciates the recognition this award offers. Although he knows that he still has a long way to go, it's good to know that he's already come so far! |
| | Cheryl Zhang is humbled and honoured to receive the Director's Award for Academic Excellence. For her, it's a reminder of her four amazing years full of learning and growth at Rotman Commerce. |
| |  For Yuqi Zhang, the Academic Excellence Award represents a souvenir from her undergraduate journey. She is grateful to Rotman Commerce for  acknowledging her efforts. |
Note: winners are listed in alphabetical order by last name.
June 28, 2021