A Rotman Commerce solopreneur who made a high school dream her reality | Rotman Commerce, Career Stories
Caitlin Da Silva had a clear vision when she graduated from Rotman Commerce: she was going to run her own business, full-time.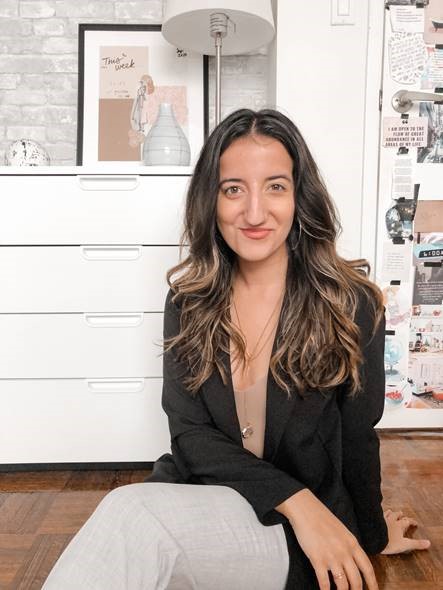 Entrepreneurial dreams
Caitlin Da Silva had a clear vision when she graduated from Rotman Commerce: she was going to run her own business, full-time. Caitlin had always been an avid reader and was eager to discuss all her amazing findings with others. To this end, she started a book blog and YouTube channel in high school to fuel her passion for connection. Read more
At university, time became a precious commodity, and Caitlin quickly felt its impact on her personal interest reading. Her second year in university brought greater stability, and  also a renewed interested in wanting to create. Thus, Caitlin's Corner was born. It was a lifestyle channel that allowed her to focus on what was going on in her life, and also gave her the freedom to make student-oriented videos. Caitlin showcased her life as a university student: she shared food tips, study tips, and what it was like to study for midterms. She also spread the word on the joys of bullet journaling. She illustrated her creative and crafty fixes, teaching other students how to make a DIY planner, a month-at-a-glance, and weekly spreads from scratch using a pen and a notebook. At that time, her most popular topics attracted over 2 million views.
Thriving in discomfort
Rotman Commerce prepared her for her entrepreneurial endeavours, Caitlin says. The demands of the program gave her confidence, a strong work ethic, and the conviction that she was capable of success. She mastered the art of juggling personal and academic deadlines, taking courses, studying for midterms and completing assignments. These skills helped her to be the successful solopreneur that she is today.
 "I wasn't always comfortable with sharing my life on the internet; but practice makes perfect. I found a way to be vulnerable and to push through the uncomfortable because I wanted to connect with others. When my viewers connect with me and let me know that my videos helped them through a difficult time, or inspired them to try new things or put new practices into place, it makes everything that I do worthwhile." 
Reflecting on what she's learned
When asked about her entrepreneurial journey so far, Caitlin noted the importance of disconnecting; "my her phone isn't always on and I'm not always making videos." She values taking time to turn off her phone so she can invest time in herself and the people that she cares for.
Caitlin believes in pursuing your passions because "when you are passionate about what you want, you can accomplish anything by taking small steps!" Her advice to aspiring entrepreneurs?  "Remember to be patient and don't compare yourself to others. You don't have to be on anyone else's timeline. People think that I became successful overnight, but my business has been slowly growing since grade 9. We're all unique human beings with our own unique journeys. If everyone was the same, then life would be very boring!"
Interestingly, Caitlin's story doesn't end with her YouTube channel. Despite having a full-time job, this vibrant woman was a co-lecturer in the fall 2020 semester for RSM405, The CEO's Toolkit. In this interactive course, she shares her unique perspective with Rotman Commerce students. Each week they get an in-depth view of her solopreneurship journey and a real taste of the early stages of growing a business. She is helping the Rotman Commerce entrepreneurs of tomorrow succeed today.