Five Rotman Commerce students recognized for exemplary leadership
The U of T Student Leadership Award (UTSLA) celebrates outstanding U of T students in their leadership involvements and contributions to the university community.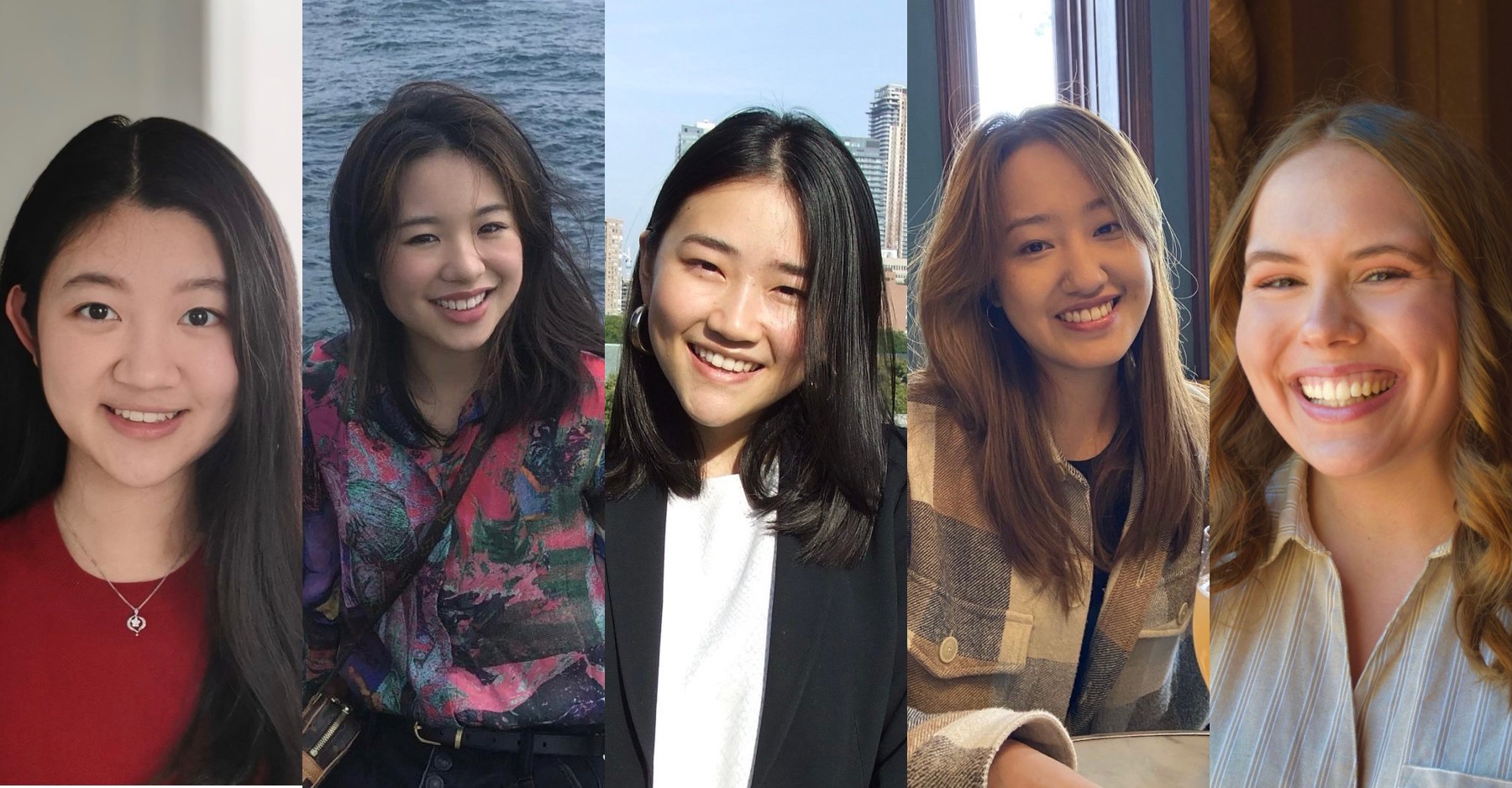 Congratulations to the five RC recipients of this year's UTSLA:
Kelly Cao (BCom '22, Specialist in Finance and Economics)

 

Kira Cheung (BCom '22, Specialist in Management)

 

Megan Liu (BCom '22, Specialist in Management)

 

Minyi Wang (BCom '22, Specialist in Finance and Economics)

 

Bronwyn Williams (BCom '22, Specialist in Finance and Economics)

 
Each of these five students contributed to the fostering of a diverse and inclusive community at U of T through their unique engagements. Through their leadership, mentorship, and vision in launching important initiatives, these students have left a lasting mark on the Rotman Commerce community.   
Kelly Cao spearheaded new initiatives focused on promoting opportunities for women and minority groups in her role as President of Rotman Commerce Finance Association (RCFA). She was involved in the Toronto Student Investment Counsel (TSIC) as an Associate where she launched a joint workshop for Commerce and STEM students alike to develop key skills for capital markets recruitment. Kelly further represented Rotman Commerce as a senior competitor on the Rotman Commerce Competition Team (RCCT) on both the national and international levels, where she also served as a mentor to junior competitors on the team. Looking ahead, Kelly will join Oliver Wyman this fall as a management consultant.
 
Kira Cheung served as President of the Rotman Commerce Students' Association (RCSA) this past year, where she led a team of 50 students to enact over 40 initiatives in the areas of student development, community building and student representation. These include the launching of RCSA's International Students' Scholarship, the first-ever scholarship developed by students for students to recognize the academic and community contributions of their international peers given the increased financial pressures imposed by COVID-19. Kira also served as Vice President of Community Engagement for the U of T Women's Association.
Megan Liu took on leadership roles in the Trinity College community to enact positive change and  promote diversity and inclusion. She was an executive for major events, including organizing alternative activities during Orientation Week to ensure that the experience was inclusive and accessible for all students. Megan also used her role as President of Rotman Commerce Consulting Association (RCCA) to advocate for social justice issues, including a partnership with UNICEF to write a humanitarian case. All event proceeds when to to UNICEF. As for her upcoming career plans, Megan will continue to pursue her passion for consulting when she joins McKinsey this fall. 
Minyi Wang was involved with RCCT for three years, as a competitor and then leveraging her experience as Captain. This gave her the opportunity to train prospective competitors through initiatives such as the  summer competitor-in-training program for over 60 students. During the year, she led a weekly training curriculum for a team of 27 Y1–Y4 competitors. Minyi also oversaw RCCT's marketing and outreach initiatives, helping the group to receive invitations to five additional international competitions this year.  She was involved as an Analyst on the Toronto Student Investment Counsel, where she mentored five analysts and helped them with mock interviews. After graduation, Minyi will join TD Securities as an Investment Banking Analyst. 
Bronwyn Williams served as founding co-president of Rotman Commerce Sustainable Business (RCSB) this past year where she led a team of 22 students to plan and execute events promoting careers in corporate sustainability. She was also involved in RCCA as a Professional Development Advisor, mentoring 50 students on technical and behavioural interview preparations to enter the consulting industry. Additionally, she collaborated with alumni working in consulting to lead two eight-week bootcamp workshops to assist students looking to enter the industry. Bronwyn was involved with the U of T Synchronized Swimming Team over the past three years, holding positions as competitive athlete, social media executive, and fundraising coordinator. Her work leading the novice team contributed to its growth by four times. This fall, Bronwyn will join the Boston Consulting Group full-time. 
February 16, 2022