Rotman Commerce Houses
There are five Rotman Commerce Houses – Bedford, Devonshire, Galbraith, Harbord, and Madison – named for the streets that lead into the University of Toronto's St. George campus. Upon entry to the program, all first-year Rotman Commerce students are randomly sorted into a House.
---
How do Rotman Commerce Houses work?
Each House is led by a House Mentor, two House Co-Captains, and three first-year House Leads. This committee plans a year of unforgettable, inclusive and community-building events for Rotman Commerce students.
What does a House Mentor do?
Each House has a House Mentor, a position held by an upper-year Rotman Commerce student. All five House Mentors work together to create the larger inter-House events. They also offer assistance and mentorship to members of their House when necessary.
what does a House Co-Captain do?
Each House has two upper-year Co-Captains, positions held by upper-year Rotman Commerce students who are elected by their Houses. Captains are the pillars of their Houses, motivating their team and inspiring participation, friendly competition and sportsmanship. They are knowledgeable representatives of Rotman Commerce and the University of Toronto. They meet with the House Leads to discuss the planning of safe, welcoming, and enjoyable intra-house events and activities, and provide assistance and mentorship when necessary.
What does a House Lead do?
House Leads are first-year Rotman Commerce students who are determined to make an impact on their Rotman Commerce experience right from the start. Each House has three House leads with specific titles: Marketing Lead, Events Lead, and Finance Lead. They collaborate and report to their House Co-Captains to plan and execute events for the year, aiming to strengthen community building, relieve student life and academic stress, and create a welcoming environment for students.
How did the Rotman Commerce House System come about?
The House System was created and implemented in the 2016-17 academic year as a result of feedback from the Rotman Commerce student community and extensive research. Students have been the driving force behind the conceptualization, evolution and growth of the House system. Students continue to be involved as key stakeholders in the development of the House system as it seeks to support incoming all Rotman Commerce students. The House System is an ever-adapting program that grows each year under the influence of RC's student leaders, who continue to develop and improve the program and their own leadership skills.
House Coordinator
MIA cvetkovik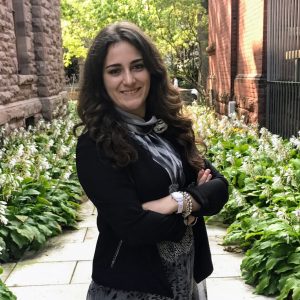 Hey Rotman Commerce! My name is Mia Cvetkovik and I am super excited to be your 2018-19 House Coordinator! I am currently a third-year Rotman Commerce student pursuing a specialization in Finance and Economics. When I first came to Rotman Commerce, I had the honour of being Devonshire's House Captain and helped launch this brand new program everyone was excited about! Last year I moved on to be Devonshire's House Mentor where I worked closely with my Captains and all House Mentors to host all our various events. This year, I couldn't resist but come back for another round to further develop and enrich the program!
Being with the House System from the very start, I can definitely say it has created an open community where students come to interact, socialize, and meet new friends! As the House Coordinator this year, I intend to bring the best of the best to the program starting from orientation in the beginning of the school year, to socials, networking nights, sports events, and everything in between to ease your hard academic school year and provide the finest for the students! When it comes to events we host, I am always excited to hear your ideas and suggestions on what new extraordinary things you would like to see happen in the future. There is definitely nothing better than a university experience filled with long lasting memories you will look back on!
Alongside my continuous involvement in the House System, a little bit about myself is, I have a true passion for business entrepreneurship and adore being involved in the growth of start-ups. When I heard about the House System during my orientation I could not wait to get on board and lend a hand. Aside from everything business related, I enjoy skiing, swimming, and socializing with others. I look forward to meeting you all and having another amazing year!! If you have any questions or need assistance, please feel free to reach out!
---
House Points
It's any House's game to earn House points, rise to the top, take the title of House Champion and win themselves an extra year-end House event!
Will Madison House keep the title two years in a row?
Will Galbraith House reclaim their lost championship?
Will Harbord House rise from the ashes of last place to take the title?
Or will Bedford House and Devonshire House overtake the others?
Only the students decide!
House Champions