Madison House
Madison House – named for Madison Avenue – is your family within the larger Rotman Commerce community. Led by two House Co-Captains and three First-Year Leads, the Madison House Committee's main goal is to provide an unforgettable year of events for Madison House members.
---
Madison House Facebook Group
Have you joined the Madison House Facebook Group? Get updates on all things Madison House-related, meet your fellow Harbord Housemates and connect with first-year and upper-year students! Madison House event information will be posted on the Madison House Facebook Group and on the Rotman Commerce Student Portal.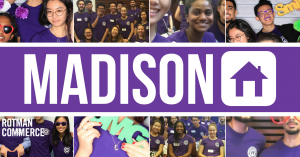 Madison House Mentor
sarbjot gill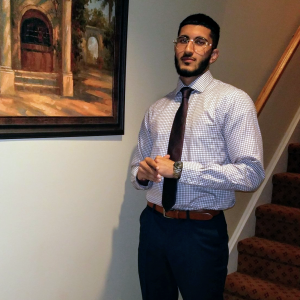 Hey everyone! My name is Sarbjot, but you can call me Sarb. I'm currently a third-year student, specializing in Finance and Economics. I've been involved in the House System since my first year at Rotman Commerce. Previously, having been the Finance Lead and then a House Captain in my second year, I look forward to being Madison's House Mentor for the 2018-19 year. The House System's goal is to create a community and network of students outside the classroom. Meeting new people and developing new relationships are a big part of what makes student life at university special.
Over the past two years, I've met some of my best friends at Madison and I look forward to continuing getting to know even more of my peers. Giving back to the community that has given to me has always been a goal of mine, and the House Mentor position enables me to do this. It's important to balance both, school and off time to stay fresh throughout the year. I plan to help bring events and activities that allow students to catch a break and try new things while creating a fun and welcoming environment. The House Committee and I will put our best foot forward and make sure that some of your most memorable experiences will be at Madison. For the first years coming in, it can be tough adjusting to university life at first, so feel free to reach out to me or the house committee if you have any questions.
To the rest of Madison, again, reach out if you have any questions or comments. Our interaction is important because we work to make student life the best that it can be. I look forward to a proactive year. See you soon!
Madison House Co-Captain
Tamara Lama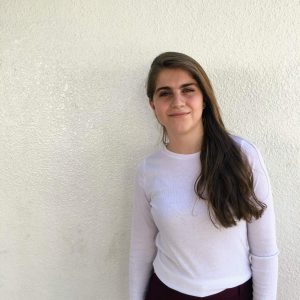 Hey Madison! My name is Tamara and I'm a second-year Rotman Commerce student. Previously, I had the role of Madison House Marketing Lead and I'm truly delighted to join the team again as a Co-Captain for the 2018-19 year.
The goal of the House System is to host inclusive events and encourage Rotman Commerce spirit within the community. I value the unique House System that develops an atmosphere of competitiveness, unity, and acceptance. I plan to facilitate collaboration within the Madison House and RC faculty while ensuring the planning and execution of accessible, safe and entertaining events and experiences for all House members. Moreover, the team's objective will be to produce lively events and promote authentic companionship, laughter, and positive memories.
I aim to emphasize the importance of a work-life balance and the social aspect of university. During my time with Madison House, I sincerely enjoyed the unique food and gaming events and new friendships we have made. Therefore, I am eager to encourage students to say YES to life's opportunities, develop their personality, leave their comfort zone and become increasingly open to new concepts. Life is too short to say no, man.
Regarding myself, I've lived the majority of my life in the Middle East and a few years in Canada. Currently, I am involved with RCMA as a development committee member. Lastly, I enjoy spending time in the gym, playing the piano and drawing. Non-productive hobbies include watching YouTube and anime.
If you have any questions, comments or suggestions about the House System or anything in general, feel free to reach out. Let's make the 2018-19 year, in the words of UofT, "Boundless". See you all soon!
Madison House Co-Captain
Ellen Truong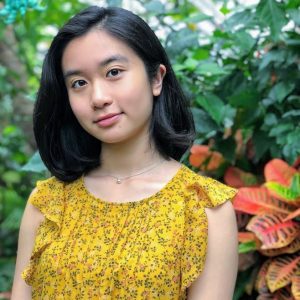 Hey Madison! I'm Ellen and I'll be one of Madison's House Captains for the upcoming 2018-19 school year. I'll be going into second-year and specializing in the Public Accounting stream. Last year, I was involved in the House System as a first-year Events House Lead for Madison and am thrilled to be coming back as a House Captain this year.
I know from personal experience that it is challenging to have a sense of community in such a large school (especially if you're a commuter). Through my participation in the House System, I witnessed first-hand how much it enriched my first-year experience, which encouraged me to continue my involvement as a house captain. One of the main purposes of the House System is to create a welcoming and inviting environment for incoming first-years; and this can only be facilitated with your help. We'll be counting on your support in welcoming the first-years once September rolls around, and your participation at inter-house competitions, to help keep the Madison spirit alive!
Now to tell you a bit about myself, when I'm not in lectures or living in Robarts, I like to rock climb, travel and binge-watch Netflix. I also drink Starbucks religiously and love scouring BlogTO for new food places to try out, so if you need any recommendations, please feel free to reach out.
I look forward to working with Sarb, Tamara and the first-year house leads to plan some exciting events next year for you to meet and connect with the Madison and Rotman Commerce community. Last year, we won the house competition and I know that we can make it a two-year winning streak. If you have any questions about the house system or have suggestions for event ideas, please don't hesitate to send me a message or talk to me in person. Cheers and can't wait to see you all again in September!
---
Madison House Events Lead
Emily Wen
Hey Madison! My name is Emily, and I'm a first year student, planning to specialize in Finance and Economics. I'm so excited to be your Events House Lead for the upcoming school year and meet you all.
As both a first year and international student from the U.S., who was slightly intimidated by the sheer size of the university, I was incredibly grateful to discover that there was the House System which offered a smaller, tight-knit community to meet new people. Learning business shouldn't always be concentrated on studying, studying, and more studying. In a field where social networks are essential, it is imperative that we, as students, have the opportunity to form relationships with each other. I hope to create an inclusive and welcoming community in Madison for my fellow first years as well as the rest of our house, with an emphasis on developing a healthy balance between academic and social life. Our years in university are supposed to be a time of growth, exploration, and most importantly, fun!
I look forward to working with Sarb, Tamara, Ellen, and the other House Leads to organize some great events for you all. As an artist, I've always valued creativity, putting my unique signature on what I do. With that said, I hope this year we'll be able to host original events that spread Madison spirit and create memorable experiences.
A little bit more about me: as I said before, I love all types of art, including painting and photography. Whenever I'm not busy, you can usually find me looking for new photography spots. I've also been a competitive tennis player for the majority of my life, and during high school I ran hurdles on the track and field team.
If you have any questions or comments about Madison house events or anything else, I'd be more than happy to help. See you around!
Madison House Finance Lead
Daniyal Ahmed
Hey everyone! My name is Daniyal and I'm currently a first-year Rotman Commerce student hoping to specialize in Finance and Economics, and I'm delighted to be a Madison House Lead for the 2018-19 Academic Year. I've been involved in house systems throughout my time in high school, and I hope to bring my experience to the table.
From personal experience I know how important it is to have a functioning and effective house system to form connections and relationships within a large community. At Rotman Commerce we are lucky to be around a diverse group of intellectuals with a range of experiences we can learn and benefit from. It is my opinion that the best part of student life at a university is meeting and networking with those around us, and a house platform provides us with the perfect platform to do so.
As a House Lead, it will be my aim to bring the Rotman Commerce student body closer together through a series of events and activities that can create an enriching community where students can thrive. I also hope to form new connections within the community and avail opportunities within the house system, all whilst learning from an incredible leadership team and improving my own technical and interpersonal skills.
On a personal level, I've mainly lived in the Middle East and enjoy playing and watching soccer (let's go Liverpool!). I also love listening to, and making, different types of music, whilst watching YouTube and Netflix also rank highly on my list of favourite pastimes.
I look forward to working with the Madison House team to continue our success and improving the community life at Rotman Commerce. If you have any questions or suggestions, feel free to pass them onto me. Hopefully we'll see each other around campus, or on the dreaded commute!
Madison House Marketing Lead
Andy Lin
Hey Madison!! My name is Andy and I am in my first-year at Rotman Commerce. It is a great honor to be selected and be the marketing lead of the upcoming year.
I use to be a big Harry Potter fan when I was a child and I wished to be part of the school like Hogwarts. Therefore when I heard about the house system in Rotman, it was like the moment of childhood dream come true except we got rid of the magic. For those of you still aren't sure about what to specialize in, don't worry because we are on the same boat. And I chose to get involve with marketing because it is something I enjoy doing, something I am passion about, something that I would like to explore more into. So don't be afraid, follow your heart and you will find what's right for you.
As a first year, I know how much different university can be compare to high school, which is why we have the house system to support us through this transition. The house system aims to create a sense of community, help us in networking, and forge wonderful memories that can last a lifetime. As a marketing lead, I want to leave no one behind and make sure everyone knows about our events. I will also be collaborating with house committee to output events that satisfies your needs specifically. By all mean, let me know if you are looking for something, if you like my photo background as much as I do, let me know and I can make a poster out of it. The point is, your voices are important and they need to be heard.
Now let's talk about me, as you all can see from my photo, I am obviously not the best at fake smiling, which is why I often like to be the photographer. On a typical week, instead of reviewing my notes one more time, I would go workout or play tennis. So let me know if you wanna hit up the court or gym together sometime, and I live outside the campus by the way (it is a long story, catch me in person if you'd like know about some dumb things I've done). In terms of hobbies, I also like singing, however, you'd be surprised how off-tune I can be, for now.
Please feel free to reach out to me if you got any questions, comments, or suggestions related to the house systems or things in general. I look forward to work with the team to provide an unforgettable year of events and let's get that back-to-back championship!!!
---
Madison House Staff
Rotman Commerce employees are House members too! See which staff members are part of Madison House:
David Goldreich

Director

Lesley Mak

Associate Director, Academic Program Services

Shawn Mitchell

Academic Advisor, Scholarships and Awards

Shelly Elsliger

Career Educator, Management

Vrinda Mehta

Relationship Manager, Management

Karen McLeister

Research Associate, Professional Skills Centre

Jeff Trapp

Associate Director, Recruitment & Admissions

Melissa Clancy

Recruitment & Admissions Officer