Harbord House
Harbord House – named for Harbord Street – is your family within the larger Rotman Commerce community. Led by two House Co-Captains and three First-Year Leads, the Harbord House Committee's main goal is to provide an unforgettable year of events for Harbord House members.
---
Harbord House Facebook Group
Have you joined the Harbord House Facebook Group? Get updates on all things Harbord House-related, meet your fellow Harbord Housemates and connect with first-year and upper-year students! Harbord House event information will be posted on the Harbord House Facebook Group and on the Rotman Commerce Student Portal.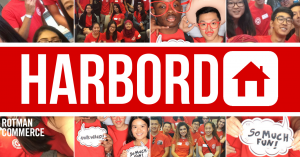 House Mentor
Luciano kwon
| | |
| --- | --- |
| House Co-Captains | |
| Tenzin Dhadon | Tiffany lee |
House Leads
All first year House Leads will be hired in September 2019!
Harbord House Staff
Rotman Commerce employees are House members too! See which staff members are part of Harbord House:
Lyla Korhani

Director, Career Services

Chris Harris

Manager, Operations

Oliver Schweickart

Data Analyst

Jessica Tucker

Marketing & Communications Officer

Tricia Patel

Academic Advisor, International

Bonnie Merchan-Douglas

Alumni Relations Officer, Outreach

Jeffrey Ferrer

Relationship Manager, Finance

Charmaine Ramirez

Coordinator, Career Services

Sheri Browne

Assistant Director, Student Life – Experiential Education & Leadership