Harbord House
Harbord House – named for Harbord Street – is your family within the larger Rotman Commerce community. Led by two House Co-Captains and three First-Year Leads, the Harbord House Committee's main goal is to provide an unforgettable year of events for Harbord House members.
---
Harbord House Facebook Group
Have you joined the Harbord House Facebook Group? Get updates on all things Harbord House-related, meet your fellow Harbord Housemates and connect with first-year and upper-year students! Harbord House event information will be posted on the Harbord House Facebook Group and on the Rotman Commerce Student Portal.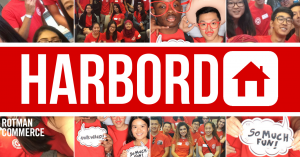 Harbord House Mentor
nnamdi amangbo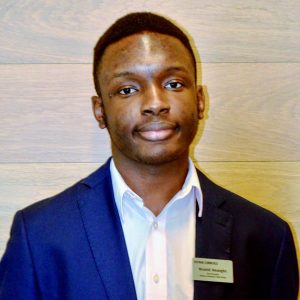 For those of you who don't know me, my name is Nnamdi and I'll be your house mentor for the second year running. I'm from Nigeria and can sometimes be found in Oakville.
I am a third-year Finance and Economics specialist and also part of the Rotman Commerce Sales Group. Aside from attending lectures, my interests include music – especially finding gems on SoundCloud- soccer, tennis and watching Game of Thrones.
I hope to first establish that last year's last-place finish in the House Cup was a farce. After that, I also hope to ensure that we continue to host inclusive events to help everyone get to know one another while enjoying your time here at Rotman Commerce. It would be really nice to see Harbord House students refer to each other for assistance and form a community, especially for first-years who usually enter Rotman Commerce as total strangers. For those who don't know, if you have a red tag on your Rotman Commerce bag, there is a very good chance you might be in Harbord House (just throwing that out there).
All that aside, feel free to reach out if you have any questions about the House system or want to recommend listens for me in my free time. Looking forward to the year and hoping everyone is able to make the most of it!
Upper-Year Harbord House Captain
Luciano Kwon
Hey Harbord! I'm Luciano and I'll be one of your House Co-Captains this coming year. I'm currently in my second-year and a Finance and Economics specialist. While I was born in Vancouver, my whole family is from South Korea, leading me to take from both cultures. The Canadian in me loves kayaking, playing ice hockey and hiking trails. My other half loves Korean food, coffee, fashion, and entertainment. I also enjoy traveling and have explored various countries such as Argentina, Japan, Slovakia, and more.
Last year, I had a great freshmen experience. I initially worried about whether I'd find a place in university, however, the Rotman Commerce House system helped me feel welcome. Upper-year students encouraging, advising and engaging with freshmen was crucial to this process. As someone who understands the importance of this support, I am thrilled to serve as a Harbord House Upper-Year Co-Captain. As Co-Captain, I will put my utmost effort into ensuring that from September to April, every Harbord first-year feels as welcome as I did.
To achieve this, it is crucial not only for the House system to organize large events, but also provide a constant network so that House members can rely on each other. This can be facilitated with more frequent, lower-scale events such as course-specific group study sessions. By increasing the frequency of events, the House system can establish a stronger sense of community and friendship.
If anyone ever wants to talk about first year or possible events, feel free to contact me. Looking forward to the upcoming year!
First-Year Harbord House Captain
Makgofe Mathipa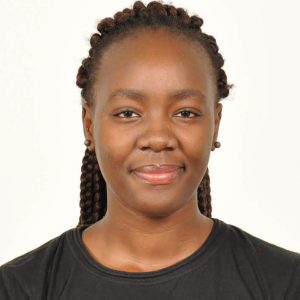 I feel so honoured to be one of your Co-Captains this year. It is truly humbling to know that you all have faith in me to be part of Harbord House's wonderful committee. I am ready to learn, grow and share experiences with every house member this year.
My name is Makgofe M. Mathipa. I am 19 years old, born and raised in a small landlocked country in Africa called Botswana. I love meeting new people and learning new languages. One of my favourite sports is netball. I kid you not, I can spend the entire day watching netball games, analyzing each and every move and error. For me, netball has been more than just a sport. It has been a character builder. Netball is a team sport of seven players. Each of these players has a position with a unique role and no one position can function without the other. Therefore, players must learn to encourage each other and to work together as one unit in order to be successful. No netball team has ever succeeded without team spirit. That is what I have learnt from netball.
I believe in life we all need team players with unique talents and goals to our own that will encourage us, people we can learn from. People who contribute to us reaching our goals. To me, Harbord House can easily be where we find those team players. Before applying for this position, I went through the Facebook posts to try to learn the history of the House. I loved how inclusive Harbord is. I believe that is what motivated me to apply for the position. I wanted to be a part of a team like Harbord. As Co-Captain, I hope to bring the netball spirit; to encourage the House committee to work together as a unit in order to achieve our goals; to encourage my Housemates to be involved and to be proud of being a Harbord House member. Moreover, my main goal is just to ensure we have an enjoyable year as a House.
---
Harbord House Events Lead
Ever Hu
Hey Harbord! I'm Ever, your House Events Lead this year! I'm a first year Rotman Commerce student, and I am excited to join the Harbord House Committee. I'm originally from China, and moved to Canada for high school studies since Grade 10. Back in high school, I was actively involved in extracurriculars including Students' Association, debate and Model United Nations. In my spare time, I like to travel, read, and listen to music. Besides, I have a special interest in learning languages. Being fluent in English, French, and Mandarin, I look forward to meeting new people and learning new languages at Harbord!
I am very honoured to be the House Events Lead. I always believe that taking on a student leadership role means serving others and giving back to the student community. It is not only my privilege, but also my responsibility to help those who are in need. There is nothing like sharing my blessings and putting smiles on other's face. For this reason, I wish to help build our House into a warm and harmonious community, where all members feel that they are sincerely welcomed.
I'm excited to plan the best year yet, alongside the House Committee members. To achieve this goal, I will be sure to plan events that implement ideas that interest you and provide you a constant network opportunity.
If you have an idea for any events, please feel free to reach out to me! Your voice will help make this year the best it can be!
Harbord House Finance Lead
Tenzin Dhadon
Hello Harbord House! My name is Tenzin and I look forward to being your finance lead this year! I was born in India, though my family is from Tibet, and have lived there for 5 years. Nevertheless, you should take me seriously when I say that I am a true Torontonian and love Canada to pieces after having lived here for over 13 years.
I enjoy reading, travelling, and experiencing different cultures. I am a big foodie too, so feel free to share your favourite restaurants because I'm always down to check it out. I'm not much of an athlete but I have score kept various sports games, and especially enjoy watching basketball. Like many of you, I've always been interested in business and am very glad to be able to see so many other likeminded people, I hope to meet as many of you as I can.
Throughout high school, I have been an active participant in clubs and events which have given me amazing memories. In my first year of university, I wanted to gain a similar experience, so when I learned about the Rotman house lead opportunity, I was ecstatic about being in a team where I am able to plan events to give students a place to make new friends and bring everyone closer together. Because UofT is a huge school, I understand that it can become difficult to adapt to the change, however, with Harbord house, I believe that we can work together to secure a sense of community and belonging. This year, I hope to not only have a victory within the House Competition, but as well as having all of the House members truly enjoy their year.
Specifically, for my part, I will do my best to satisfy all of what is required of a finance lead, as well as work hard to give our House members an opportunity to meet one another and create stronger bonds. I wish to create a comfortable environment for everyone so that they can always have someone to talk to, study with, and even just hang out. Also, please feel free to talk to me whenever you need, I would love to get to know you all. With everyone's participation, I know this is going to be a great year for Harbord House!
Harbord House Marketing Lead
Tiffany Lee
Hey there Harbord! My name is Tiffany Lee and I'm from a beautiful, tropical country called Taiwan! I am currently a first year Rotman Commerce student. I am thrilled to be your 2018-19 House Marketing Lead!
My passion for business, especially for marketing, has inspired me to pursue the position of marketing lead. After being involved in a variety of communities throughout my high school life, I was intrigued to participate in more marketing-related activities. I am interested in connecting with people from different countries, to learn from my peers and my awesome teammates! Participating in the Rotman Commerce House community will not only provide me with the opportunities to gain practical experiences and knowledge in marketing, but will also allow me to build networks and strengthen interpersonal relationships.
Designing unique ways to promote is one of my biggest interests. Last summer, I worked as a marketing coordinator at a tutoring studio. I enjoyed using graphic designs to spark more interest and engagement. I learned how to operate different types of social media tools; moreover, I gained fundamental knowledge of marketing techniques. I am looking forward to collaborating effectively with the team, facilitating the sense of community, and creating inclusive House events!
Finally, besides academic work, I'm a BIG foodie (lovin' all kinds of foods, especially bubble Tea)! Dancing, fashion, and photography are also my hobbies. The genres I enjoyed listening to are Western pop, K-pop (BTS♡), and classical music. As a basketball lover, I've established the first female basketball team in high school. Please don't hesitate to reach out if you have any suggestions, questions or comments. I am super excited to be part of the Harbord family and strive to make a positive difference!
---
Harbord House Staff
Rotman Commerce employees are House members too! See which staff members are part of Harbord House:
Lyla Korhani

Director, Career Services

Chris Harris

Manager, Operations

Oliver Schweickart

Data Analyst

Jessica Tucker

Marketing & Communications Officer

Tricia Patel

Academic Advisor, International

Bonnie Merchan-Douglas

Alumni Relations Officer, Outreach

Jeffrey Ferrer

Relationship Manager, Finance

Charmaine Ramirez

Coordinator, Career Services

Sheri Browne

Assistant Director, Student Life – Experiential Education & Leadership