Galbraith House
Galbraith House – named for Galbraith Road – is your family within the larger Rotman Commerce community. Led by two House Co-Captains and three First-Year Leads, the Galbraith House Committee's main goal is to provide an unforgettable year of events for Galbraith House members.
---
Galbraith House Facebook Group
Have you joined the Galbraith House Facebook Group? Get updates on all things Galbraith House-related, meet your fellow Galbraith Housemates and connect with first-year and upper-year students! Galbraith House event information will be posted on the Galbraith House Facebook Group and on the Rotman Commerce Student Portal.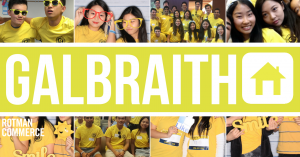 House Mentor
Mona Omran
| | |
| --- | --- |
| House Co-Captains | |
| Irene chien | Maria voicu |
House Leads
All first year House Leads will be hired in September 2019!
---
Galbraith House Staff
Rotman Commerce employees are House members too! See which staff members are part of Galbraith House:
Jeannine Woodall

Director, Academic Services & Student Life

Rob Michaud

Academic Advisor, Upper Year & Transition

Kathleen Ogden

Academic Advisor, Assessment

Mary Giamos

Associate Director, Careers Education & Coaching

Heather Nelson

Career Education, Accounting

Amena Zafar

Recruitment & Admissions Officers