Bedford House
Bedford House – named for Bedford Road – is your family within the larger Rotman Commerce community. Led by two House Co-Captains and three First-Year Leads, the Bedford House Committee's main goal is to provide an unforgettable year of events for Bedford House members.
---
Bedford House Facebook Group
Have you joined the Bedford House Facebook Group? Get updates on all things Bedford House-related, meet your fellow Bedford Housemates and connect with first-year and upper-year students! Bedford House event information will be posted on the Bedford House Facebook Group and the Rotman Commerce Student Portal.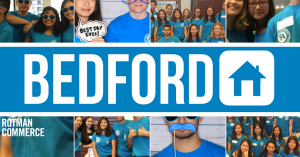 Bedford House Mentor
Jacqui Yang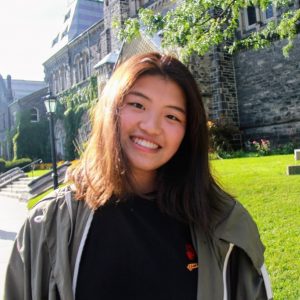 Hey, Bedford! Welcome back. I hope that you all had an amazing summer break. I'm Jacqui and I am the Bedford House Mentor this year. I was one of your House Captains last year. So, a little bit about myself: I will be a third-year RC student specializing in Finance and Economics this upcoming September. I am from China but moved to Vancouver in grade 8. I was also actively involved in the PMG program and several school clubs. In my spare time, I like to play tennis, listen to music and travel.
Last year, we organized three in-house events for Bedford: Snakes & Lattes, Upperyear Chat X Chatime and Korean BBQ Night, all of which increased students' awareness and engagement of the House system. Personally, I really enjoy having the House System because it has given me a sense of belonging here at Rotman Commerce. Moreover, it has given me a chance to consult upper years with any questions related to academic performance or career choices.
This year, as House Mentor, I am hoping to further strengthen that sense of community while bringing more fun to Bedford House by organizing in-House and inter-House events. I am hoping that through this system, first-years can learn more about their classmates and Rotman Commerce, while second- and third-year RC students can enrich the social aspect of their school lives. In addition to the traditional carnival event, I will work closely with the House Committee to try and come up with more interactive events for the upcoming year.
If you have any questions or suggestions on anything specific you want to see happen this year, please message or email me. I am looking forward to meeting all of you at orientation and RCX. GO GO GO BEDFORD!!!!
Bedford House Co-Captain
Eddy Ji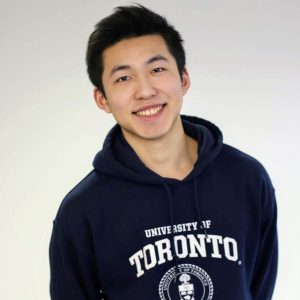 Hello Bedford, I am your House Co-Captain Eddy, and I am going into my second year at Rotman Commerce, specializing in Finance and Economics. The house system at Rotman Commerce has helped me gain many new friendships and create awesome memories, which is the reason I am returning this year.
I am very honoured to be elected as your House Co-Captain, and together we will have a great year! My first-year at Rotman Commerce was really fun but also challenging, which is why I think many incoming students may feel lost and want to ask for help. I want to become your guide and a go-to person when you need help. You can ask me any questions about the school, classes, professors, students activities, the best restaurants in the city and anything you wonder and have no idea about. Easily, you can add me on Facebook – Eddy Ji – and I will try my best to give you the answers you want.
As a House Co-Captain, I would like to share my first-year experience, provide study tips, lead the house events and guide you through the exciting first-year at Rotman Commerce. Over the past year, Bedford has hosted several big social events, including Snakes & Lattes and Upper Year Chat X Chatime, and I miss the '5 dollars' All-You-Can-Eat BBQ the most – we will most likely have it again!
This year, I hope my House committee will bring up more new ideas and devote more passion for organizing our events. We hope to provide the best experience for you!
Besides all the school and work, I like doing dragon boats (join RC Liquid Assets!) and doing volunteer work. If you want to chat with me, you can email me at eddyji1218@gmail.com. I hope this will be a great and fantastic year at Bedford!
Bedford House Co-Captain
Jessica liu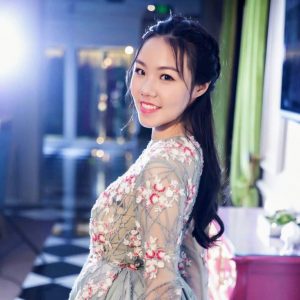 Hey Bedford! My name is Jessica Liu and I will be one of your House Captains for the 2018-19 school year. I'm currently a second-year student doing a specialist in Finance and Economics, and also a major in mathematics just for the fun of it. You may already know me from RCSA as a member of the ISL committee, or the RBC 2018 summer internship program, but if you don't, then I'm looking forward to getting to know you and spending this amazing, upcoming school year with you all!
The House system hasn't been around for long but it certainly has made the Rotman Commerce community feel more like home and given every single one of us a sense of belonging. I applied to become a House Captain because I want to further facilitate this sense of community and get more people involved in it. University is hard, but it will be so much better when you have a place to destress and someone to talk to who may be going through the same things as you. I want to make Bedford a home to everyone, and in order to make that happen, our House Committee team will commit to our goals, and work extra hard with the passion and energy of every House member behind us. That's why we encourage everyone to share their ideas and concerns with us.
Finally, some fun (or maybe not-so-fun) facts about me. I used to play lead guitar in a band back in high school and I enjoy singing (by singing I mean going to Karaoke) during my spare time. I was born in Ottawa, but I moved to China with my parents when I was eight, so I'm fluent in both English and Mandarin. I love traveling and I'm always excited to meet people from all over the world. Please feel free to talk to me about anything you want, I don't bite 🙂
Bedford House Events Lead
fevzi kamalov
Hi folks! Hope you are handling your course load successfully. I am Fevzi, and I'll be your House Events Leader for the upcoming academic year. I speak five languages, born in Azerbaijan (feel free to google it!) and later on moved to Quebec upon grade nine. I have been actively involved in my boarding school's house system serving the purpose of creating a better sense of community.  This year I will be working alongside the House Committee to bring up the most interactive and genuinely community-bonding events. Throughout my time as a Head of House in my high school, we had organized various activities such as all-you-can-eat sushi, Korean BBQ evenings, console tournaments and movie nights that had undoubtedly helped the students relax and leave the tense environment behind them.
I believe that the experience I had of being in a stressful environment due to the heavy academic workload has demonstrated the importance of interaction and unity within a community especially if all of us are going through the same process. Too often I've witnessed students overlook their surrounding communities at times whe they may have felt isolated due to feeling as though there is never enough time to finish what needs to be done. I have chosen an executive position within the house system to guide the ones that neglect expanding their social circle and increase community participation: UofT has many students who come from various backgrounds that will teach you more about life than any course will and the house system is there just for that.
Ever feel how much relaxed and less stressed you feel after talking to one of your friends about an unpleasant day? If so, I am hoping that the events organized by the House Committee will be there for you to take advantage of and meet more people going through the same journey as you.
Whether it's a house event or a social gathering organized by your friends I suggest getting out there and exploring all the opportunities your surroundings have to offer.
Bedford House Finance Lead
Kelly Cao
Hi Bedford! My name is Kelly Cao and I will be your House Finance Lead for the 2018-2019 school year. I was born in China, but raised in Vancouver because my family immigrated to Canada when I was 5. I decided to attend the University of Toronto because I wanted to see something new and live in a larger, more vibrant city.
I applied to become the finance lead due to my interest in finance, my desire to make this house a more inclusive and fun community, and to be more active within Rotman Commerce, since this is where I will be in the next best four years of my life. As the Finance Lead, I hope to be able to budget our current financial resources so that we can have more money to finance new initiatives. The Finance Lead is a team player who works collaboratively with her team to make this year a memorable one for others. Through attending many of the events hosted by Bedford and meeting the house captains, mentor, and students, I am so grateful to be part of this smaller, tight-knit community within Rotman which I feel blessed to be in. This is also one of the critical reasons why I decided to apply to become a House Lead.
I graduated from Collingwood School, West Vancouver. During high school, I was actively involved in clubs, debate, scorekeeping, film making, and volunteering. I also started a teaching business, focusing on piano and skiing. I taught private lessons and helped many of my students with their RCM exams and guided them to successfully ski downhill for the very first time (this is actually very intimidating for beginner skiers). Teaching is definitely something that I am very passionate about and I hope to pursue something similar here in Toronto for the next four years.
When people ask, "Who's Kelly?", I describe myself with 4 motifs: Tea, Music, not-so-canny-jokes, teacher. I hope that after this year, I can proudly make "Bedford Finance Lead" the fifth.
I can't wait to meet all of you soon!
Bedford House Marketing Lead
Valeria Massa
Hey there fellow housemates! My name is Valeria Massa, and some of you guys might have met me before but the majority probably doesn't know who I am so here's a little introduction of me in hopes that you'll get to know me better even if you have seen me before!
First of all, the reason why I'm introducing myself is because I have been chosen to be your House Marketing Lead for the academic year 2018-2019 (and hopefully friends from now onwards!). I decided to apply for this position because I'm really drawn to the creative side of business and making connections with people seems to be something I'm kinda good at, so when I heard that there was a first-year marketing house position available I had to go for it!
For anyone that would like to know, I was born in Venezuela (yes, I am fluent in Spanish), moved to Panama and lived there for 5 years, where I attended an Italian school, so I can speak some basic italian; and moved here almost 2 years ago, graduated Valedictorian from Bishop Marrocco/ Thomas Merton C.S.S. And obviously now attending our wonderful University of Toronto as part of the Rotman Commerce Class of 2022.
3 facts about me that will hopefully say something interesting about me are:
I am a little quiet when I first meet most people but once I've gained confidence there's no way to keep me quiet;
Apart from my passion in business, I also love theatre and reading, so if you ever need someone to watch a play with or have/need incredible book suggestions, I'll gladly link you my contact info;
I am such a foodie it's not even funny, like I seriously love food so you better believe I'll be putting ideas on how to incorporate quality food in our meetings/events!
I hope to bring to the house team and Bedford in general lots of enthusiasm, house spirit, fun and creative ideas for our exciting house bonding events, and tons of positive energy!
Needless to say, I am super excited for this year's upcoming events so we can keep on building an outstanding community here as part of Bedford House at Rotman Commerce.
---
Bedford House Staff
Rotman Commerce employees are House members too! See which staff members are part of Bedford House:
Alexandra MacKay

Executive Director, Professional Skills Centre

Andrea Kwan

Manager, Strategic Marketing & Communication

Carrie Smeenk

Academic Advisor, First Year

Lina Heitzner

Enrolment and Records Coordinator

Rob Ste-Croix

Associate Director, Career Services

Diana Kudla Byers

Career Educator

Ryan Hand

Coordinator, Career Services

Sazna Aliyar

Student Life and Events Assistant