Rotman Commerce and U of T Engineering students collaborate to take second place at RBC Next Great Innovator Hackathon
What does it take to (nearly) win a hackathon? For Rotman Commerce students Alua Talkenova and Zena Xing it was a combination of a capable network, an innovative idea, and an abiding interest in technology.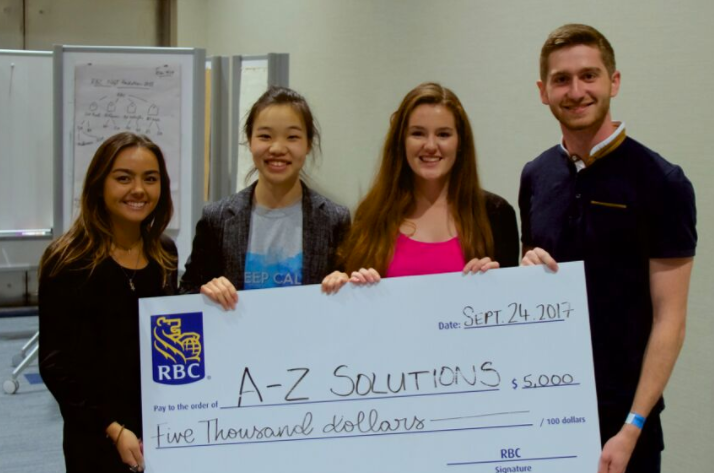 At the end of September, Alua and Zena, both third-year BCom students, and their teammates Lauren Adolphe and Fawzi Ammache, third-year Engineering Science students, competed in the RBC Next Great Innovator Hackathon. Their team, A-Z Solutions, took second place – and a $5,000 prize – out of a field of thirty competitors, all of whom were proposing creative ways for RBC to attract top talent to their student roles. Their proposal was RBC Arbitrage, an end-to-end gamified recruitment portal that focused on merit-based blind hiring, while also allowing applicants to showcase their individuality and diverse interests.
Passion for Innovation
A-Z Solutions' success at the hackathon is a prime example of the power of collaboration across disciplines and the ways in which business students are bringing their skills in management to win in the innovation space. For both Talkenova and Xing, their business education complements their long-standing interest in technology. Alua, who specializes in management, has been combining her talents in marketing with her passion for artificial intelligence as a marketing consultant for an AI company and is enthusiastic about the way the tech industry combines so many different skill sets at once. "The whole notion of merging innovation and creativity, the arts and the science, and seeing disruption in marketing makes me very excited," she says.
Xing, who grew up in the Waterloo region, says she came to Rotman Commerce with a background in the STEM community. A finance and economics specialist, Zena sees technology as revolutionary. "I've always found innovation incredibly inspiring as the technology developed by brilliant minds really has the ability to change our world," she says, "and as Director of Events for the Rotman Commerce Entrepreneurship Organization last year, I had the opportunity to learn about various start-ups from founders themselves, which inspired me to keep up with news in technological innovation and think about how it can be applied to solve everyday problems."
Collaboration Builds Success
Both students also value the importance of collaboration with their engineering teammates, who have deep technological capacity, while also recognizing the significance of the business analysis they brought to the team. "We were really able to tap into the benefit of cross-disciplinary cooperation by pairing our ideas on recruitment with their development of technology to [build our hackathon solution]," says Xing. "While Alua and I had limited coding knowledge, we were also able to leverage our skills in financial and cost benefit analysis as well as our strong presentation skills."
With more and more opportunities opening up in technology and innovation, what advice do Talkenova and Xing have for aspiring entrepreneurs? Above all, stay in the know. "Read and get involved!" says Alua, who hopes to build a career in tech and innovation. "Look for opportunities at U of T! The Engineering and Comp Sci clubs (like the Hatchery or the UAIG) host a lot of interesting events and run their own projects that you can get involved in. Rotman with its Creative Destruction Lab is always good to look into. Rotman Commerce student groups carry out more and more events related to innovation and tech… All in all, there are a lot of resources out there – you just need to pick the ones that resonate with you the most."
October 24, 2017