Alumni Profiles
Our alumni community is over 14,000 members strong. From Toronto to New York City to Hong Kong and beyond, our graduates are making their marks in businesses and communities around the globe. We are exceptionally proud of all of our grads and are excited to share their stories. 
Featured Alumni Profile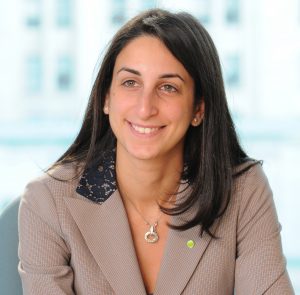 Ikram Al Mouaswas, BCom '06
Partner, Assurance and Advisory – Deloitte Canada
Choices
Ikram Al Mouaswas began her journey in business in a somewhat roundabout way. Born in Kuwait and raised in various countries throughout the Middle East, she saw a lot of the world at a very young age, before eventually settling in Toronto. This restless movement may have inspired her decision to apply directly to university upon arrival in Canada. "I lived in four different countries in that region before I turned 16, and then we moved here, "says Ikram. "I had to make the choice—do I finish high school? Do I want to go somewhere for just one year and then move to university? I had been in a British system, which helped to elevate my academics, so I just applied and came straight to UofT instead."
So, at a remarkably young age, she became a university student. She reflects that, at first, the age gap between her and her fellow students may have been a disadvantage. "I was sixteen—most of the people in the program were about three years older than me," says Ikram. "There's a very different priority for people at nineteen, particularly with how you spend your time at night, than for people at age sixteen. That was challenging. So my first two years at least were not the typical UofT experience. I was definitely younger, and I felt it."
Ikram's career might have taken a quite different path, had she chosen to pursue her initial course of study. "I actually started in life science—I didn't even initially take commerce," she says, laughing slightly at what might have been. "I was fifteen when I started applying—an absolute child, who had no idea what she wanted. We didn't even know if we were going to immigrate to Toronto, or some other place in Ontario. I applied to six or seven Ontario universities, the norm. I kind of split them up randomly—some I had applied for business, some for life sciences, truly not knowing what I wanted to do."
Eventually her parents elected to move to Toronto, and she decided to enroll at UofT. However, her career-altering epiphany came from another chance encounter. "Within my first year, I realized that I didn't enjoy biology that much," says Ikram. "Then I took an accounting course, again somewhat randomly, just for fun. And I really enjoyed it, so I had a realization and applied to switch to Rotman Commerce. It was a bit nerve-wracking at the time, but luckily, it worked out. "
Her parents were both analytical, something that may have ultimately influenced her decision. "I knew that I liked the commerce area," she says, "But with a Middle Eastern background, doctors and engineers are very highly encouraged. The best thing you can be is a doctor, so for me life sciences was an attempt at following that path, which ended very quickly. My parents are both engineers. My mom teaches physics and math, and my dad is an engineer."
Changes
After getting past the transitions of her first university year, Ikram's interest began to coalesce around accounting. "In the end of my second year and going into my third year, I felt more comfortable. Part of it was just my age, finally catching up to a normal university age," says Ikram. "I started connecting with people and found a good group of friends." Once again, a single course proved to be the pivotal moment. "In third year, I took an intermediate accounting course—this was not basic accounting anymore, this was accounting theory," she says. "And I absolutely fell in love. That was when I started to feel a much stronger connection to Rotman Commerce."
There were other connections, other hints that she would end up becoming a prominent accounting professional, but it took a while for those to emerge. "At this time they started having networking events at Rotman, and I would attend many of those," says Ikram. "Also around this time a lot of my friends were pursuing their CAs, but I wasn't sure about where I wanted to go. I ended up finally making the decision to focus on accounting at the beginning of my third year, which is probably very different than today's generation."
The final stroke came from a relation who provided her with a key piece of advice. "I have an uncle who is a consulting partner at PwC," she says, remembering fondly her final moment of decision. "And he specifically said to me: 'if you're going to study business, the best thing you can do for yourself is become a CA.' For some reason, that stuck with me."
Finding a Home
Her response to this direction was immediate and decisive: "That night, I actually went online and started researching how to become a CA, and the opportunities that open up because of that. That same evening, I made the decision to switch."
Ikram credits on-campus recruitment with providing her with the next step. After attending sessions for the other Big Four firms, she attended a Deloitte session and felt a link beginning to form. "I went along with some of my friends to the Deloitte session, and I connected with some really great people there," says Ikram. "I decided right then that I had to go to work for Deloitte."
That Deloitte resonated so strongly with her, she puts down to the people. "Culture would be the best way to describe it," she says. "I just connected, and I went home thinking about how amazing it would be to work there. I started going to all the Deloitte events, or anything to do with CA stuff, meeting everyone I could, and learning everything I could about the organization. And a year later I got the interview. I started with Deloitte the September after I graduated, in 2006." Her recruitment experiences have become part of her working life now at Deloitte. "I actually now lead recruiting for the Toronto audit group, and I am a champion for Rotman here at Deloitte, "says Ikram.
After starting work at Deloitte, she says she still felt connected to the Rotman Commerce community at large, and she began to understand the benefits of both the learning and the relationships she had gained while studying. "The Big Four operate in an interesting manner. They tend to hire a significant number of fresh graduates every year," she explains. "Which makes you feel almost like it's a fifth year of university—you have your cohort and you start together and train together, and in my audit group, which was mining and real estate, about fifty percent of the new hires were UofT graduates. We were all so proud, and it shows that those relationships that you built in school are now going to have a huge impact on your workplace. You realize that it's such an advantage to come from this huge school that is of a high enough quality that Deloitte would hire this many people from the Rotman Commerce program."
Going Back
Now a recruitment leader for Deloitte, as well as a Partner, (Assurance and Advisory), Ikram underscores the sterling reputation of Rotman Commerce graduates throughout the business world. "Rotman people really shoot for the stars—I actually have trouble choosing the Rotman individuals that I want to hire, because there are so many," she says, smiling proudly. "The level of their commitment is phenomenal. You have people with not only high GPAs, but also a lot of extra-circular activities, volunteer experience, entrepreneurship— AND they have high GPAs. I find candidates who are excellent in every area."
She says from her perspective, the Rotman Commerce program is only improving, continually producing stronger candidates for a constantly evolving business world. "If I had applied to Deloitte now, with the current group of students, I probably wouldn't have been hired," she says with a slight laugh. "And that's fantastic because that was ten years ago, so it's great—it means we're going in the right direction, we're improving."
Ikram's support of Rotman Commerce goes even further, as she has spearheaded an increased Deloitte presence on campus. "We're on campus a lot, but we always wanted to be there more, so we put together a program where were there for more casual events" she says. "We would set up in the hallway between classes, with a small sign, dressed casually, and just encourage students to stop by and talk. That involvement increased our bandwidth at Rotman. From there I started to attend and moderate panels, recommend speakers and guests for other events, and support events in other ways. We're very involved."
Evolving the Culture
When she pauses to reflect on her career, Ikram feels that her ambitions are currently in flux, having already succeeded at many of her earliest goals. "I just recently made partner, and I made it faster than I expected, which was my dream for a while," she says, considering her undoubtedly bright future. "My dreams haven't quite caught up with me yet. I wanted to be a young partner, and I've done that, so I'm now in the middle of creating my new dream. I would love to run this place one day, but in the middle of that I would love to evolve the culture—I want to see it run by millennials. I'm right on the cusp of the millennial generation, so I dream of what it will be like when we're able to change the Bay Street culture a bit more. I'm starting to see those first steps, and changes in the stereotypes of how a Big Four firm operates. I can't wait to see what the future looks like, and to be part of the new leadership."